Neat 3-way Camera Hot-Shoe Spirit Level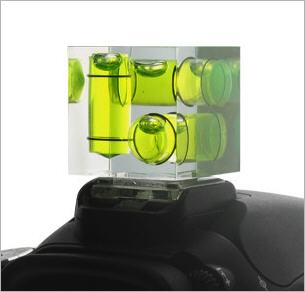 While browsing I came across a neat 3-axis camera spirt level on eBay. This gadget fits in the camera hot-shoe and shows when the camera is leveled on all three axis. I've seen these before of course, but usually they are $20-$30 each. These are around $6, I can't vouch for the quality of the item or the reliability of the suppliers, but I've ordered a couple for myself and I though I'd pass along the info. They ship from China or Hong Kong, so I don't expect to see mine for a week or two.
At $6, it's $1694 cheaper than buying an EOS 7D with built in electronic level! Levels are especially useful when setting up to shoot multi-image panoramas or for getting the horizon level in wideangle landscape/seascape shots.
• eBay Link: