Price rises on the horizon?
In recent weeks the prices on many Canon cameras and lenses have risen. In part this is due to the end of the "instant rebate" program on January 17th. This alone could account for a $100 price rise on the EOS 50D, $50 on the EOS 40D and up to $125 on certain lenses.
However even some lenses which were not part of the program have seen price rises. Not only that, but it appears that Nikon will be raising their lens prices by 15% on February 1st if internet postings can be believed. It appears that some stores have sent notification to their customers of the comming Nikon price hikes, so it's more than just another rumor. Pentax have also announced price increases starting in February. So it's pretty clear that lens prices are headed only one way, and that way is up.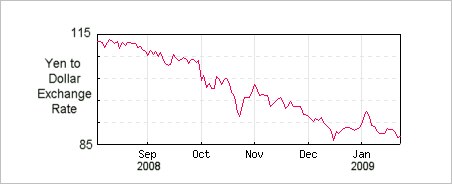 The reason for price rises is often complex, but it certainly has something to to the with current economic woes which are affecting the economy of most the world right now. Certainly Nikon and Canon profits are down, and the relatively strong Yen (see graph above) means that Japanese companies are earning less (in terms of Yen) if dollar prices stay fixed, since the dollar is worth so much less than it used to be.
Of course raising prices can lower sales, but I guess Nikon, Canon and other camera and lens makers must think that in the end, higher prices will produce more profit (or they wouldn't be raising prices!).
What this appears to mean is that now is not a great time to wait for the price to fall on most photographic purchases. You still might eventually see price drops on items currently in short supply and selling at the full "list" price, such as the new Canon EOS 5D MkII. The price is currently holding firm at $2700 and at that price stores can still sell every camera they can get their hands on, so the price is not likely to drop soon. In fact some stores are still trying to sell the 5D MkII at above list price!
Prices increases on cameras are still pretty modest (once you factor out rebates). This is probably because there is strong competition for new buyers. The competition is less fierce for lenses, since if you're buying a a lens you almost certainly have a camera, and if you have a Canon camera you won't be buying a Nikon lens (and vice versa!). There are 3rd party lenses of course, and some consumers may switch to buying Tamron, Tokina or Sigma lenses to save a little money (though I suspect that even 3rd party lenses may show some price increases too).
The price on the EOS 50D had dropped below $1100 during the "instant rebate" program, but as of right now (1/23/09) it seems to be hovering around $1160 at Amazon.com and it's risen to $1230 at Adorama and $1200 at B&H Photo. The trend is certainly up, not down. The best bargain right now seems to be the EOS 50D + 28-135IS lens kit which is still available via Amazon for $1235. That makes the cost on the otherwise $400 EF28-135/3.5-5.6IS somewhere between $5 and $65! I don't expect that kit price will hold for long (it's already up to $1420 at Adorama and $1400 at B&H).
So when will we see price drops? That's anyone's guess. Canon have had a Spring rebate program in the past which usually kicks in in May or June, but this year who knows. Last year they extended the fall rebates through February, but they year they stopped them in mid-January. If times are bad in the spring there may be no rebate program, or if there is one, rebates may be low. It's also possible that Canon may follow Nikon's lead and announce an overall price increase, though I've not heard any reliable rumors that they are planning such a move. Last year Canon raised lens prices by an average of 3-5% on May 1st.
In the UK, where the UK pound is falling against the Yen even faster than the US dollar is, lens prices have been steadily trending upwards over the last month or so, with further increases forecast. Canon France is said to have raised their prices by around 10% at the beginning of the year and similar trends are found across Europe, where the Euro has also been losing ground against the Yen.
The bottom line is that if there is a lens that you intend to buy and you can afford to buy it, buying it now might be the best move. Actually you should have bought it before January 17th if it was included in the rebate program, but it's too late for that now. You can also look for refurbished items that often sell at significant discounts. For example right now you can get a refurbished Canon EF 70-200/4L USM for $530 , a refurbished Canon EF 24-70/2.8L USM for $1030 or a refurbished Canon EOS 30D for $500 (all at Adorama).
Bargains in Camera bodies can be found as long as you don't chase the "latest and greatest". In the fall of 2007 I paid around $1300 for an EOS 40D. Now, 18 months later you can get the exact same camera for $850 at Amazon.com. It's the same camera and it's just as good as it ever was. It's just that the EOS 50D came out and that drove down the price of the EOS 40D. Similarly the EOS 5D has been widely praised as a great camera for more than 3 years. When it came out you'd have to stand in line to get one and pay around $3000. Today you can pick up the same exact camera for under $2000 at Amazon. Same camera, same quality, it's just that the EOS 5D MkII is out now (though you'll have to pay $2700 and wait a few weeks to get one). Maybe an even better bargain is a refurbished EOS 5D for $1400 from Adorama. That's about 1/2 the price of a new EOS 5D MkII.
One word of caution here (well, many words actually...). Do NOT get suckered in by scam artists offering unbelievably low prices on Canon cameras and lenses (or Nikon etc.). There are a LOT of "bait and switch" dealers out there. Most of them are based in Brooklyn, NY, but they inhabit other areas as well. I've documented their practices in a couple of articles here:
&nbsp: &nbsp: &nbsp: