Speedliter's Handbook: Learning to Craft Light with Canon Speedlites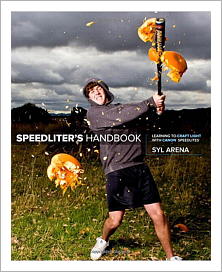 Since Canon Speedlites were introduced in 1987 they have been a source of confusion for many users. That's not because they are difficult to use, more because the exact nature of their interaction with the camera in terms of how metering is done and how the flash power is calculated is something of a complex process. They have gone through a technology evolution including such designations as "A-TTL", "E-TTL", and "E-TTL II", the meaning of which may be lost on many photographers. Things get even more complex when the Speedlites are used off camera. With wireless technology they can be arranges in both channels and groups with each Speedlite (or group) producing a flash of different power, all set from the camera.
In a system of such potential complexity, it's not surprising that many photographers get confused. The Canon manuals are detailed, but like most equipment manuals they don't take the time and space to fully explain the system and they don't give examples of speedlite use or example images. They aren't even in color!
That's where the 3rd party books and guides come into play, and for the Canon Speedlite system the latest of these books is the "Speedliter's Handbook: Learning to Craft Light with Canon Speedlites" by Syl Arena. The copyright date on the book is 2011 and all current (02/11) Canon EOS bodies and Speedlites are covered. The new T3i isn't mentioned of course, but it has the same wireless flash capabilities as the EOS 60D, which is covered. The new 270Ex II and 320EX speedlites are similarly not covered since they have only just been announced, but again their features are found on the current speedlites and so this book would apply to them as well.
The Speedliter's Handbook: Learning to Craft Light with Canon Speedlites is particularly useful for Canon users of course because it specifically focuses on Canon hardware. However the book would also be useful (though perhaps not quite as useful) for those with other systems since it deals with all the basics of lighting including light modifiers, lighting ratios, lighting setups, gels color balancing etc.
The book runs to over 360 pages, and there are multiple color images on each page. often showing equipment positioning and the results of the lighting technique being described. The coverage is quite comprehensive, covering everything from the speedlites themselves, to lighting modifiers, multiple flash systems and techniques of lighting. Here is a list of the chapter titles which illustrate the variety of subjects and techniques which the book deals with (the comments in italics are mine)
Note: These are the actual chapter titles. I've seen several reviews of this book and several websites which all seem to be quoting the same, incorrect, list of chapters, perhaps from a pre-publication version of the book?
Quick start guide to Speedliting
Learn to see the light
Exposure Exposed (exposure modes, white balance, DOF, metering)
Mechanics of Light (simple physics)
Light of the world (ambient lighting)
Think Globally, Light Locally (speedlite positioning)
Meet the Speedlites (580EX II, 430EX II, 270EX. MR-14EX, MT-24EX, ST-E2)
Control Your Speedlite (power, sync, zoom and bounce)
Flashing Manually
E is for Evaluative (E-TTL, FEC, EC and FEL)
Move your Speedlite Off Camera
Wireless Speedliting, The Canon Way
Mixing Canon Speedlites with Other Lights
Go Ahead, Mod your Speedlites (softboxes, reflectors, grids, snoots, diffusers)
Those Big Modifiers Always Get in the Way (umbrellas)
Get a Grip (speedlite mounting options)
Keeping the Energy Up (bateries)
Lighting Portraits Classically
Portraits with One Speedlite
Portraits with Two and Three Speedlites
Gelling for Effect (controlling colors)
Slicing Time with High Speed Sync
Dimming the Sun (controlling ambient light)
Smashing Pumpkins with Gang Light (multiple speedlites for higher power)
Speedliting Events (weddings, festivals)
Strobo, Strobo, Strobo (stroboscopic multiple imaging)
As you can see, it's a pretty comprehensive guide to the use of Speedlites. Perhaps the best way I can illustrate the book is to show a few sample pages: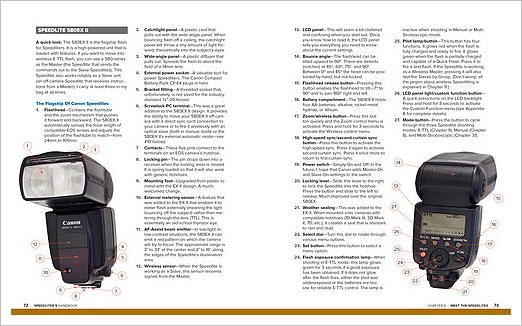 From pages 72 and 73 "Meet the Speedlites". This is a detailed explanation of the features, and controls of the Speedlite 580EX II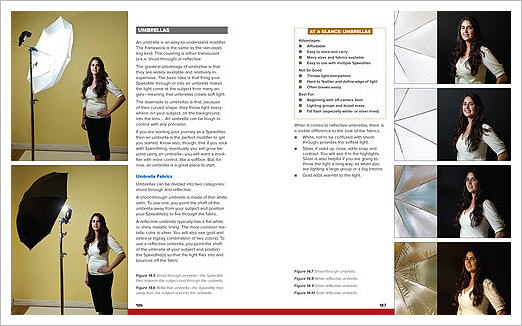 From pages 186 and 187 "Those big modifiers always get in the way". This is an explanation of umbrellas shwoing the different types available and the different methods of using them.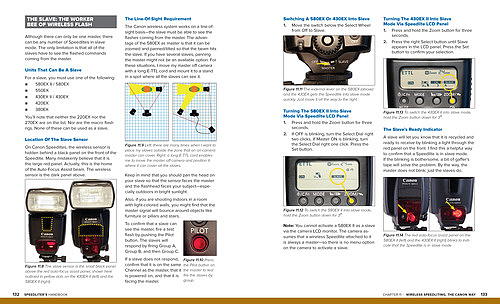 From pages 132 and 133 "Wireless Speedliting, The Canon Way". On these pages is the start of an explanation of the wireless slave flash functions of Canon Speedlites.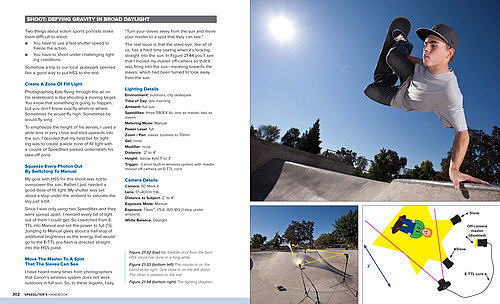 From pages 302 and 303 "Slicing Time with High-Speed Sync". These pages cover balancing ambient light and flash, while using a fast shutter speed and high-speed sync with multiple speedlites.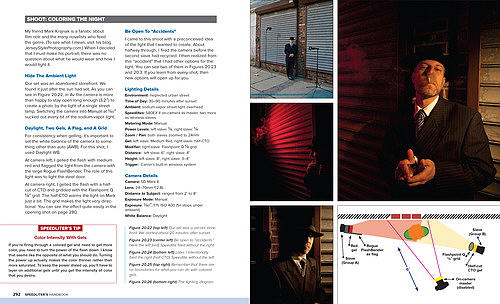 From pages 292 and 293 "Gelling for Effect". These pages deal with the use of colored Gels to control the color of both the subject and background
So are there any errors or ommissions? Well, I only reviewed the book by generally reading through it - I didn't proof read every word in it as an editor - so I don't claim to have done an exhaustive search for problems though I did find two. For example on the section on subtractive colors (p39) the figure shows Magenta+Yellow=Red, which is correct, and Yellow+Blue=Green, which is also correct, but then goes on to show Cyan+Magenta=Yellow, which is not correct. In the subtractive color schemes Cyan+Yellow=Blue.
On p299 the author suggests that if you are using high speed sync and need more power but can''t get it because you are already at full power, you should open up the aperture and/or increase the ISO and he points out that to keep ambient exposure the same you have to increase the shutter speed. Good so far. However in high-speed sync shutter speed also affects flash exposure, so you don't really gain anything by doing this. The only way to increase the flash:ambient ratio or increase the flash illumination of the subject in high-speed sync - if you already at maximum flash power - is to move the flash closer to the subject or zoom the flash head (and deal with the smaller area of flash illumination).
The only real omission that I found was that I couldn't find any mention of Guide Numbers. The term doesn't even appear in the index and looking through the sections where I would have expected to see at least a mention of it, I didn't find it. In the section on high speed sync for example (p299) the author discusses his own experiments to find the effect of using high-speed sync mode on flash output, but doesn't mention the table in the flash manuals that shows the guide number vs. shutter speed which reflects the lower output and shows how range decreases with faster shutter speeds. While few photographers these days will use guide numbers very often, it's still useful to know what they are and how to use them to select aperture and disatance for the flash exposure you want.
But all these are relatively minor points. Overall this is probably the best book I've yet read on the subject of the use and understanding of Canon Speedlites. If you shoot with a Canon EOS system, it's a best buy. Even if you shoot with some other system it's still certainly worth reading and probably 75% or more of the material applies to any system, not just Canon.
Cover price is $49.99, but of course it's less expensive if you buy it online ($31 and change from Amazon for example). It's even available as an e-book, though personally I don't think that's much of a substitute for the paper version. Most readers seem to think it's a good book. In fact out of 95 current ratings by amazon users, 94 give it 5 stars and the other one gives it 4 stars! That's a pretty positive recommendation, and one that I can echo.