Understanding DPP - an eBook review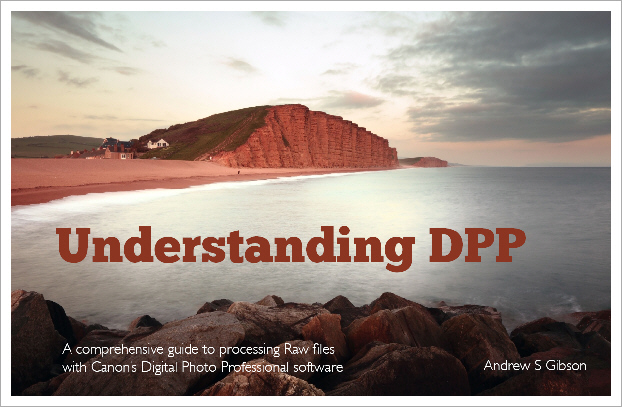 This is a brief review of the Understanding DPP eBook by Andrew S. Gibson. An eBook in this case isn't something you read on your Kindle or Nook, but a PDF file from the CraftAndVison.com website.
Understanding DPP is an 80page eBook aimed at Novice and intermediate users of Canon's Digital Photo Professional RAW conversion software. DPP is supplied free with all Canon cameras capable of saving images in the RAW format and free updates are available from Canon from time to time (usually when a new DSLR is released).
I think DPP is under appreciated by some Canon users, possibly because they think that anything that is free can't be good, but in the case of DPP they'd be wrong. Perhaps they are also a little intimidated by the program since Canon don't really provide a user friendly introduction to the program. There's a user manual, which is available as a .pdf file and there's a help file, but both are perhaps a little technical for the newcomer to DPP.
That's where Understanding DPP comes in and provides a simple, clear and understandable introduction to what DPP can do. The table of contents is shown below, each section occupying just 1 or 2 pages.
Introduction
The Raw format
DPP
Workflow
Getting started
Getting started
Quick check
Edit window
The tool palette
DPP workflow
Processing Raw files
Picture Styles
Brightness
The histogram
White balance
Contrast sliders
The alerts
Colour tone
Colour saturation
Sharpening
Lens correction
PIC
Lens distortion
Chromatic aberration
Noise reduction
ALO
Trimming angle
Recipes
Transfer images
Black and white in DPP
Black and white
Why mono?
Converting to B&W
Digital toning
Toning with curves

Converting to JPEG and TIFF
Converting files
Batch processing

Additional features of DPP
Before & after
Stamp tool

Conclusion

Appendix
Updating DPP
Monitor calibration
Comparing DPP
The pages are kept clean and simple, with full color illustrations of the feature under discussion. For example the page below describes the Lens Correction functions available in DPP.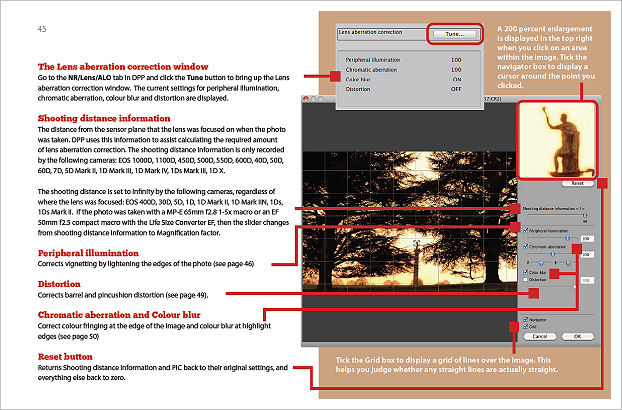 As I said earlier, this eBook seems to be aimed at novice and intermediate level users. If you know nothing at all about DPP, it will be very useful. If you've used DPP but you're not fully familiar with it, then Understanding DPP may still prove useful. In fact found a couple of things in there that I hadn't realized were in DPP! However it doesn't go into the most advanced uses of DPP which include things like color management, choice of color space and setting up printing profiles and CMYK simulation profiles.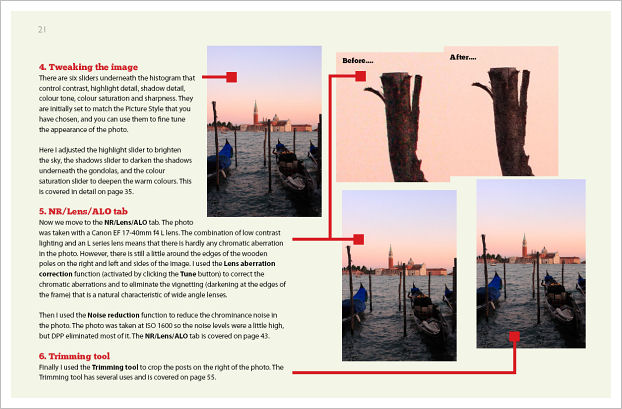 You can order a download of Understanding DPP from Andrew Gibson's website at http://www.andrewsgibson.com/blog/understanding-dpp/. The cost is 7 GBP or around $11 with payment via PayPal.
Other DPP guides
Canon has a series of 38 short video tutorials on DPP. You can view them at http://learn.usa.canon.com/galleries/galleries/tutorials/dpp_tutorials.shtml
The official Canon Instruction Manual for DPP version 3.9 can be downloaded as a PDF document from http://gdlp01.c-wss.com/gds/8/0300004038/01/dpp39-w-en.pdf
Canon and Digital Photography Guides