Canon in 2013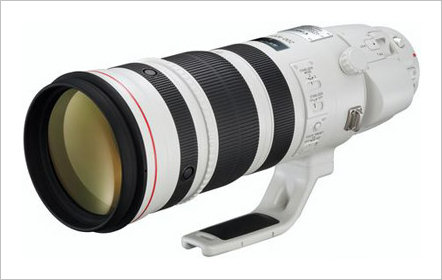 Canon EF 200-400/4L IS USM Extender - will we finally see it for sale in 2013?
So what lies ahead for Canon in the coming year? Well, only Canon know for sure but we can make some "educated guesses" at what we might expect to see.
The EOS 5D MkII will likely be officially discontinued by Canon USA. It's already on the discontinued list in Japan but Canon USA are still showing it as current. I'm pretty sure that will change. This doesn't really mean much except that the price MSRP of the 5D MkII might drop. Current Canon MSRP is $2199 but there's a $400 instant rebate from Canon (which ends on February 2nd 2013) and B&H take off another $50 and throw in a 16GB 400x CF card for a final cost of $1749 (you have to put it in your basket to see this price). The link is . I don't see the bottom line price dropping much below this, even it it is put on the "discontinued" list. It's still a great camera.
I suspect we'll see an update of the EOS 7D. There was a significant firmware update last year which actually added new features. This is pretty rare for Canon (adding features) and at the time of release I saw it as a "stopgap" measure to hold users until Canon got a replacement ready for release. I'd expect to see that sometime in 2013 with maybe a few more MP and maybe GPS and/or WiFi built in (like the 6D). In the meantime the current EOS 7D at $1199 (price in cart) is a very good buy indeed. I'd expect to see a 7D MkII closer to $1500.
There must be a good chance that the 200-400/4L IS USM Extender lens will actually become available. Working samples been around for quite a while now and I actually handled one last fall at the Photo Expo show in New York (they had two of them at the show). Surely they'll finally get it to market in 2013. The only downside is that you and I won't be able to afford it :-( My guess is over $10,000, maybe quite a lot over.
Also in the lens department, there's word of a MkII version of the EF 35 f/1.4L in the works and it may not be long before we see an announcement. There's also talk of a new EF 14-24 f/2.8L. No word on whether these lenses will have IS or not. Expect sticker shock if either lens is released. I wouldn't expect either of them to be under $2000.
I wouldn't be at all surprised to see another mirrorless interchangeable lens body to go with the , probably an "M2" or an "Mx". The EOS M is pretty basic and really doesn't compete very well in terms of price or features with the competition from Sony etc., though it does have a big advantage for Canon EOS system owners since it can use Canon EF and EF-S lenses via an adapter, still keeping full IS and AF capabilities. Something a little more advanced would make sense if Canon are serious about competing in this area of the market, though they are a little late to the game now.
A high pixel count DSLR. Maybe. I'm sure the Nikon D800 (36MP) is causing Canon to speed up development of such a camera. However Canon are at a bit of a disadvantage in sensor design since all their DSLR sensors up to now have been made in-house using a 0.5 micron fabrication process. Sony are currently using a 0.18 micron process (and the Nikon D800 uses a Sony sensor). It's know that Canon do have 0.18 micron fabrication capability, it's just that they have not made a DSLR sensor using it yet. If Canon do release a high pixel count DSLR, I'd expect it to be in the 40-50MP range. However I would not expect to see a high pixel count DSLR announced anytime soon. If one does come on 2013 it may well be late in the year. It's tough project and if Canon do it, they had better get it right. Whether it will match the low ISO dynamic range of the Sony sensors is an interesting question. That would requires some new fabrication and design technology from Canon. Sony have the the sensor pixels, signal readout circuit, analog-to-digital conversion circuit and controller all integrated onto a single chip. As far as I know Canon still use external A/D converters between the sensor readout and the Digic processor. I'm making no predications about new Canon technology, though I'm sure it a matter of "when" rather than "if". Price? I think it's pretty unlikely for a high pixel count FF DSLR to be under $4000, given the D800 is selling at around $3000 at the moment.

It's certainly possible that a new DSLR in the Canon C (cinematography) line might appear. I don't follow that line very closely, but it's very clear that Canon are really serious about competing in the "professional video DSLR market" and are putting in quite a lot of effort there.

Of course an update of the 60D (to 70D?) and 650D/T4i (700D/T5i?) is always in the cards. Actually if you look at it it might make sense to drop the 60D/70D and just go with a high end T5i and an updated 7D MkII. That decision is one that Canon would make based on market research rather than on a technology basis which makes it difficult to predict. Wouldn't hurt sales to include GPS and/or WiFi in either model.
In 2010 at Canon Expos around the world Canon talked about and demonstrated a "Wonder Camera" which was essentially a super high resolution camera (looking something like a hair dryer...), with a wide range zoom lens, which shot in continuous video at anything from macro to 500mm effective focal length, creating stills by picking frames from the video stream. It had the capability of picking out faces from a crowd and making portraits only when the subjects smiled! It was also said to be able to get everything at all distances in focus at once. The talk then was that it might be the camera of 2020, but it will be interesting to see if they take any steps in that direction in 2013. It's highly unlikely to actually appear in 2020 (close to impossible I'd guess, but Canon may yet surprise us with new technology this year.