Garmin StreetPilot c530 GPS Review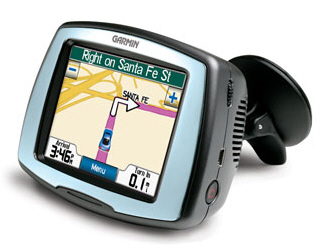 Well, no, it's not actually a photography item, but it's such a neat device I just had to review it! In addition of course, you can use it to navigate to photogenic locations, so it counts since you can use it with photography in mind...
The Garmin StreetPilot c530 is a car GPS unit which will calculate routes anywhere in the continental US, as well Alaska, Hawaii and most of the populated region of Canada.
Using it is simple. You plug it into your car's accessory socket, turn it on and it boots up and uses the GPS satellite system to figure out where you are. The first time the c530 is turned on it may take a minute or so get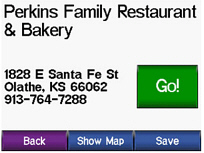 get a position fix, but after that it acquires the satellites within a few seconds of being turned on. Once it knows where it is, all you need to do is tell it where you want to go. You can type in a street address via a series of touch screens, or you can select from a built in database of Points of Interest (POIs) which include things like Hospitals, Banks, Gas stations, Department Stores, Parks, Museums, Post Offices, Restaurants, Fast food outlets, Hotels and Motels. It not only identifies the points of interest, it also gives you their street address and phone number. The C530 has a built in Li-ion battery which will power the unit for up to 8 hours. You can use battery power when the car is turned off, so the c530 doesn't forget where you're going while you stop for lunch. I suppose you could also carry it around with you while walking if you really wanted to.
Once it knows where it is and where you want to go, the Garmin c530 calculates the optimum route in just a few seconds.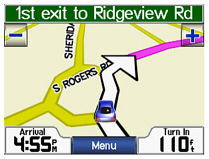 You can select fastest route route or shortest route. From that point it gives you voice prompts about where to go "drive 3.2 miles and turn left", with warnings when you're approaching the turn ("turn left in 200 yards) and when you're within about 50ft of the turn ("turn right"). The c530 doesn't speak the street names, though they are quite clearly displayed on the screen. The main screen also displays your estimated arrival time and the distance to your next turn.
Now here's where it gets really smart. If you miss your turn, or decide you don't want to make the turn and just carry on straight, the c530 realizes you have gone off course, recalculates the route and starts giving you new directions to get you back on track to your destination! If traffic is backed up and you want an alternate route, you just tap the screen a couple of times and hit the "detour" button and the c530 will calculate a new route that will get you off the road you're currently on.
As well as route planning, you can simply use the c530 as a map. In this mode it displays a map and tells you where you are, or you can scroll to any other part of the map and view details of streets and highways in other states. There's also a screen that tells you your current speed and direction, how far you have driven, how far you have to go, your maximum speed, your average speed and your travel time.
You can upload new points of interest to the c530 from your PC and you can add maps of other regions such as Europe (though they may cost you almost as much as the c530 did!).
Garmin make another similar model, the SteetPilot c330, which you may be able to find a little cheaper, but the c530 has a better (more readable) screen and a high sensitivity GPS receiver, so I think it's a better buy. Prices have fallen significantly over the last few months. Right now it's in the mid $200 range.
Quite frankly I was amazed how good and accurate the c530 is. Having used it for a couple of weeks now, I don't know how I managed without it. Well, I do, but it has frequently involved driving around in circles in strange cities looking for street names and getting thoroughly lost. Hopefully that's an activity I won't be repeating!
Garmin StreetPilot C530 Specifications
| | |
| --- | --- |
| Unit dimensions, WxHxD: | 4.4"W x 3.2"H x 2.25"D (11.2 x 8.1 x 5.7 cm) |
| Display size, WxH: | 2.8"W x 2.1"H (7.1 x 5.3 cm); 3.5 diag (8.9 cm) |
| Display resolution, WxH: | 320 x 240 pixels |
| Display type: | 16-bit antiglare TFT LCD with white backlight |
| Weight: | 9 ounces (255 g) |
| Battery: | rechargeable lithium-ion |
| Battery life: | up to 8 hours |
| Waterproof: | no |
| High-sensitivity receiver: | yes |
Where to Buy