Wolverine FlashPac 80GB Portable Hard Drive and Card Reader
The Wolverine FlashPac is a battery powered hard drive with a built in card reader to enable you to transfer the contents of a memory card to the hard drive.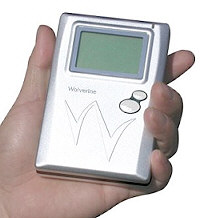 It's almost the essence of a single function device. It copies memory cards to the hard disk and that's it. It does the job very well but it doesn't display the images or display the names of the stored files. Of course you can connect the drive to a PC via a USB 2.0 interface and do anything you can normally do with hard disk data files, such as move, copy, view, rename and delete them. When attached to a PC it's simply another system hard drive.
As shown in the illustration, the Wolverine Flashpac is quite small. It measures 4.6 x 3.1 x 0.9 inches (116 x 78 x 23mm) and weighs only 8 oz. (230grams). It comes with a black padded carrying case with a belt-loop, a USB cable for connecting the Flashpac to a PC/Mac, a Universal (world wide) 100-240v power supply and a mini-CD with a copies of the manual, drivers for older operating systems and a utility for reformatting the drive (FAT32), should that ever be required.
The user interface is as simple as the functionality. There are two buttons and an LCD display. One button turns the Flashpac on and at this point the LCD first displays the Wolverine logo and current firmware version, and then displays the battery charge level and the amount of free space on the disk.
The second button copies the contents of a memory card to the hard disk. While this is in progress the LCD displays the type of memory card inserted, the name of the hard disk directory being written. The % complete for the current file transfer and the total number of files transferred in this session. When it's finished it display a confirmation message (or an error message - which I have not yet seen!) and the Flashpac powers itself down after 90 seconds to conserve battery power.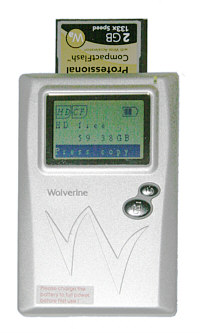 The Flashpac has native support for seven types of memory cards: CompactFlash Type I, CompactFlash Type II, Sony Memory Stick, IBM Microdrive, MultiMediaCard, Secure Digital card (SD and SDHC), SmartMedia card, XD Picture Card. When connected to a PC it appears as three drives. One is the 80GB hard drive, one is the CF card reader and the other is the SD/MS/MMC/SM/xD card reader, so you can use the Flashpac as a simple card reader to transfer images to a PC directly from the memory cards, as well as from the internal hard drive.
The Flashpac requires no software drivers when used with Windows XP or Windows 2000 (SP3) or Mac OS X. Drivers are supplied on CD for Windows 98/ME, Mac OS 9.x and Linux 2.4x
Data transfer speeds are fairly leisurely when backing up memory cards onto the hard disk. With a standard Kingston 1GB CF card (maybe 20x speed rating?) I measured a data transfer rate of about 1.1MB/s, so it took just under 15 minutes to fully download the data. With a faster card (Lexar Pro 133x) data transfer was closer to 1.4MB/s and it took about 12 minutes to transfer 1GB of data. Downloading the data from the hard drive to a PC was significantly faster. A 1GB download took about 95s, which is a respectable (if not blazingly fast) 10MB/sec.
The Wolverine Flashpac uses a standard Li-ion rechargable battery. It's an NP-60, as used in many Fuji, Kodak, HP and Casio digital cameras. It is user replaceable, though you have to remove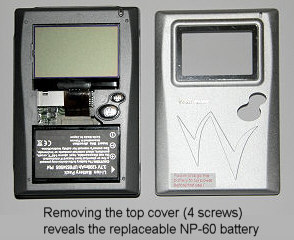 the front of the case (4 screws) to access and replace the battery. You can find the NP-60 on eBay for around $3-$5 or with a charger for around $12-$15, so they aren't expensive. I found that the Flashpac would run for about 90-95 minutes on a full charge, which means you can download six or seven 1GB CF cards before the internal battery power runs out. I downloaded a full 4GB Kingston 45x card twice on a single battery charge, but at the end of the second download the battery indicator was on empty, so there wasn't much power left! An attempt at a third download quit after an additional 125MB of data had been downloaded, but the FlashPac shutdown gracefully and the initial 125M of data (32 image files) were saved without error. For longer downloads you can also run the FlashPac off a 12v car accessory outlet via an optional Car Adapter Battery Charger (Acce24 $15), or you can run it (or recharge the internal battery) from 4AA cells via an optional Recharging Battery Holder (Acce20 $15), Wolverine claim that a set of 4 AA alkaline battery will recharge the internal battery 2 or 3 times, so with the internal battery fully charged and a set of fresh AA cells, you should be able to transfer in excess of 20GB of data from memory cards without needing an external power source.
I tested the Wolverine Flashpac by downloading a total of 40GB of data from 128MB, 512MB, 1GB, 2GB and 4GB cards. In total I made around 30 card transfers (from both CF and SD cards) with no errors. It's hard to judge long term reliability from a short term test, but so far it looks very good. That also seems to be the general consensus of opinions from other reviews and user comments I've seen.
Alternatives
You can always trade size and features for cost of course. If you want to pay more, you can get portable data storage units that allow you to view the stored images, as well as play MP3 files. For example the
Wolverine MVP-9060 (60GB, $250)
, the
Epson P-2000 (40GB, $350)
and the
Wolverine ESP-80 (80GB, $350)
.
Another interesting possibility is the HyperDrive HD80. It's more expensive for less storage space, but it downloads a card much faster, and so it can download more data on a single set of batteries (it uses 4xAA batteries). The Hyperdrive Space may be even faster and runs on an internal rechargeable Li-ion battery, but again you pay more for less storage space than you do with the Flashpac.
If you're on vacation and can download your memory cards to the Flashpac in your hotel room in the evening or while driving from place to place, the slower downloads and 6/8GB transfer capacity per internal battery charge will probably provide you with all the storage ability you will need. On the other hand if you're on a 14-day trek through the backwoods of Alaska with no power available, the faster downloading - and hence higher download capacity per battery charge - Hyperdrive Space might be more appropriate, despite the higher cost/GB for storage.
Where to buy
The Flashpac is available in 40GB, 60GB, 80GB, 100GB and 120GB versions from both Amazon.com and Adorama.
• 80GB Flashpac from ADORAMA - $159.95
• 40GB Hyperdrive Space from ADORAMA - $189.95
• 80GB Multimedia storage/player Epson P-5000 from ADORAMA - $679.95