Canon EOS-1D X Digital SLR Camera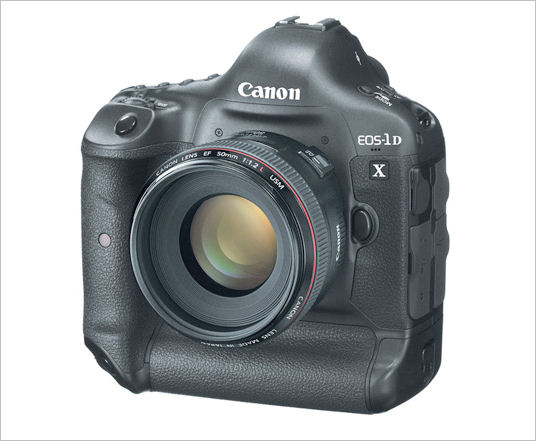 The Canon EOS-1D X. Full Frame sensor, 12 frames/sec, ISO 201800
Today (10/16/11) Canon announced the release of their new EOS-1D X DSLR. This is a very interesting new camera in many ways and can regarded as a merger of the APS-H and Full frame formats. The EOS-1D X is full frame, but Canon have actually reduced the pixel count from the 21 MP of the EOS 1DS MkIII to 18MP, but the EOS-1D X is capable of shooting at up to 12 frames/sec, which is faster than the APS-H format EOS 1D MkIV even though the sensor is larger and has a higher pixel count (18MP vs 16MP). I've always thought that the 1D APS-H format didn't ultimately make much sense and was only used because of technical limitations. It now seems like those technical limitations no longer exist.
UPDATE 03/15/12:
Adorama are now accepting pre-orders for the EOS-1D X at $6799

It's not clear if this will be Canon's only flagship camera of if it's just the end of the APS-H format (which I think it certainly is). While Canon do say that the EOS-1D X has replaced "both the EOS-1Ds Mark III and EOS-1D Mark IV models in Canon's lineup" they don't say that there will never be a 1Ds MkIV. I think there will always be a market for a high pixel count, high end camera for use in conditions where large pixels and low noise are less important that the highest possible resolution (e.g. studio work, landscape photography). I'm sure there would be a market for an EOS 1Ds MkIV, a full frame camera with a high pixel count, but perhaps a slower frame rate and slightly more noise. There's also bragging rights to be had with such a camera which isn't an insignificant factor when marketing and advertising people get involved with a product. I suspect that the 1Ds camera line may not be dead, but only time will tell. I guess it's also possible that Canon could address the high pixel count market with an updated EOS 5D MkIII rather than a camera in the 1Ds line.
Without testing and reviewing image samples it's not possible at this time to say what the performance of the EOS-1D X is, but it is very interesting that CAnon have not followed the trend of ever increasing pixel count with this new camera (unless you consider it only a replacement for the 1D MkIV). Fewer pixels mean larger pixels and larger pixels mean lower noise (all else being equal). The larger pixels in conjunction with Dual "DIGIC 5+" processors (that offer two stops of noise processing benefit in comparison to the DIGIC 4 processors used in the EOS-1D Mark IV) allow ISO settings of up to 201,800 to be used.
Time will tell how good the new AF system is, but this is what Canon have to say about it now: "The EOS-1D X includes a brand new 61-Point High Density Reticular AF, the most sophisticated DSLR AF system Canon has ever released. The 21 focusing points in the central area are standard precision cross-type and effective with maximum apertures as small as f/5.6, depending on the lens in use". One point to note however is that AF at f8 is no longer possible with the EOS-1D X as it was with the previous 1D and 1Ds series cameras. Thus no AF with f4 lenses and a 2X TC or f5.6 lenses and a 1.4x TC. I'm sure that isn't going to please a lot of wildlife photographers. Canon seem to have dropped this feature in exchange for a system that gives you 41 cross-type AF points plus color and face detection with lenses like the 400/4 DO, 500/4L IS(II) and 600/4L IS(II) - with the previous AF system you had no cross type sensors under the same conditions - plus wider left to right coverage than before. For some that may be a good tradeoff, for others, not so good.
All I can say at this point is that the EOS-1D X looks like a great camera. I can't wait to test one. I will get a chance for a brief hands-on look next week, so after that I'll report back with my observations but I'd guess that it's not going to be very easy to get one for a detailed test any time soon.
Despite the performance increase, the expected retail price of the EOS-1D X is $6,800 which compares favorably with the current selling price of the EOS 1D MkIV ($5000) and the 1Ds MkIII ($7000). It should be available in March 2012. That's going to be a long 6 month wait for those who can afford it!
Here is a brief list of the major features of the new EOS-1D X:
An 18.1 Megapixel full-frame CMOS sensor.
A newly developed high-precision AF system with 61 user selectable AF points, 41 of which are cross-type points, and five dual cross-type points for extra precision.
A standard ISO range of 100 to 51,200 with three expansion settings – for ISO 50, 102,400 and 204,800.
Dual "DIGIC 5+" processors for fast image processing to deliver 18.1 Megapixel images at up to 12fps as standard and up to 14fps with super High Speed continuous.
Zone, Spot and AF Expansion focusing modes, plus subject type AF presets.
A 100,000-pixel RGB AE sensor with 252-zone metering powered by a dedicated DIGIC 4 processor.
+/-5 stops of exposure compensation.
A high-magnification transparent LCD viewfinder with 100% coverage with intelligent viewfinder display.
Super short 36ms shutter lag option.
30-1/8000sec shutter speed range.
An 8.11cm (3.2"), 1.04 million pixel Clear View II LCD screen.
Full HD EOS Movie shooting with Inter frame or Intra frame compression.
Auto creation of new movie file once 4GB file limit reached.
Timecode setting for HD movie shooting.
Manual audio level control with live level meters and adjustment during recording.
An improved EOS Integrated Cleaning System (EICS).
Dual CF card slots.
Touch-pad control area for silent setting adjustment during movie recording.
For now, here's the Canon Press Release with details of the new Canon EOS-1D X
Canon U.S.A. Introduces The New Canon EOS-1D X Digital SLR Camera, Re-Designed From The Inside Out
Featuring a Completely New 61-Point Autofocus, Fast Shooting up to 12 fps, 18-Megapixel Full-Frame CMOS Sensor, Full HD Video Recording and Much More


LAKE SUCCESS, N.Y., October 18, 2011 – Canon U.S.A., Inc., a leader in digital imaging, is proud to introduce a completely revolutionized EOS-1D series camera, the Canon EOS-1D X Digital SLR camera.* As the new leader in Canon's arsenal of professional DSLRs, the EOS-1D X will be a high-speed multimedia juggernaut replacing both the EOS-1Ds Mark III and EOS-1D Mark IV models in Canon's lineup. Enhancing the revolutionary image quality of the EOS-1Ds and speed capabilities of the EOS-1D series, the EOS-1D X DSLR features an 18-megapixel full-frame Canon CMOS sensor, Dual DIGIC 5+ Imaging Processors, 14-bit A/D data conversion and capable of shooting an incredible 12 frames-per-second (fps). Canon's EOS DSLR cameras and accessories have a long-standing legacy of providing high-quality results to professionals in a wide range of markets, including sports, nature, cinematography, wedding and commercial studios. The addition of this new model will help take this tradition to a whole new level.
The EOS-1D X announcement comes on the heels of Canon's recent manufacturing milestone with the production of the Company's 50-millionth EOS-series SLR camera in September of 2011. Furthermore, Canon will achieve yet another milestone at the end of this month producing the 70-millionth EF lens.
"The EOS-1D X represents the re-invention of the EOS-1Ds and EOS-1D series, combining new proprietary Canon technologies with the culmination of customer feedback and requests from the field. We are proud to introduce this camera to the worldwide community of professional photographers and cinematographers with the features and capabilities they need to capture the great moments that display their talent," stated Yuichi Ishizuka, executive vice president and general manager, Imaging Technologies and Communications Group, Canon U.S.A.
The Camera With Three Brains
The EOS-1D X features three DIGIC processors, including Dual DIGIC 5+ image processors capable of delivering approximately 17 times more processing speed than DIGIC 4, and a dedicated DIGIC 4 for metering and AF control. In conjunction with the newly developed high-performance 18-megapixel full-frame Canon CMOS image sensor, the Dual DIGIC 5+ processors provide high-speed continuous shooting, lower noise, and a significant increase in data processing speed than previous EOS-1D models. This new level of data processing speed allows the EOS-1D X to perform many functions including chromatic aberration correction for various Canon EF lenses in-camera instead of through post-production software. The DIGIC 4 processor utilizes a new 100,000-pixel RGB Metering Sensor for enhanced exposure accuracy with color and face detection, and works together with the camera's new EOS iTR (Intelligent Tracking and Recognition) AF.
The EOS-1D X employs a completely new imaging sensor, producing the lowest noise of any EOS digital camera to date for stunning portraiture and studio work. The new 18-megapixel full-frame CMOS sensor utilizes large pixels - 1.25 microns larger than those in the EOS-1D Mark IV sensor and .55 microns larger than those in the EOS 5D Mark II sensor - together with gapless microlenses to achieve enhanced light gathering efficiency, higher sensitivity and less noise at the pixel level. The new sensor has improved on the already very high signal-to-noise ratio of sensor output of earlier EOS models for outstanding image quality, even in extremely low light. When combined with the Dual DIGIC 5+ imaging processors the results are stunning. The images produced with the EOS-1D X camera's new sensor are so clean that files can easily be up-sized if necessary for even the most demanding high-resolution commercial applications. The EOS-1D X will also feature new Ultrasonic Wave Motion Cleaning (UWMC), Canon's second generation self-cleaning sensor unit, which utilizes carrier wave technology to remove smaller dust particles from the sensor and it includes a new fluorine coating on the infrared absorption glass to help repel dust.
The low-light capability of the EOS-1D X is evident in its incredible ISO range and ability to photograph in extremely low-light conditions. Adjustable from ISO 100 to 51,200 within its standard range, the new model offers a low ISO 50 setting for studio and landscape photography and two high settings of 102,400 at H1 and 204,800 at H2, ideal for law enforcement, government or forensic field applications.
New 61-Point High Density Reticular AF
The EOS-1D X includes a brand new 61-Point High Density Reticular AF, the most sophisticated DSLR AF system Canon has ever released. The 21 focusing points in the central area are standard precision cross-type and effective with maximum apertures as small as f/5.6, depending on the lens in use. The center five points are also high-precision diagonal cross-type points for maximum apertures as small as f/2.8. All 61 points are sensitive to horizontal contrast with maximum apertures as small as f/5.6 and 20 of the outer focusing points function as cross-type points with maximum apertures as small as f/4.0. Other innovations of the new 61-point High Density Reticular AF include expanded AF coverage area, superior focusing precision and low light sensitivity, and greater low-contrast subject detection capability compared to earlier EOS AF systems. (See image below for AF point configuration)
All AF functions now have their own menu tab for quick and easy access (formerly AF custom functions in previous EOS models). A new AF Configuration Tool allows for customized setting of tracking sensitivity, the acceleration and deceleration of tracking subjects, and AF point auto switching, all of which are easily accessed and adjusted via the new AF menu tab. A built-in Feature Guide advises photographers on which settings to use according to subject matter.
Similar to the AF point selection options offered in the EOS 7D Digital SLR camera, the EOS-1D X offers six AF point selection modes: Spot, Single Point, Single Point with surrounding four points, Single Point with surrounding eight points, Zone selection and Automatic AF point selection. (See image below AF point selection options.)
EOS iTR AF: Intelligent Tracking and Recognition Enhances AF Performance
The Canon EOS-1D X features incredible new EOS iTR (Intelligent Tracking and Recognition) AF options ideal for wedding and event photography as well as sports and photojournalism. The default AF mode for the EOS-1D X uses phase detection AF information, while a new second option uses Face Detection technology to track recognized faces in addition to color information, ideal when shooting events such as tennis or dancing where facial recognition of the original subject will help keep that person in focus throughout the scene.
Exposure Control
For the first time in a Canon DSLR camera, a DIGIC processor is used exclusively with the metering sensor for fast, accurate exposure control. The Canon DIGIC 4 processor takes advantage of the EOS-1D X's 100,000-pixel RGB Metering Sensor and utilizes 252 zones for general metering or 35 zones for low-light metering to help ensure accurate evaluative ambient or flash exposure. The new subject recognition capabilities enhance nearly all of the camera's automatic functions, helping to adjust exposure, autofocus, Auto Lighting Optimizer and Automatic Picture Style to the scene being captured for enhanced image quality.
Multiple Exposure Modes
The EOS-1D X is the first EOS Digital SLR to feature Multiple Exposure capability. The camera can combine up to nine individual images into a single composite image, with no need for post-processing in a computer. Four different compositing methods are provided for maximum creative control, including Additive, Average, Bright and Dark. Compositing results can be viewed in real time on the camera's LCD monitor, and there is a one-step Undo command that allows photographers to delete an image and try again if desired. The EOS-1D X's Multiple Exposure mode even allows photographers to specify a previously captured RAW image as the starting point for a new Multiple Exposure composite image.
Super High Speed Mode
The Canon EOS-1D X camera breaks new ground in the world of digital SLRs, offering a Super High Speed Mode which increases shooting speeds up to 14 fps at full 18-megapixel resolution in JPEG modei. The new camera is also capable of shooting RAW, JPEG, or RAW+JPEG at speeds up to 12 fps in One Shot AF or AI Servo AF for enhanced performance in sports photography and other applications requiring high-speed digital capture. This new level of performance is made possible by the combination of the EOS-1D X's 16-channel readout CMOS sensor, Dual DIGIC 5+ image processors, and a completely new reflex mirror mechanism that has been engineered by Canon to combine high-performance with exceptional precision and reliability.
Enhanced EOS HD Video - New Compressions, Longer Recording
Centered around an all-new full-frame CMOS sensor with larger pixels than those found on the EOS 5D Mark II image sensor, the EOS-1D X utilizes new HD video formats to simplify and speed up post-production work. The two new compression formats offered on the EOS-1D X include intraframe (ALL-i ) compression for an editing-friendly format and interframe (IPB) compression for superior data compression, giving professionals the options they need for their ideal workflow. Answering the requests of cinematographers and filmmakers, the EOS-1D X includes two methods of SMPTE-compliant timecode embedding, Rec Run and Free Run, allowing multiple cameras or separate sound recording to be synced together in post production.
Canon's all new full-frame CMOS sensor ensures that video footage captured on the EOS-1D X will exhibit less moiré than any previous Canon model, resulting in a significant improvement in HD video quality. A desired feature for many documentary filmmakers using Canon DSLRs was to enable recording beyond the four gigabyte (GB) file capacity and the EOS-1D X is the answer. The new camera features automatic splitting of movie files when a single file exceeds 4GB. The new file splitting function allows for continuous video recording up to 29 minutes and 59 seconds across multiple 4GB files; no frames are dropped and the multiple files can be seamlessly connected in post production, providing filmmakers the recording time they want in the same convenient DSLR form factor. The camera records Full HD at 1920 x 1080 in selectable frame rates of 24p (23.976), 25p, or 30p (29.97); and 720p HD or SD video recording at either 50p or 60p (59.94). SD video can be recorded in either NTSC or PAL standards.
The Canon EOS-1D X also includes manual audio level control, adjustable both before and during movie recording, an automatic setting, or it can be turned off entirely. A wind filter is also included. Sound can be recorded either through the internal monaural microphone or via an optional external microphone through the stereo mic input.
Enhanced Ergonomics & Optimized Design
Photographers familiar with Canon's EOS 1D-series of cameras will notice the control configuration of the EOS-1D X takes a different approach to button placement. The re-designed exterior and ergonomic button configuration feels comfortable in your right hand, allowing seamless navigation through menu options.The Live View Button has been conveniently placed near the user's thumb for one-touch switching between Live View and Viewfinder shooting. The Quick Control Button and menu navigation controls will allow users to change camera settings using only their right hand, for fast, simple one-handed control using their thumb on the scroll wheel. The new multi-controller is positioned by the right hand thumb when the camera is held for vertical shooting and enables the same level of control to camera operators when shooting vertically as they have when shooting horizontally. On the front of the camera are four user assignable function buttons, two for vertical shooting and two for horizontal shooting, allowing customizable button control when shooting in either position. The camera also features a level of weather resistance equivalent to earlier professional models such as the EOS-1D Mark IV.
Canon has answered the request of many professional EOS photographers and incorporated Dual Card Slots into the new EOS-1D X DSLR camera. The dual CF card slots will allow photographers to carry only one memory card format and still achieve instant image back-ups and enhanced storage capacity.
This camera also features a new shutter design with even greater durability and precision. Rated to 400,000 cycles, the new carbon fiber shutter blades are more lightweight and durable, allowing the EOS-1D X to achieve over 100,000 cycles more than the shutter of the EOS-1D Mark IV. A new shutter motion and new motor help further reduce vibration in the camera. The EOS-1D X also features an electronic first curtain, new to the EOS-1D series DSLRs, for minimal in-camera vibration during image capture.
Connectivity
For professional photographers who prefer a wired workflow and transfer system, Canon has included a built-in LAN connection in the EOS-1D X DSLR. The built-in LAN connection features a gigabit Ethernet Jack capable of 1000BASE-T transmission speeds, offering photographers a stable wired connection for ultra-fast data transmission. If the network were to go down, the camera will attempt to resend images until the files are sent. The EOS-1D X also features a direct image transfer function whereby images can be selected for transfer, and only sent once a LAN or USB connection is established.
Accessories
Designed exclusively for the EOS-1D X, the new Canon WFT-E6A Wireless File Transmitter* features wireless LAN support for 802.11n network transfer rates providing users with increased communication speed when compared to previous models. With this new dust and weather resistant model, professionals can synchronize clocks on multiple cameras and use the unit to support linked shooting when utilizing multiple cameras. In addition, Bluetooth-compatible equipment can be easily linked to the device as well.
The EOS-1D X also offers an optional Canon GP-E1 GPS Receiver*, which can be easily integrated into the camera's body. Powered by the camera, this GPS receiver provides the same weatherproof resistance as the EOS-1D X, even at the connector. With an electronic compass on-board, the GP-E1 will log movement - latitude, longitude, elevation, and the Universal Time Code - and allow viewing of camera movement on a PC after shooting. The receiver will also record camera direction when shooting, even when shooting vertically.
Pricing and Availability
UPDATE 03/15/12:
Adorama are now accepting pre-orders for the EOS-1D X at $6799

The Canon EOS-1D X Digital SLR camera is scheduled for March 2012 availability and will be sold in a body-only configuration at an estimated retail price of $6,800.00. The compact, lightweight WFT-E6A Wireless File Transmitter is scheduled to be available in March 2012 and have an estimated retail price of $600. Availability for the GP-E1 GPS receiver is expected in April 2012 with an estimated retail price of $300.