Canon EOS 5D MkII Rebate- Fall 2011
| | |
| --- | --- |
| | Canon EOS 5D MkII - now with $500 rebate |
Looks like the rebate rumor I reported on earlier in the week has been made official by Canon.
There's now an instant rebate on the 5D MkII of $100, making the price around $2399 at the reputable retail stores. This is somewhat less generous than I'd been hoping for, but I guess any rebate is better than no rebate! The rebate runs through October 29th 2011. The same $100 rebate applies on the 5D MkII + EF 24-105L kit, making the price $3199. That means you are paying $800 for the EF 24-105L lens. The normal discount price on the EF 24-105L is around $1050, so you do save an extra $250 by buying the kit, making a total saving of $350 over buying these items separately before the rebate.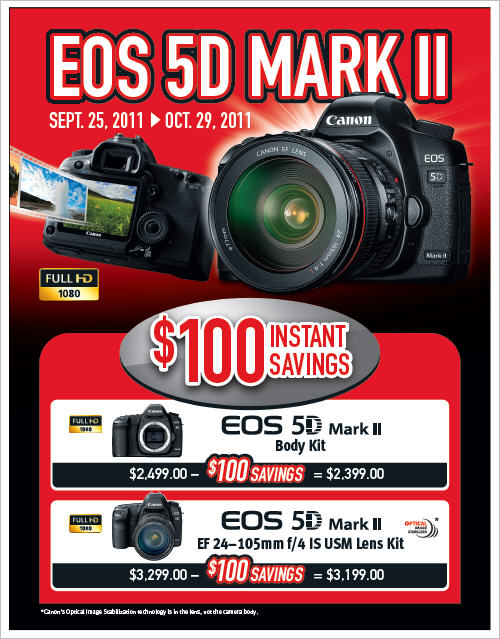 Is there a significance to the timing of the rebate? Well, all I can say is "maybe". In the past such rebates on high end DSLRs have come before a new model is released. It's certain that Canon have a 5D MkIII on the drawing board, but how close it is to release is anyone's guess. Could be anything from a month to two years, but I'd probably guess sooner rather than later. Of course the price is likely to start out quite high, maybe in the $3000 region. I won't speculate on how it will differ from the 5D MkII, but I'd expect minor upgrades in all the systems, a few more MP and a faster processor.