Nikon D600 or Canon EOS 6D?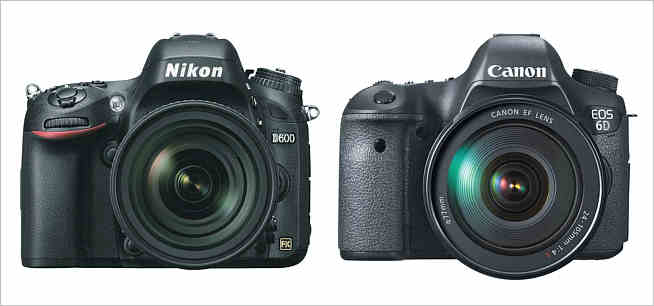 Things are getting interesting in the world of Full Frame (24 x 36mm) sensor cameras and most interesting in the $2000 region where the Nikon D600 has been joined by the Canon 6D in a battle for the "budget" full frame market. Both can be found in the region of $2000 (give or take a few hundred dollars) so which is the better value?
Well, first let's take a look at the specifications:
Canon EOS 6D

Nikon D600

MSRP
$2100
$2100
Street Price
$2100
$2000 w/24-85 lens
Sensor size
Full frame
Full frame
Sensor type
CMOS
CMOS
Effective pixels

20.2 MP

24.3 MP

Max resolution
5472 x 3648
6016 x 4016
ISO Range
Auto, 100 - 25600 in 1/3 stops, plus 50, 51200, 102400 with expansion
100 - 6400 in 1, 1/2 or 1/3 EV steps, plus 50 - 25600 with expension
RAW format
Yes
Yes
Number of focus points
11
39
Lens mount
Canon EF mount
Nikon F mount
LCD dots
1,040,000
921,000
Viewfinder coverage

97%

100%

Viewfinder magnification
0.71x
0.7x
Shutter speeds

1/4000-30s

1/4000-30s

Built-in flash
No
Yes
External flash
Hot shoe
Hot-shoe, Wireless
Flash X sync speed

1/180s

1/200s

Continuous drive
4.5 fps
5.5, 1-5 fps
Metering modes
Multi, Center-weighted, Spot, Partial
Multi, Center-weighted, Average, Spot
Exposure compensation

+/- 5EV

(in 1/3 or 1/2 EV steps)

+/-5EV

(in 1/3 EV, 1/2 EV, 2/3 EV, 1 EV steps)
AE Bracketing
3 frames at up to +/- 3EV
2 or 3 frames at up to +/- 3EV
Video Format
MOV (Image data: MPEG-4 AVC / H.264, Audio: Linear PCM (Stereo))
MOV (Image data: MPEG-4 AVC / H.264, Audio: Linear PCM (Stereo))

Headphone jack
No
Yes

Video Resolutions
1920 x 1080 (30, 25, 24 fps), 1280 x 720 (60, 50 fps), 640 x 480 (25, 30 fps)
1920 x 1080 (30, 25, 24 fps), 1280 x 720 (60, 50, 30, 25 fps)
Timelapse recording
Via cable and PC
Yes, built-in
Memory card
SD/SDHC/SDXC
SD/SDHC/SDXC with 2 slots
GPS
Built-In
NMEA-0813 log format
Optional
Wireless
Built-in
IEEE 802.11b: 11 Mbps
IEEE 802.11g: 54 Mbps
IEEE 802.11n: 150 Mbps
Optional
Remote control
wired and wireless options
wired and wireless options
Environmentally sealed
Yes
Yes
Weight (inc. batteries)
770g / 1.70

lb

760g / 1.68

lb

Dimensions
145 x 111 x 71

mm


5.71 x 4.37 x 2.8

"

141 x 113 x 82

mm


5.55 x 4.45 x 3.23

"
As you can see, in many respects these are very similar cameras. The Nikon D600 has a few more pixels (23MP vs 20MP), but that's really not a big deal and unlikely to have much of an effect on the image. Both are full frame, both have the same shutter speed range, both can only bracket 3 shots etc. etc.
However they do differ in a few important aspects (highlighted in yellow in the table above). The Nikon D600 has a built in flash, while the Canon EOS 6D doesn't. Now a built in flash of of limited use on its own (though it still can be useful at times). But...The Nikon 6D can control external Nikon speedlites from its built in flash, while with the Canon EOS 6D you need either a Speedlite capable of functioning as a wireless master or a wireless flash controller mounted in the hotshoe. Give Nikon a +1 for that.
On the other hand, the Canon EOS 6D comes with wireless connectivity and a GPS receiver built in. These are pretty expensive accessories if you have to buy them for the Nikon, plus they would add bulk to the camera, so score +2 for Canon on that score.
Somewhat less important (to some) features (highlighted in blue above) are the higher ISO capability of the Canon EOS 6D (51200 and 102400 vs 25600 for the Nikon D600), the additional focus zones of the D600 (39 vs. 11 for the EOS 6D), the built in time lapse capability of the D600 (you can do it with an EOS 6D, but you need to attach the camera to a computer) and the dual memory card slots of the Nikon D600. Dual cards are nive because they can be configured as a backup, or you can have double the shooting capacity before putting in a new card, or you can write JPEG to one and RAW to the other.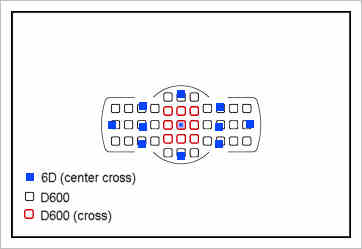 Approximate location of Canon EOS 6D and Nikon D600 focus zones
One point to note about the focus zones though is that it isn't a slam dunk for Nikon. Yes, the D600 has 39 zones vs. the 11 zones of the 6D and the D600 has 9 cross zones (all in the center) while the 6D has 1 (also in the center. However the 6D AF system is rated down to -3EV, a full two stops less light than the the D600 which is only rated down to -1EV. Also, the 39 zones of the D600 cover almost exactly the same area of the frame that the 6D's 11 zones cover, it's just that they are more densely packed. So 39 zones doesn't mean that the D600 AF is 3 or 4 times better than that of the 6D. In fact it may be no better at all, especially when the light gets low. Numbers don't tell you everything.
Most of the other features may give slight advantage to one camera or the other. Personally I don't think the difference between 97% viewfinder coverage and 100% is a big deal, neither is the fact that one LCD has a few more dots or even that the Nikon D600 is 23MP and the Canon 6D 20MP. The Nikon D600 has a slightly faster maximum frame rate (5.5fps vs. 4.5 fps), but again for most people that's not going to be a big deal. However if you add up the small differences you may find that one or the other camera provides more of what you want.
So overall in terms of features, what matters is what is important to you. Do you need wireless connectivity and GPS, or is built in flash with wireless control more important? Do you need very high ISO capability or would you rather have an intervalometer? Is a 20% faster frame rate something you need or would you rather have a higher resolution LCD?
Of course cost is a factor. Both cameras have a manufacture's retail price around $2100, but currently the Nikon D600 is selling in a package with the 24-85mm f/3.5-4.5G ED VR Lens for a total price under $2000, which is less than the cost of the Canon EOS 6D body alone! Clearly the Nikon gets a lot of extra points for value right now. But..(and there's always a but...) if you want GPS, the Nikon GP-1A will cost you an extra $300 and you'll have it tethered to the camera via a cable and mounted on the hot shoe, and if you want WiFi the Nikon WU-1b (which hasn't been getting great reviews) will cost you $60 and you'll have a module sticking out of the side of the camera plugged into the USB port. So that's an extra $360, plus modules and cables handing off the camera. Much less convenient than having them built in.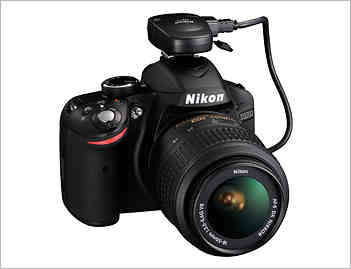 GP-1 unit on Nikon D3200
Those are features on paper, but what about intangibles like overall image quality? Well, I haven't had a chance to shoot them side by side, but DxOMark has done tests on the two sensors which are quite interesting. I'll deal with the results of those tests next.
NEXT: -> Part II, Sensor Performance