Canon EOS-M? Is this the Canon mirrorless camera?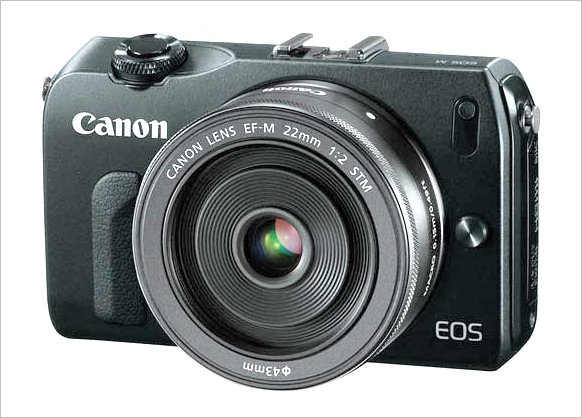 Apparently a number of images of Canon's long rumored mirrorless interchangeable lens camera surfaced on a Japanese website and were quickly grabbed and reposted by a number of viewers who saw them. There's absolutely no guarantee that these are actually pictures of Canon's new MILC (which is rumored to be scheduled for announcement on Monday July 23rd.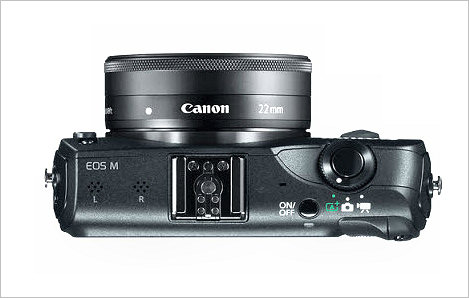 Form the pictures it's possible to make some size estimates based on the assumption that the hot-shoe is Canon's standard size. From the control layout it's also possible to make some educated guesses about the camera. Note that none of this is official. It could all be wrong.
The name seems to be the EOS-M and the lens mount seems to be designated EF-M
The size of the body seems to be very similar to that of the G1X. That would make it about 4.5" wide by about 1.25" deep (with no lens attached).
The sensor appears to be APS-C. A very good guess might be that it's the same 18MP APS-C sensor that is used in the EOS T4i, which has some phase sensitive AF elements built into it. That would allow continuous AF in video mode.
Supporting that, the 22mm f2 lens appears to be STM, and so seems to be designed for quiet continuous autofocus in video mode.
There appear to be Left and Right microphones, so it will record stereo sound.
The control layout is pretty simple and there aren't a lot of buttons, so I'd guess that maybe it has the same touch sensitive screen that the EOS T4i uses and that a "Quick Menu" screen will allow setting to be changed.
The screen appears to be fixed rather than swing out. That would lower cost and make the camera slightly thinner.
Since the camera is around 30mm deep, the flange to sensor distance will likely be somewhere in the 20-25mm range (it's 43mm for EF and EF-S lenses). Presumably an adapter for EF/EF-S lenses will be available at some point.
Though the 22/2 lens isn't stabilized, an IS 18-55mm lens is reported, so it looks like Canon are sticking with Image Stabilization in the lens.
No electronic veiwfinder and apparently no obvious connection for an accessory EVF, though it does look like there might be a few extra contacts in the hot-shoe which could suggest maybe suppoty an external EVF
No built in flash is apparent, but a small accessory hot-shoe flash is rumored to be being released along with the EF-M
So overall this looks like it would be an entry level APS-C MILC from Canon, probably with functions close to those of the new Rebel T4i DSLR. The 22mm f2 lens (which would have the same field of view as a 35mm lens on a full frame camera) looks useful.
We'll probably see the official announcement on Monday July 23rd