Canon Powershot G1 X, 520HS and 110HS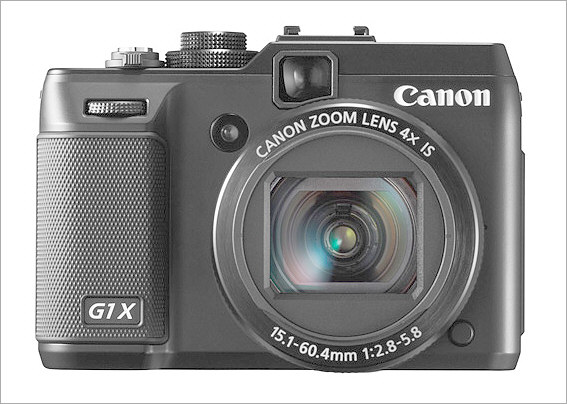 Today at CES Canon released full details of their new flagship "P&S" digicam, the Canon G1 X. Though there have been leaks and rumors about the G1 X for a while now, this is the first release of the real details!
The "game changer" technology of the Canon G1 X is the use of a large sensor. The G1 X sensor measures 18.7mm x 14mm. That makes it slightly smaller than the APS-C sensors found in Canon DSLRs (which is 22.3mm x 14.9 mm), but larger than the 4/3 sensors used by Olympus in their DSLRs and MILCs (13mm x 17mm).
The use of a large sensor is very interesting since it puts the G1 X in a similar category as many of the MILCs (Mirrorless Interchangeable Lens Cameras) insofar as offering the image quality of a DSLR in a smaller package. It doesn't have an interchangeable lens of course but it certainly makes me wonder if Canon are perhaps contemplating a MILC system using this sensor at some point. Such a camera would be quite compatible with existing EF and EF-S series lenses. Just a thought...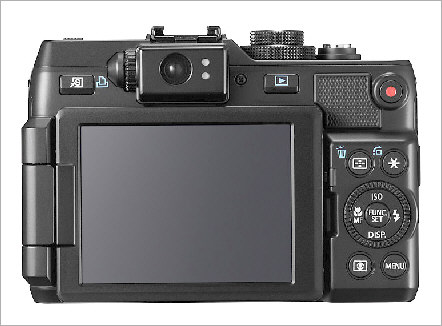 The lens on the G1 X is a 15.1-60.4/2.8-5.8 zoom, which makes it something like a 28-112 in full frame 35mm terms. The f2.8 speed isn't bad at the wide end of the range, but f5/8 is a little slow at the telephoto end. However that's one of the costs of keeping the package small - 117 x 81 x 65 mm (4.61 x 3.19 x 2.56"). The downside of a slower lens is that you have to increase ISO in low light which may somewhat offset the lower noise of the larger sensor. A smaller sensor with a faster lens might give equal performance, for example the Fuji X10 has a much smaller sensor, but has a 28-112 (equivalent) lens that goes from f2.0 to f2.8.
The Canon G1 X has a number of features in common with Canon's DSLRs. It can record 14-bit RAW and JPEG files, it uses the Digic 5 processor, it has a built in electronic level, it has a 3" LCD with 922,000 dots and it's compatible with Canon Speedlites. The lens minimum aperture is f16, the fastest shutter speed is 1/4000s and ISO settings up to 12,800 are available. Shot capacity is 250 shots with the LCD on, but 700 shots with the LCD off (which is one good reason for including the optical viewfinder!). Maximum continuous shooting rate in high speed burst HQ mode is 4.5fps, however that's only good for 6 frame.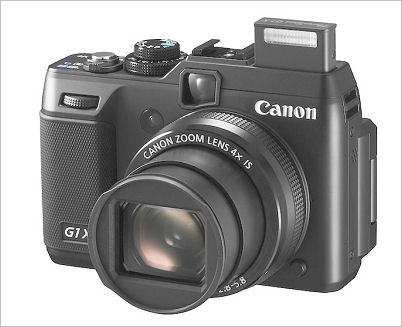 My take on the G1 X is that it is a step forward in the compact digital camera market. Quite clearly a step up from the highly respected G12 and promising significantly better performance. However, if Canon could just come up with an interchangeable lens version with a compact "pancake" zoom and the ability to mount EF and EF-S lenses, they might just hit a home run! Such a camera would also make a great "backup" body for an EOS SLR system. I just can't help feeling that a fixed lens that won't go wider than 28mm or longer than 112mm and isn't very fast isn't going to be a huge selling point for the G1 X. For around the same price you can get the very similarly named Panasonic GX1 with a 28-85 (equivalent) 3.5-5.6 lens. The GX1 has a very similar sized sensor, but the lenses are interchangeable, so if you don't like the kit lens you can get a 20/1.7 or an 8mm fisheye or a 45-200 telephoto (x2 for full frame 35mm focal lengths) or several other choices. Plus you can even mount EOS lenses on it (manual focus, no aperture control) via an adapter if you really want to! The GX1 is smaller too.
So although I think the Canon G1 X should be a good camera, probably as good as or better than pretty much any other compact digicam, I can't help feeling that Canon either missed the mark slightly or that they have something else up their sleeve that they aren't talking about. It's not that the G1 X isn't a good camera, it's just that the lens range and speed doesn't really excite me much. However I'm sure there are lots of photographers who will be quite happy with it and will find the G1 X to be a useful tool for the work they do and in fact early reports from Canon's test photographers are very positive. I'll certainly try to get hold of one for review as soon as I can.
The G1 X will initially sell for $799.99 and should be available next month (Feb 2012).
Somewhat less exciting are the new Powershot 520HS and 110HS which Canon introduced alongside the G1 X. They are both pretty nice, but much more conventional "P&S" digicams which are more evolutionary than revolutionary. There's more information on them below.
Canon's comments on the new cameras are given below: