Canon EOS 60D and the International Motorcycle Show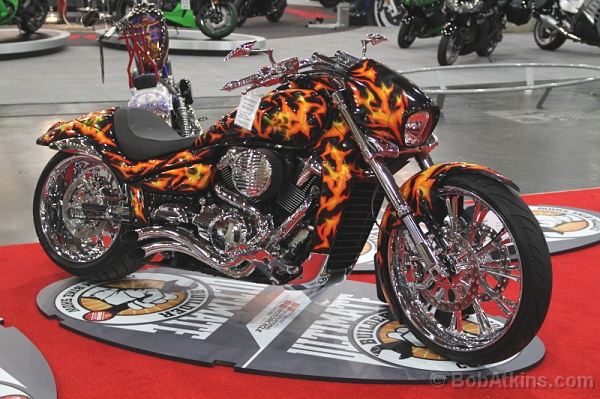 I've just posted a gallery of images taken at the 2011 International Motorcycle Show which was held at the Javits Center in NYC on January 21-23rd 2011
I took along the Canon EOS 60D to test it out under real world conditions and it performed well. All the images were shot indoors under fairly dim lighting with ISO settings ranging up to ISO 6400. Most of the time the camera was used in auto ISO mode and either in aperture priority or program modes. Metering was evaluative and white balance was set to auto.
I used two lenses almost equally. The EF-S 10-22/3.5-4.5 USM was used when I was in tight spaces or I wanted an exaggerated wideangle view. The EF-S 18-135/3.5-5.6 IS was used when I had more space or I need the longer reach for more distant subjects. Faster lenses would have been good, especially when shooting at 135mm (f5.6), but I still managed to get the images I wanted, even with the slower lenses.
The gallery has shooting information for each shot, so you can tell which images were shot with which lens, plus the shutter speed, aperture, focal length and chosen ISO.
Here is the link to the gallery: International Motorcycle Show Gallery
Overall I was very pleased with the results from the EOS 60D and the two Canon lenses I used. I was surprised to find that after taking several hundred still images and several minutes of video, the battery still registered "full" on the LCD display, so battery life is impressive.