Canon Rebates for August 2012
Canon have announced a set of fairly short lived rebates on a number of their lenses and speedlites as well as various EOS 60D, T3 and T3i kits. The rebates don't last long, most of them just from August 12th 2012 to September 1st 2012. There are rebates on various 5D MkII, 7D and T4i combinations that last through September 29th.
UPDATE: As has become fairly common practice these days, Canon have extended their rebates through September 29th. There's usually one extension. I guess they figure they'll get everyone to buy ASAP because the rebate is about to end, then they extend the rebate to bring in a few more customers. I suspect these rebates may really end on September 29th though.
UPDATE#2: Well, I was wrong! Canon have extended the lens and Speedlite rebates through October 27th 2012. The 7D and T4i rebates also continue through October 27th as does the EOS 5D MkII rebate which has been increased from $200 to $400
Here are the EOS 5D MkII, EOS 7D and EOS T4i rebates. The 5D MkII kit is with the EF 24-105/4L IS USM. The EOS 7D kits are with the EF-S 18-135/3/5-5.6 IS and/or the EF 70-300/4-5.6 IS USM. Various EOS 60D + lens kits are also eligible for instant rebates as detailed below. The lenses includes are the EF-S 18-200IS, the EF-S 18-135IS and the EF 70-300IS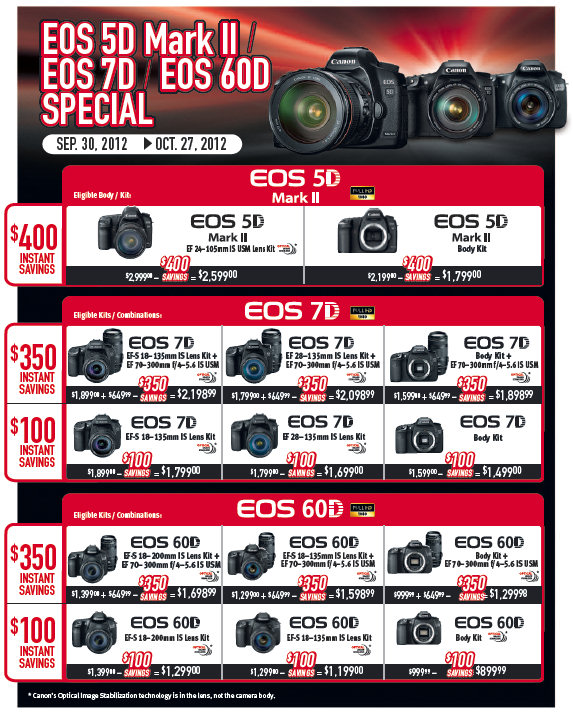 The individual lenses and speedlites covered by the rebate are listed below. The rebates average around 10%.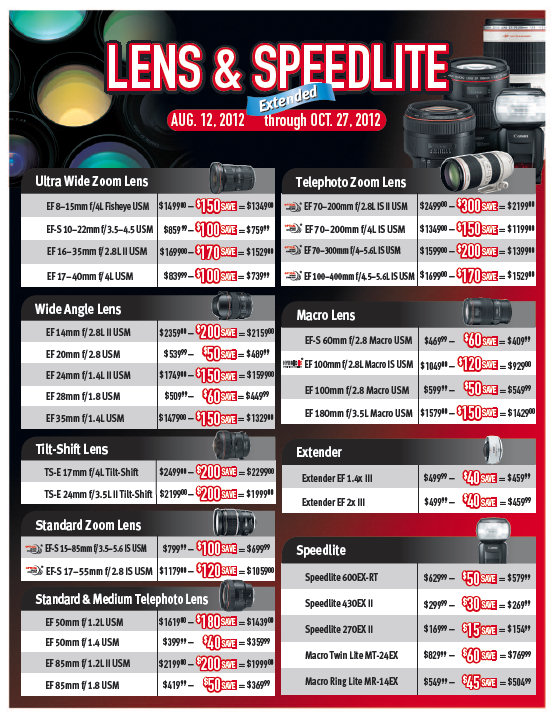 The Rebel T4i kits include the EF-S 55-240/4-5.6 IS, the EF-S 18-135/3.5-5.6 IS and the EF-S 18-55/3.5-5.6 IS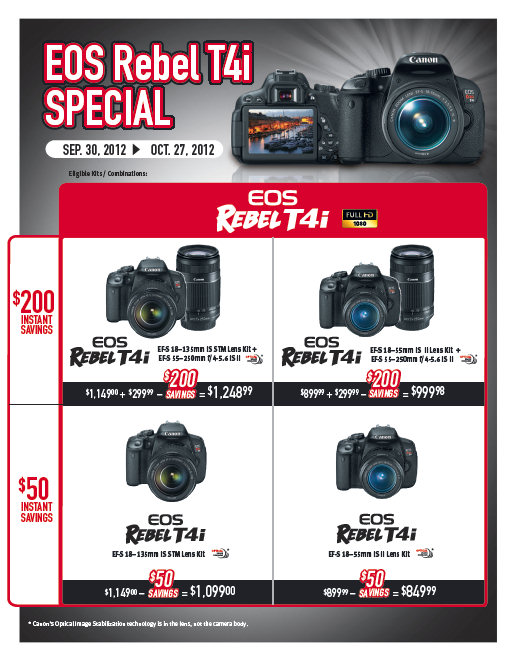 Finally, there are also several Canon EOS Rebel T3 and T3i + lens kits as detailed below. The lenses include the F-S 55-240/4-5.6 IS, the EF-S 18-135/3.5-5.6 IS and the EF-S 18-55/3.5-5.6 IS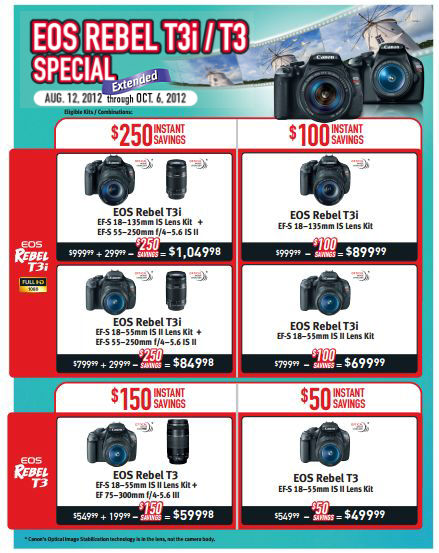 Here are direct links to the rebates items at B&H Photo: