Pentax Q Review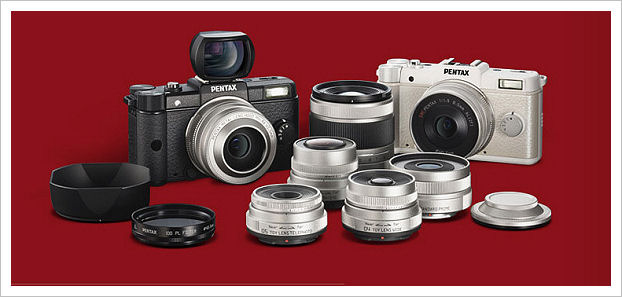 The Pentax Q system. The body is available in black or white and there are 5 lenses available
The Pentax Q is the smallest current Mirrorless Interchangeable Lens Camera (MILC) currently in production. It's really quite a hybrid, with the brains of a Pentax DSLR, the heart of a compact P&S and the body of a miniaturized Leica rangefinder!
What Pentax have done with the Pentax Q is take compact P&S sized sensor (though it's new and uses more advanced technology) and place it in a slightly retro-styled all metal body. They also took the software and most of the features from their DSLR cameras and transported it to the Pentax Q.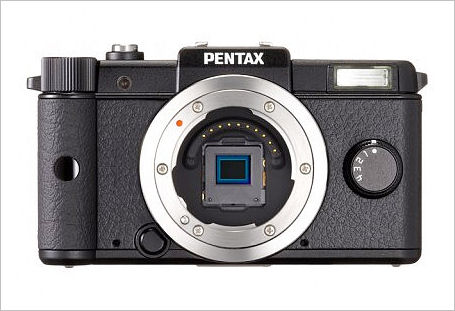 The sensor measures approximately 6.2 x 4.6mm and has a 5.5x "focal length multiplier"
What resulted is probably the smallest, lightest and most fully featured pocketable digital camera on the market today. The small sensor allowed both the camera body and the lenses to be quite a bit smaller than any other MILC. The body measures 3.9 x 2.3 x 1.2" and weighs only 7.1oz complete with battery and memory card. The standard prime lens (equivalent to a 47mm lens on full frame 35mm) adds only 0.9" to the depth of the camera and weighs in at only a featherweight 1.31oz.
The sensor is back illuminated which means that the photosites aren't obstructed by any of the sensor "wiring", enabling tighter packing of larger pixels and an increase in light sensitivity. Back illuminated sensors are somewhat more difficult to make than conventional sensors and so cost more to make, but the increase in performance can make that worthwhile. The sensor is kept clean by an ultrasonic vibration mechanism which shakes of any dust that settles on the sensor. Image stabilization is enabled though a sensor shift mechanism which moves the sensor around to compensate for any camera movement.
Of course there are some downsides to making a camera this small. The main problem is that sensor size and image quality are tied together and all else being equal a smaller sensor won't give you an image that's as good as a larger sensor. However it can still give very good image quality as long as you don't try to make huge prints. The other issue with a small sensor is that lenses tend to produce an image with a very large depth of field. This means that you can't isolate a subject through focus like you can with a camera with a larger sensor. Despite the fact that the Pentax Q comes with a fast prime lens that's equivalent to a 47mm f1.9 lens on a full frame DSLR, at f1.9 you get the same depth of field as you'd get at f11 on that full frame camera. There are other problems with miniaturization, such as the need for a pretty small battery. That in turn means that it can't have a high energy capacity and that means fewer images per charge. The Pentax Q is rated for around 255 shots based on the CIPA standard (LCD on and 50% flash use). It's not bad but many cameras can do better.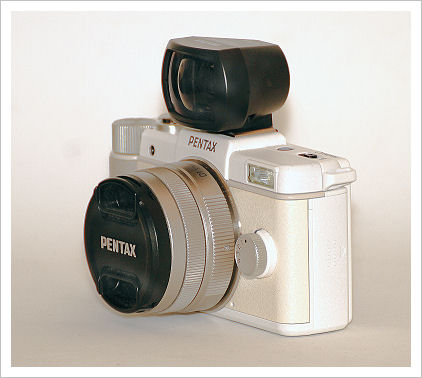 Pentax Q with optional optical viewfinder for "47mm" prime lens
The Pentax Q has a very nice high resolution 3" LCD screen, but no optical viewfinder. An optional optical viewfinder is available which covers the field of view of the standard prime lens, though of course it doesn't show focus or any camera formation and like all optical viefinders it can't provide precise framing and suffers from parallax issues at shorter focus distances. Even worse is the price of $250. At first I thought this must be a mistake or a joke, but it's not. See Olympus O-VF1 optical finder for Pentax Q 47mm lens. At that price, I think I'd stick with the LCD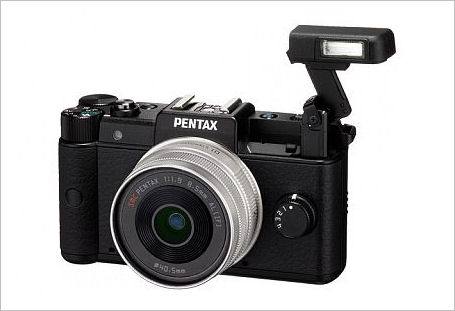 Despite the small size, Pentax included a built in flash in the Pentax Q. In fact they designed the flash so that not only can it be used in place, but it can be popped up to move it further from the axis of the lens in an attempt to reduce red-eye effects. It's not very powerful, but it's certainly useful to have. If you need more power and versatility, you can mount a Pentax flash on the hotshoe.
Specifications in Brief
Sensor
1/2.3" 12.4 MP CMOS sensor. 4000×3000 pixels
Sensitivity
AUTO : ISO 125 to 6400 (1/3 EV steps) Bulb mode : up to ISO 1600
Metering
Type TTL image sensor metering, segment metering, center weighted metering and spot metering
Focus
TTL Contrast Detection AF; 25 zones; Sensitivity range: EV 1-18 (ISO 125) Focus modes: AF Single (w focus lock, focus/release priority selectable), AF Continuous, AF Face Detection
Exposure
Shutter Lens shutter : 1/2000—30 seconds (1/3EV step, 1/8000—30 seconds when electronic shutter setting is enabled), Bulb
Aperture From wide open to f8
Flash
Guide number : approx.5.6 (ISO 125/m) / approx.7 (ISO 200/m); Coverage : wide-angle lens, equivalent to 28mm in 35mm format
File Format
File formats: RAW (DNG), JPEG (Exif 2.3), DCF2.0 compliant
Video
Recorded Pixels Full HD (1920×1080, 16:9, 30fps), HD (1280×720, 16:9, 30fps), VGA (640×480, 4:3, 30fps); MPEG-4 AVC/H.264
LCD
3" TFT color LCD monitor, wide-angle viewing, 460k dots Brightness and colors adjustable
Size/Weight
98mm(W) x 57.5mm(H) x 31mm(D); 200g (loaded with battery and SD card), 180g (body only)
Operation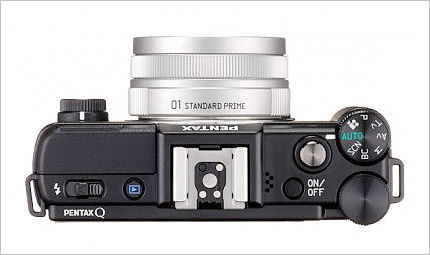 The Pentax Q is a nicely designed camera which is pretty easy to use. A main dial (metal) controls the shooting mode while a secondary dial (also metal) has multiple functions depending on the mode that the camera is in.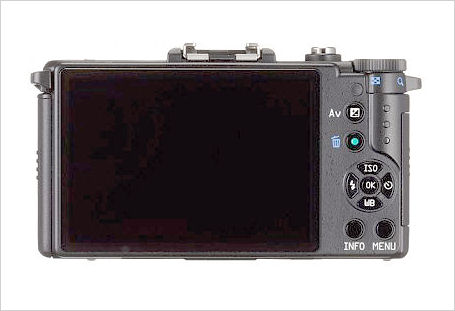 The buttons on the back of the camera follow what has become a pretty conventional layout for compact digital cameras with a 4 way controller set of buttons which either navigate menus in the menu mode or which control camera settings (ISO, White balance, flash and drive) in shooting mode. The menus are pretty extensive and almost every aspect of the camera operation can be tailored to the user's preference. Anyone familiar with Pentax's DSLRs will recognize the menus since much of the camera's firmware seems to be based on that found in Pentax DSLRs.
Operating speed is fairly fast, if a little limited. For example you can shoot at 5 frames/sec in continuous mode - but only for 1 second. After 5 frames the buffer fills and things slow down - and that's in JPEG mode. If you are a little more patient you can shoot at 1.5 fps for up to 100 JPEG frames. In single shot mode you can count on at least 1 second between shots. Startup time is 2-3 seconds, which isn't blazingly fast but isn't that much of an issue. AF with the 47/1.9 prime was pretty good, but by no means the fastest (or slowest) AF I've ever seen.
There are far too many features, custom menus and functions to detail here, but just to pick a few:
HDR image. The camera shoots three images at three different exposures, then combines and tone maps them into an HDR image.
Blur Control. Due to the nature of small sensors, it's hard to blur the background of an image, even with a fast lens. The Q has a BC (blur control) mode where it takes several shots at different focus settings then combines them to keep the focused subject sharp but it tries to increase the blur in the background by taking it from one (or more?) of the defocused images. It works most of the time but it still doesn't look like an image shot with a fast lens on a DSLR.
Highlight and Shadow correction. The Q can attempt to improve dynamic range by compensating for dark and light areas which might otherwise be under or over exposed.
Distortion correction. The Q can correct lens distortion automatically. In fact the supplied prime lens has significant barrel distortion, but you'd never know that unless you turned distortion correction off.
1080p HD movies at 30fps (MPEG-4 AVC/H.264) with stereo sound.
A small dial on the front of the camera allows up to 4 different custom configurations of the camera to be stored and recalled by a turn of the dial.
USB 2.0 connectivity, NTSC/PAL composite video out, Type_D micro HDMI port.
Front and rear IR sensors for use with the Pentax wireless remote accessory (Pentax Remote Control O-RC1).
Image Quality
For a camera with such a small image sensor, image quality is very good. Pentax seem to have done an excellent job in squeezing all they could out of the image. ISO ranges from 125 to 6400, but the higher setting are best avoided unless it's absolutely necessary to use them. Up to maybe ISO 800 noise is well controlled, but at ISO 1600, 3200 and especially 6400 noise is present and image sharpness is reduced due to the amount of noise reduction it's necessary to apply to keep noise under some sort of control.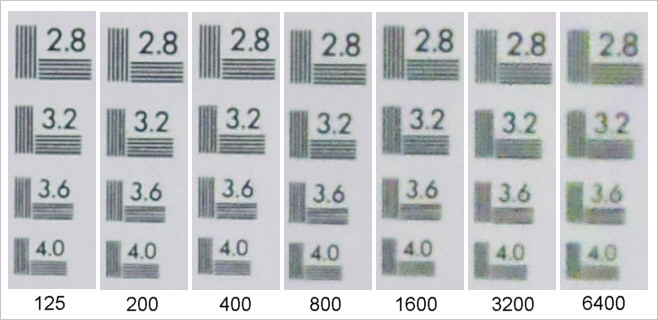 The above samples are 100% crops from images shot with the Pentax Q using the 47mm lens at f4. Focus was locked to avoid any small differences in AF accuracy. WB was set to "tungsten" and the target illuminated by a 500W quartz-halogen lamp. The camera was mounted on a tripod. As you can see, image quality remains excellent at ISO 125 to ISO 400. At ISO 800 there is a slight softening, but nothing to be worried about. Remember these are very small sections of the image viewed at 100%. At ISO 1600 there's definitely further degradation and some chroma (color) noise is showing up. At ISO 3200 things are worse with more chroma noise and lowered resolution. ISO 6400 is something to be reserved for emergency use, though for small prints or images on the web it's certainly usable.
As a reference point the Canon T1i (500D) has about a 2 stop advantage over the Pentax Q in terms of noise, so you'd get about the same amount of noise in a Pentax Q image at ISO 400 as you would in a Canon EOS 500D (T1i) image at ISO 1600. In fact this isn't bad considering the sensor size of the Pentax Q. The Pentax Q noise performance is about the same as that of the Canon Powershot G12, Canon's top of the line compact digital camera.
Dynamic range is pretty good at ISO 125 and is comparable to that of the Canon Powershot 12G and slightly lower than that of a DSLR camera like the EOS 500D. However as ISO is increased the dynamic range of the small sensor cameras drops much faster than that of the APS-C DSLR and at mid and high ISO settings the DSLR probably has about 2EV more dynamic range.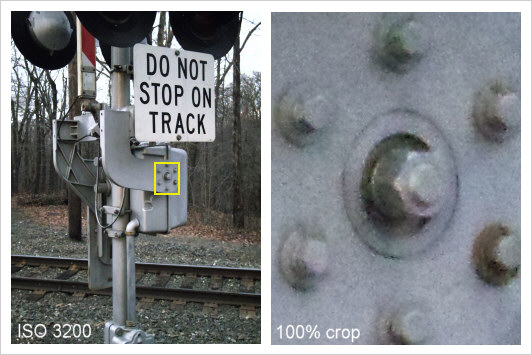 The above image was shot with the Pentax Q at ISO 3200. +2EV exposure compensation was used as the Q seems to underexpose at low light levels. Aperture was f1.9 and the shutter speed as 1/40s. On the left is the whole image and on the right is a 100% crop from the area outlined in yellow on the left. Not bad for such a small camera.
Conclusions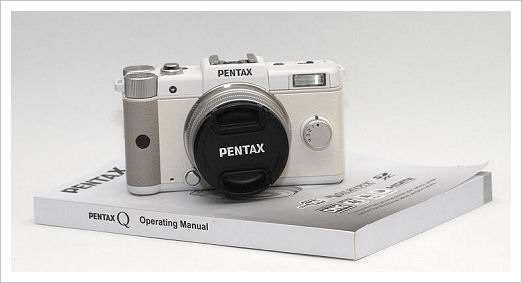 Overall, the Pentax Q is something of a mixed bag. There's no denying it has a huge appeal to anyone who loves gadgets. It's a fine piece of engineering and obviously built to a high standard of quality. However it has a tiny sensor and it's expensive at around $800. From the point of view of image quality it's not really any better than a high end P&S camera such as the Canon G12, and the G12 costs under $400, has a slightly larger sensor and has a 28-140/2.8-4.5 zoom. Granted it's not f1.9, but from a DOF viewpoint a faster lens really doesn't get you much with a small sensor camera. The G12 also has an optical viewfinder and a swing out LCD screen. You can't change lenses, but then again there aren't that many Pentax Q lenses and the only "serious" lens other than the 47/1.9 (actually 8.5/1.9) prime is the 27.5-83/2.8-4.5 (actually 5-15/2.8-4) zoom at $300 and the G12 already has a 28-140/2.8-4.5 (and an optical viewfinder) included in the price. The optical viewfinder for the Pentax Q (usable only with the 47mm prime) is an extra $250.
So who is the Pentax Q going to appeal to? Well, maybe the camera collector or someone who values a camera as much for its design and uniqueness as much as it's actual photographic utility. There's no denying that the Pentax Q is "cute and sexy", but given the price you can certainly get more bang for your buck by going a more conventional route, whether that's a cheaper high end compact P&S camera or an equivalently priced entry level DSLR with kit lenses and a 50/1.8 prime.