Canon Powershots - A570IS, A650IS and A720IS
I was recently looking for a small digicam to use as a backup for my DSLR system. I wanted something which had full manual control, good low light capability, good image quality, which would fit in my pocket and which didn't cost too much. I already have a couple of digicams, but my SD200, though very small and light, doesn't have much in the way of manual controls, is only 3MP and is limited to ISO 400. I also have an HP945, but it's too big to fit in my pocket and it doesn't have image stabilization or ISO settings over 400. After going through lots of options and doing a lot of research I decided that the Canon Powershot "A" series image stabilized digicams (A570IS, A720IS and A650IS) had the best size/price/performance/features set of everything I had looked at.

Canon Powershot A720 IS
Some alternatives (under $300) were:
Why the "A" series Powershots with IS?
The "A" series Powershots are distinguished by their use of "AA" batteries rather than the more common rechargable custom Li-ion cells. This offers several advantages. First, you can go into any grocery or convenience store in the world and find "AA" batteries, so you'll never be stranded! Second, since Canon don't have to supply a custom Li battery and charger, the price of the camera is lower. Rechagable NiMH AA batteries and chargers are cheap, easy to find and many people already have them (I do!). You should get 300-500 shots on a set of NiMH batteries, depending on flash use and how often you view and review the images on the LCD. With AA Lithium cells and using the optical viewfinder, you should be able to shoot well over 1000 shots on a set of batteries, possibly a lot more.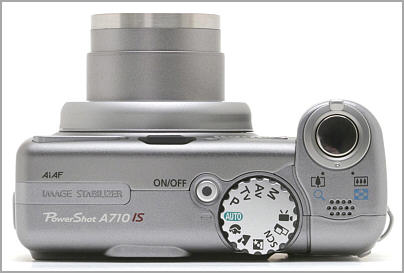 The main mode control dial should be familiar to EOS DSLR users
Another distinguishing feature of the "A" series cameras is a full set of exposure modes, which include Aperture Priority, Shutter Priority and fully Manual (where you pick both the aperture and shutter speed). Many digicams only offer auto modes. Mode control is via an easy to use top dial rather than a software controlled menu (see above). There are also Program and fully auto modes including scene modes such as Portrait, Landscape, Special Scene (Foliage, Snow, Beach, Fireworks, Night Scene, Aquarium, Underwater), Indoor, Kids & Pets, Night Snapshot, Stitch Assist and Movie.
Yet another feature of the "A series" Powershots is that they have an optical viewfinder as well as the usual LCD, something that's becoming increasingly rare. If you turn off the LCD and only use the optical finder, you can get double the number of shots on a single set of batteries, which can at times be very useful. In addition, you can often hold the camera steadier with it up against your eye looking though the optical viewfinder than you can with it held out at arms length looking at the LCD.
The three "A" series Powershots I'm looking at here all have very effective optical image stabilization built into the lens. Canon have over 10 years of optical stabilization experience and their IS sysytems work very well. This allows you to get sharp images at 2-3 stops slower shutter speeds then would be possible without stabilization, perhaps as long as 1/4s at the 35mm end of the zoom range and 1/25s at 210mm. Since all small digicams exhibit noise when the ISO is high, the ability to shoot with longer shutter times at low ISO in low light can greatly help in getting low noise images.
If the light is really low, all of these cameras have an ISO 1600 setting, though be warned that image quality is significantly degraded at ISO 1600 due to the softening effect of the noise reduction which is required to yield a usable image. Small sensors, high pixel counts and high ISO settings really don't go together well. Still, it's there if you need at and image quality at ISO 800 isn't too bad. Even at ISO 1600, a noisy picture is better than no picture at all, and with some additional post exposure noise reduction the images can actually look OK, especially if printed at smaller sizes (such as 4x6"). So with high ISO available if you really need it and Image Stabilization operating, these cameras have good low light capability without having to resort to flash.
Though all three cameras have a built in flash (and, in common with most of not all lower cost digicams, no provision for external flash), flash range is limited and recycle time can get long (up to 10 seconds for a full flash recharge even with new batteries), so they aren't the best choice if you do a lot of flash work and need to shoot rapidly. For that you're much better off with a DSLR and an external flash system. For occasional flash use, the "A" series powershots are OK, if a little slow to recycle at times.
Difference between the A570IS, A650IS and A720IS
All three cameras have the same basic features in terms of AF, exposure modes, movie modes, white balance etc. Where they differ is in lens and sensor size and the LCD (in the case of the A650is). The A570IS and A720IS are very similar in terms of their sensor. Both use the 1/2.5" size sensor, though the 570 has 7.1MP while the 720 has 8MP. This difference is small enough to be of little significance. What does set these two cameras apart is the lens. The lower priced A570IS has a 35-140mm (equivalent) 4x zoom, while the slightly more expensive A720IS has a 35-210 (equivalent) 6x zoom. Other than that, they are almost twins!
The A650IS is set apart from the A570is and A720is by the fact that it uses a physically larger 1/1.7" sensor, with a 12MP pixel count. The higher number of pixels requires the larger sensor in order to control the noise at higher ISO settings. In fact despite the higher pixel count, the individual pixels are actually larger in the sensor of the A650is than in the sensor used in the A570is or the A720is. The zoom range is the same as the A720IS (35-210mm equivalent), though it is a different lens. The higher pixel count, larger sensor and (physically) larger lens result in a significant increase in price from around $200 for the A720IS to around $360 for the A650IS. However that's still cheaper than the Powershot G9 ($430) which uses the same lens and sensor (but adds a few features like provision for an external flash, RAW images and a larger LCD). The A650IS also has an LCD which folds out, tilts and swivels (the A570IS and A720IS have conventional fixed LCDs) and uses 4 AA batteries (the A570is and A720is use 2 AA batteries).
Conclusion
I think the A570IS and A720IS are two of the most capable cameras in their price range (under $200), offering full manual control, an optical viewfinder, an image stabilized lens, low light capability and high image quality. Which one to chose depends only on how much you want to spend and whether you think the longer lens of the A720IS will be of use to you. I think the A720IS is worth the extra, since you'd end up paying more and getting lower image quality if you bought an A570IS and an auxiliary screw on telephoto adapter, and I ended up ordering an A720IS myself. The A650IS is in a different price class, and would be a good choice if you really need those extra pixels or you think you'll need the foldout, tilt and swivel LCD. For prints up to 8x10 (maybe even bigger), 7 or 8MP should be sufficient.
Any one of these cameras would make either a great first digital camera for someone wanting to do more than just "point and shoot" (though they can be used in that mode if you wish), or a very useful second camera for a DSLR owner who wants something more pocketable, yet doesn't want to give up too much of the flexibility and control which a DSLR allows.
If popularity means anything, the Powershot A570is is the best selling digicam on Amazon.com and the A720is is #5 on the best sellers list (but #1 of all digicams with more than a 4x zoom lens). To me this suggests that a lot of people agree that the A570is has an outstanding price/performance ratio and the A720is is probably behind only because of the higher cost.
If you buy either the A570is or A720is cameras from AMAZON (see below) you get the lowest prices around plus free shipping, plus a free 2GB SD memory card (which you will need since Canon only supply a essentially useless 16MB card with these cameras). You also get a coupon for a free 12 month photo calendar from Shutterfly (you supply the photos, Shutterfly makes the calendar for you). So you can get the A720IS, a 2GB SD memory card and the calendar coupon for under $196, shipped to your door. Not a bad deal.
Canon Powershot A570IS, A650IS and A720IS Specifications
Canon PowerShot A570 IS
Canon PowerShot A650 IS
Canon PowerShot A720 IS

plus...Free Shipping
Free 2GB SD card
Free Photo Calendar

plus...
Free Shipping
Free Photo Calendar

plus...Free Shipping
Free 2GB SD card
Free Photo Calendar
Max resolution
3072 x 2304
4000 x 3000
3264 x 2448
Pixels
7.1 million
12.1 million
8.0 million
Sensor size
1/2.5 " (5.75 x 4.3mm)
1/1.7 " (7.6 x 5.7mm)
1/2.5 " (5.75 x 4.3mm)
ISO Settings
Auto, 80 ,100, 200, 400, 800, 1600
Auto, 80 ,100, 200, 400, 800, 1600
Auto, 80 ,100, 200, 400, 800, 1600
Lens (35mm equivalent)
5.8-23.2mm
(35 - 140 mm)
7.4-44.4mm
(35 - 210 mm)
5.8-34.8mm
(35 - 210 mm)
Aperture
f2.6 - f5.5
f2.8 - f4.8
f2.8 - f4.8
Manual Focus
Yes
Yes
Yes
Auto Focus
9-point or center
9-point or center
9-point or center
Close Focus
45 cm
50cm
55 cm
Macro Focus
5 cm
1 cm
1 cm
While Balance Options
Auto, Daylight, Cloudy, Tungsten, Fluorescent, Fluorescent H, Underwater, Custom
Auto, Daylight, Cloudy, Tungsten, Fluorescent, Fluorescent H, Underwater, Custom
Auto, Daylight, Cloudy, Tungsten, Fluorescent, Fluorescent H, Underwater, Custom
Shutter
15s -1/2000s
15s -1/2000s
15s -1/2000s
Flash Recycle Time
Less than 10s
Less than 10s
Less than 10s
External Flash
No
No
No
Flash Modes
Auto, On, Off, Manual (Red Eye, Slow Sync)
Auto, On, Off, Manual (Red Eye On/Off)
Auto, On, Off, Manual (Red Eye On/Off)
Exp. Comp.
-2 to +2 EV in 1/3 EV steps
-2 to +2 EV in 1/3 EV steps
-2 to +2 EV in 1/3 EV steps
Metering Patterns
Evaluative, Center Weighted, Spot
Evaluative, Center Weighted, Spot
Evaluative, Center Weighted, Spot
Av mode
Yes
Yes
Yes
Tv mode
Yes
Yes
Yes
M mode
Yes
Yes
Yes
Max frame rate
1.7 fps
1.2 fps
1.3 fps
Movie
AVI, 640 x 480 @ 60/30/15 fps, 320 x 240 @ 60/30/15 fps
AVI, 640 x 480, 30/15fps, 320 x 240, 60/30/15 fps, 160 x 120 15 fps, audio
AVI, 640 x 480 @ 30/15 fps, 320 x 240 @ 60/30/15 fps
Self Timer
2 or 10 sec
2 or 10 sec
2 or 10 sec
Memory
SD/SDHC
SD/SDHC
SD/SDHC
RAW capability
No
No
No
Viewfinder
Optical or LCD
Optical or LCD
Optical or LCD
LCD
2.5 "
2.5 " (swing out + twist)
2.5 "
LCD Pixels
115,000
173,000
115,000
Video Out
Yes
Yes
Yes
USB
Yes, 2.0
Yes, 2.0
Yes, 2.0
Batteries
AA (2) batteries (NiMH recommended)
AA (4) batteries (NiMH recommended)
AA (2) batteries (NiMH recommended)
Weight (with batteries)
215 g (7.6 oz)
300 g (10.6 oz)
250 g (8.8 oz)
Size
90 x 64 x 43 mm (3.5 x 2.5 x 1.7 in)
97 x 67 x 49 mm (3.8 x 2.6 x 1.9 in)
97 x 67 x 49 mm (3.8 x 2.6 x 1.9 in)