Sony A57 DSLR Preview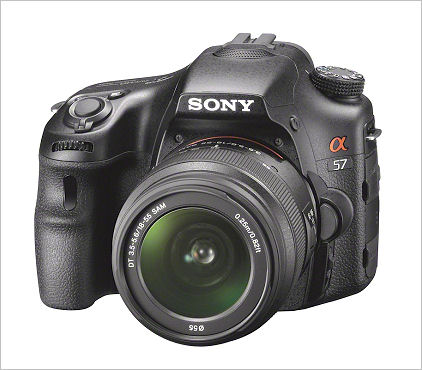 Sony have announced a new camera, the Sony SLT A57. The A57 features their "translucent mirror technology" which enables the A57 to shoot at a maximum continuous rate of 10 frames per second and to maintain autofocus during video recording. 12 frames/sec is available in an 8.4MP crop mode.
The "translucent mirror technology" employs a fixed semi-transparent.semi-reflective mirror which allows part of the light to pass through it to the sensor while simultaneously reflecting part of it onto the phase detection AF sensor. Since the AF sensor sees the image at all times, AF is possible at all times, including during video recording. There are some downsides to this system though. First it means that there is no optical reflex viewing, Instead, the A57 uses the signal from the sensor displayed in an electronic viewfinder. Second there is some light loss since part of the light coming from the lens is always diverted to the AF sensors. Typically this is only about 1/2 stop through. The fixed mirror makes rapid shooting easier since there is no waiting for the reflex mirror to flip up and back down between shots.
The Sony A57 has a 16.1MP sensor and can record full HD video (1920 x 1080pixels) at 60i, 60p or 24p frame rates. The EVF (electronic viewfinder) has 1,440,000 dots (SVGA). ISO range is 100-1600 (25600 with boost).
The price of the Sony A57 will be around $700 for the body alone or $800 for the body with an 18-55 kit lens. The Sony A57 should be available in April 2012
• The Sony A57 can be pre-ordered from Adorama for $699.99