Budget DSLR systems with lenses for under $1000

In this article I'm taking a look at 5 different entry level DLSRs from the 5 major manufacturers, the Canon EOS Digital Rebel XSi, the Nikon D60, the Olympus E-520, the Pentax K200D and the Sony A350. I think these represent the "best" entry level DSLR from each manufacturer. You can buy any one of them, along with a manufacturer's wideangle and telephoto zoom for under $900 and all offer image stabilization of one type or another. They all offer a similar extensive set of main features including full manual control of all the camera functions as well as various semi-automatic and fully automatic shooting modes, multiple metering modes, white balance options. All offer the capability of shooting both JPEGs and uncompressed (RAW) images. They differ somewhat in "extras", but all offer a pretty equivalent set of the basic features that most photographers will want and need for the majority of their work.
All these camera manufacturers also offer a "super zoom" lens which goes from wideangle to telephoto, though the cost is usually higher than separate wideangle and telephoto zooms and in some cases goes over a $1000 budget. 3rd party lenses from manufacturers like Sigma, Tokina and Tamron are most widely available in Canon and Nikon mounts, though there is also support for the Pentax and Sony (Minolta) lens mount. The number of 3rd party lenses available in the Olympus 4/3 mount is quite limited.
Three out of the 5 cameras here (the Canon, Olympus and Sony) offer "Live View", which is the ability to use a live image on the LCD screen as a viewfinder instead of the usual optical reflex viewing, in a similar manner to the LCD used on most P&S digicams these days (where optical viewfinders are becoming increasingly rare). Those transitioning from P&S cameras might well miss having Live View with the Nikon and Pentax, though for someone coming from a film SLR background, Live View may not be missed. Of course all these cameras offer traditional optical SLR type reflex viewing.
Canon EOS Digital Rebel XSi (EOS 450D)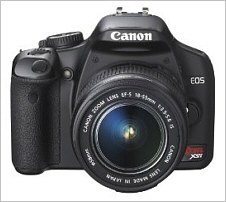 The Digital Rebel XSi (also known as the EOS 450D) is Canon's top entry level camera. There's also the XTi and the XS, but the saving on them isn't really very much and the XSi offers more features, so I'd certainly go with the XSi. It has a 12MP CMOS sensor capable of yielding high quality images, LiveView (with live focus), a 14-bit A/D converter (unique in this group), and the usual array of Canon features including High ISO noise reduction, Highlight Tone Priority, Auto Lighting Optimization and a choice of Picture styles.
Both the EF-S 18-55/3.5-5.6IS and EF-S 55-250/4-5.6IS have very effective image stabilization built into them. For around $770 you can get both lenses and the XSi (if you take advantage of the $100 Canon instant rebate by buying the 55-250 at the same time as the camera).

Nikon D60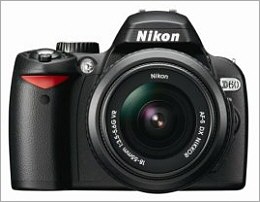 The Nikon D60 falls between the Nikon D40 and the Nikon D90 in Nikon's current lineup. It has a 10MP CCD, ISO 3200 capability, and fast operation with unlimited shooting of JPEG images at 3fps. Like all cameras in this class it offers a standard array of metering and shooting modes, from fully auto to fully manual. However it does lack any Live View mode. The Nikon D60 also doesn't have a motor in the body, so it can only AF with lenses having internal AF motors (Nikon AF-S/AF-I lenses). The use of only 3 AF zones means the D60 is behind most of it's competitors in that respect.
The D60 is available with an 18-55/3.5-5.6VR and 55-200/4-5.6VR lens for around $800. The VR lenses provide effective image stabilization throughout the range.

Olympus E-520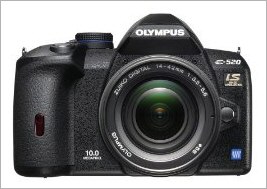 The Olympus E-320 uses the Olympus "Four Thirds" format, which means a slightly smaller sensor than the other cameras here, and a 4:3 image aspect ratio (all the others are 3:2). The smaller format allows the E-320 to be the lightest camera in this group by about 1oz, though it's not noticeably physically smaller than the others. The Four Thirds format results in a 2x "focal length multipler" to get to the 35mm equivalent focal length, rather than the 1.6x of Canon and 1.5x of Nikon, Pentax and Sony. The E-320 just slips in as the least expensive camera body, but only by a few dollars. The E-320 has image stabilization built into the camera body, so any lens you mount on it provides an image stabilized system. Manual focus with the E-320 is "drive by wire" meaning that the lens uses its focusing motor even for manual focus rather than any direct mechanical coupling between the focusing ring and the moving lens elements.
The E-320 is available with a 14-42/3.5-5.6 and 40-150/3.5-4.5 lens for around $770. Due to the 2x multiplier, a 14-40 lens on the E-320 is equivalent to a 22-53 lens on the Rebel XSi in terms of field of view. The 40-150 is similarly equivalent to a 50-188 lens on the XSi.

Pentax K200D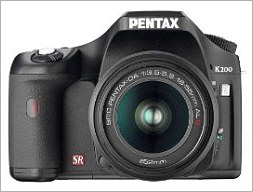 The Pentax K200D also has a 10MP sensor like the Nikon D60 and Olympus E-320. It's the only camera in this group which claims to be fully sealed against dust and moisture. Of course you only get system weather sealing when you use one of Pentax's DA Star lenses with the K200D and unfortunately none of those are "budget" lenses. Like the Olympus and Sony, it has image stabilization built into the camera body, which means you get a stabilized system with any lens which is mounted on it. It's the only camera in this group which uses readily available AA batteries rather than a custom Li-Ion cell. The K200D does not have a Live View mode.
With an 18-55/3.5-5.6 and a 50-200/4-5.6 lens, the Pentax K200D costs around $750, very similar to the price of similar outfits from the other manufactures here.

Sony A350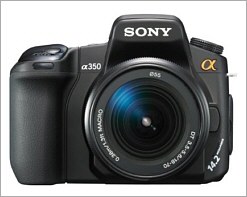 The Sony A350 has the distinction of the highest pixel count of the group, 14MP. Like Pentax and Olympus, Sony puts the image stabilization in the camera body rather than in the lens, making a stabilized system with any lens mounted on the camera. The A350 can also use any Minolta AF lens, since it's based in part on Minolta technology due to Sony's takeover of the Minolta camera line. Like the Nikon D60, the Sony A350 offers the ability to shoot at an ISO setting of 3200. A unique feature of the A350 in this group is that the LCD swings out and tilts, making shooting at low or high levels or around corners easier, especially when combined with Live View. Though the pixel count is high, the small pixels result in higher than average noise levels above ISO 400 or so, so the 14MP sensor is a mixed blessing.
While the A350 is well set up for Live View operation, with a swiveling LCD and a good user interface similar to that found on many P&S digicams which display shooting info on the image screen, it also has the smallest optical viewfinder image of any of the cameras in this group, which makes it somewhat less pleasant to use with conventional SLR viewing.
With an 18-70/3.5-5.6 and a 55-200/4-5.6 lens, with the A350 you get a wide to telephoto stabilized system for around $800.

What would I buy?
Price isn't much of a factor here as all of these cameras with similar sets of wideangle and telephoto zooms cost around $750-$800. I'm sure this is by design as they are all chasing the same market! All they systems are image stabilized, with Canon and Nikon putting the stabilization in the lens and Sony, Pentax and Olympus putting it in the body. Three cameras have 10MP sensors, one has 12MP and one 14MP. The difference here isn't huge and it's unlikely to affect image quality unless you intend to make really large prints. If you do want to make prints over 11x14, then one of the higher pixel count cameras could offer a small advantage.
So "which is best" is a tough question because each camera offers some unique features and each one is part of a different system of lenses and flash units. I shoot Canon and I have a lot of Canon lenses. I've been very happy with Canon image quality and so I'd choose the Canon Digital Rebel XSi with the 18-55IS and 55-200IS lenses. I've actually shot with the XSi and those lenses for a few days and I was impressed with the results. I've no doubt that anyone making the same purchase would be happy too. I think it represents the best compromise between pixel count, noise, image quality, speed and features and if a friend asked me which camera they should buy, I'd be pretty confident in recommending the Digital Rebel XSi to them.
However that doesn't mean that I don't think some of the other offerings are also interesting and good value. For example I like the idea of image stabilization in the body that Olympus, Pentax and Sony offer. It means, for example, that you can get a stabilized system with a fast normal prime lens mounted on the body, such as a 50mm f1.4. You can't get that with either the Canon or Nikon cameras because they require stabilization in the lens, and there are no stabilized 50mm f1.4 lenses available! I would LOVE to have the option of using in-body stabilization with my Canon EOS DSLRs. It's not that Canon (and Nikon) stabilized lenses don't work well, because they do. It's rather the lack of an option of stabilized fast primes for use in low light conditions. You just can't get that with Canon or Nikon.
For shooting in adverse conditions (which sometimes happens in sports and nature photography), the weather and dust sealing of the Pentax K200D is attractive, though you have also to consider how weatherproof the lenses you intend to use are (or aren't).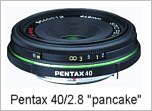 Pentax do offer 6 weather sealed lenses, but they are not inexpensive.The relatively small buffer and slightly slower than average operational times of the K200D might not make it the best choice for action photography, though it's perfectly fine for normal use. Some may find the lack of any Live View capability to be an issue too. One nice feature of the Pentax line of lenses is the availability of several very thin "pancake" lenses. The K200D with the Pentax DA 40mm f/2.8 Ultra Compact Lens ($250) would make a very small and inconspicuous camera and it would be image stabilized due to the sensor-shift in-body stabilization of the K200D. There's also a manual focus
The Nikon D60 offers the ability to shoot at 3 fps until you fill the memory card, which might be something sports and action photographers could use. The Canon isn't bad at over 50 frames and the Sony also gives unlimited high speed shooting. The Pentax lags significantly though with a buffer only good for 4 shots at 2.8 fps. after that shooting slows to around 1.5 fps. The lack of Live View could be a drawback for those used to shooting that way with a P&S digicam. The Nikon D60 doesn't have a motor in the body, so it can only AF with lenses having internal AF motors. The Nikon D60 image quality is excellent, and it's a good introductory camera for someone who intends to later buy into the whole Nikon system. It just lacks some features which other cameras in this group offer (like Live View) and it only has 3 AF points. While 3 is enough, some might like to have more.
The Sony A350 is the only camera here with an LCD that swivels out and tilts, which could be a big advantage for anyone who does a lot of low level photography (e.g. nature macro work) or who wants a "stealth" camera that can shoot over crowds or around corners. The Sony has Live View, so the articulating LCD is very practical. On the downside, though the Live View functionality is the best of any camera in this group, the A350 also has the smallest optical viewfinder screen, which makes it perhaps the lowest rated camera here in terms of traditional SLR viewing. The A350 has the highest pixel count of any entry level DSLR (14MP) but this also results in some added noise at ISO settings over 400 which can compromise image quality.
The four thirds format found in the Olympus E-320 offers the possibility of lighter and smaller cameras and lenses, though they really aren't THAT much smaller and lighter than crop sensor cameras and lenses from the other manufacturers. Olympus and Panasonic have proposed an even smaller format (micro four thirds) that does away with reflex viewing and can make the cameras quite a bit smaller, but that system is still in its infancy. One drawback of the Four Thirds format is that it's not widely supported by third party lens makers such as Sigma, Tokina and Tamron.
Canon Rebel XSi 9EOS 450D), Nikon D60, Pentax K200D, Olympus E-320 and Sony A350 Specifications
Canon Digital Rebel XSi - EOS 450D
Nikon D60
Olympus E-520
Pentax K200D
Sony Alpha A350
Price (approx.)
$570
$470
$450
$475
$600
Pixels
12.2MP
10.2MP
10.0MP
10.2MP
14.2MP
Max resolution
4272 x 2848
3872 x 2592
3648 x 2736
3872 x 2592
4592 x 3056
Aspect Ratio (w:h)
3:2
3:2
4:3
3:2
3:2, 16:9
Sensor size
22.2 x 14.8 mm
23.6 x 15.8 mm
18.00 x 13.50 mm
23.5 x 15.7 mm
23.6 x 15.8 mm
Lens Mount
Canon EOS EF, EF-S mount
Nikon F (AF only with motor in lens)
4/3 System
Pentax KAF2
Sony Alpha
Multiplier
1.6x
1.5x
2x
1.5x
1.5x
Sensor type
CMOS
CCD
NMOS
CCD
CCD
Shutter Speeds
1/4000-30 sec
1/4000-30 sec
1/4000-60 sec
1/4000-30 sec
1/4000-30 sec
ISO Settings
Auto, 100, 200, 400, 800, 1600
Auto, 100, 200, 400, 800, 1600, (3200 with boost)
Auto, 100, 200, 400, 800, 1600
Auto, 100 - 1600 in 1EV, 1/2EV or 1/3EV stops
Auto, 100, 200, 400, 800, 1600, 3200
Auto Focus
9 point
3 point
3 point Phase, 11 point Contrast
11 point
9 point
Image stabilization
None (available with IS lens)
None (available with VR lens)
In Body - Sensor shift
In Body - Sensor shift
In Body - Sensor shift
Flash GN
(ISO 100)
13 m
12 m
12 m
13 m
12 m
Flash modes
Auto, On, Red-eye reduction, Off
Auto, Red-Eye, Slow, Red-Eye Slow, Rear curtain
Auto, Auto FP, Manual, Red-Eye
Auto, Red-Eye, Slow, Red-Eye Slow, Rear curtain
Auto, Red-Eye, Slow, Red-Eye Slow, Rear curtain, wireless
Exposure compensation
-2 to +2 EV in 1/3 EV or 1/2 EV steps
-5 to +5 EV in 1/2 or 1/3 EV steps
-5 to +5 EV in 1/3 EV steps
-2 to +2 EV in 1/2 or 1/3 EV steps
-2 to +2 EV in 1/3 EV steps
Metering
35 area evaluative, center weighted, partial, spot
420 segment 3D color Matrix metering II, Center weighted, Spot
ESP multi-pattern, Center-Weighted, Spot, Highlight based spot, Shadow based spot
16-segment Multi, Center weighted, Spot
40-segment Multi, Center weighted, Spot
Continuous Drive
3.5 fps
3.0 fps
3.5 fps
2.8 fps
2.5 fps
JPEG (highest quality) Buffer
53
Unlimited
20
4
Unlimited
Remote control
IR or wired
wired
IR or wired
IR or wired
IR or wired
Self-timer
10 sec (2 sec with mirror lock-up)
2 or 10 sec
2 or 12 sec
2 or 10 sec
2 or 10 sec
Memory Card
SD/SDHC
SD/SDHC
CompactFlash, xD
SD/SDHC
CompactFlash
Viewfinder
Pentamirror, 95% linear coverage, 0.87x
Pentamirror, 95% linear coverage, 0.8x
Pentamirror, 95% linear coverage, 0.92x
Pentamirror, 96% linear coverage, 0.85x
Pentamirror, 95% linear coverage, 0.74x
LCD
3"
2.5"
2.7"
2.7"
2.7" (tilt, swivel)
LCD Dots
230,000 (320x240)
230,000 (320x240)
230,000 (320x240)
230,000 (320x240)
230,000 (320x240)
Live View
Yes
No
Yes
No
Yes
Weather Sealing
No
No
No
Yes
No
Battery
Lithium-Ion
(LP-E5)
Lithium-Ion
(EN-EL9)
Lithium-Ion
(BLM-1)
4 x AA (NiMH recommended)
Lithium Ion
(NP-FM500H)
Weight (with batteries)
524 g (18.5 oz)
522 g (18.4 oz)
490 g (17.3 oz)
690 g (24.3 oz)
632 g (22.3 oz)
Size
129 x 98 x 62 mm (5.1 x 3.9 x 2.4 in)
126 x 94 x 64 mm (5 x 3.7 x 2.5 in)
136 x 92 x 68 mm (5.4 x 3.6 x 2.7 in)
134 x 95 x 74 mm (5.3 x 3.7 x 2.9 in)
131 x 99 x 75 mm (5.2 x 3.9 x 3 in)