Canon announce 120MP APS-H format CMOS sensor
Canon have just reported the development of the world's highest resolution APS-H format sensor, with 120 MP and a resolution of 13280 x 9184 pixels. This gives an average pixel spacing of around 2.2 microns and a resulting theoretical resolution of 228 lp/mm.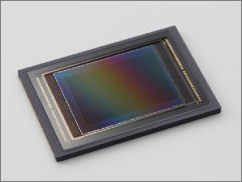 However, before you get carried away expecting this sensor to appear in a new DSLR, be reminded that back in 2007 Canon reported the development of a 50MP APS-H sensor and still, after 3 years, the 1D MkIV has "only" 16 MP. I'd presume that noise suffers when such small pixels are used. Readout remains fast though as Canon claim the ability to run the sensor at 9.5 frames/sec.
HD video capability is built in, and the high pixel count means that full 1080p HD video can be recorded from any 1/16th sized area of the sensor (video crop/zoom mode).
My only question is why APS-H? Why not APS-C where they have a lot of products or full frame? I guess APS-H still has some advantages when it comes to chip fabrication since it's only 60% of the area of a full frame sensor.
While I doubt that we will see such a sensor in a camera anytime soon, it does show what can be done and where we may be heading. Perhaps the main advantage of such a high pixel count sensor would be the ability to either crop the image or shoot with a subset of the pixels (to give a real "digital zoom"), while still keeping very high image resolution. At 220+ lp/mm resolution and an estimated JPEG size of maybe 60MB and a RAW file size around 250MB, this sensor would far outresolve the practical capabilities of lenses and put a severe strain on current memory technology.
If you found this article interesting, please share it with others: