Canon Powershot G12 and SX30IS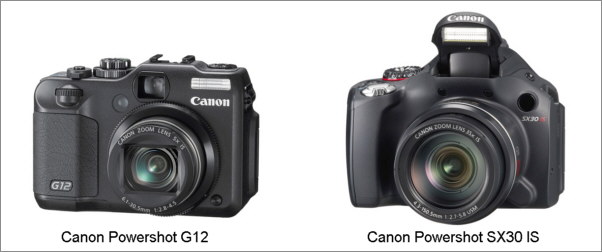 Canon announced today the Powershot G12, an update of the G11 and the Powershot SX30IS, an update of the SX20IS.
Canon Powershot G12
The G12 replaces the G11 as Canon's "top of the line" fixed lens digital camera. It looks very much like the G11 (same lens, same sensor, same LCD) but 720p HD video has been added, along with a new control dial and hybrid IS for better macro stabilization. The G12 now supports SDXC (extra high capacity) cards and shooting can be done at aspect ratios of 3:2, 4:3, 1:1, 16:9 and 4:5 (though of course they are all cropped 3:2 images). Price will be $499.99 and the G12 should be available in early October.
Canon Powershot SX30IS
The new SX30IS has several new features compared to the previous SX20IS. First the lens has been changed from 28-560m zoom on the SX20IS to a 24-840mm zoom on the SX30IS (those are full frame 35mm equivalents of course). The LCD is slightly bigger (2.7" vs 2.5") and the sensor has a few more pixels (14.1MP vs. 12.1MP). The AA battery power of the SX20IS has been replaced with a rechargable Li-ion cell in the SX30IS. Price will be $429.99 and the SX30IS should be available in late September.
These look like two very interesting new cameras. The G12 retains the RAW capability of the G11 making it the choice of DLSR photographers who want a second camera which is smaller yet can still yield excellent image quality. The G12 keeps the relatively modest 10MP sensor of the G12, designed to keep noise to a minimum. The SX30IS now has a remarkable 35x zoom lens from a true wideangle (24mm equiv.) to an ultra telephoto (840mm equiv.). That's an amazing range an it will be very interesting to see how image qiality holds up with such an extreme zoom range.
Here's the full text of the Canon press release: