Canon HD Rebates on EOS 7D + lens outfits
Canon have announced a set of Instant Rebates on various EOS 7D + lens combinations (and on the EOS 7D body). They are promoting this as an "HD" rebate program for some marketing reason but of course the same rebates apply if you never shoot video! The program runs until November 24th 2010.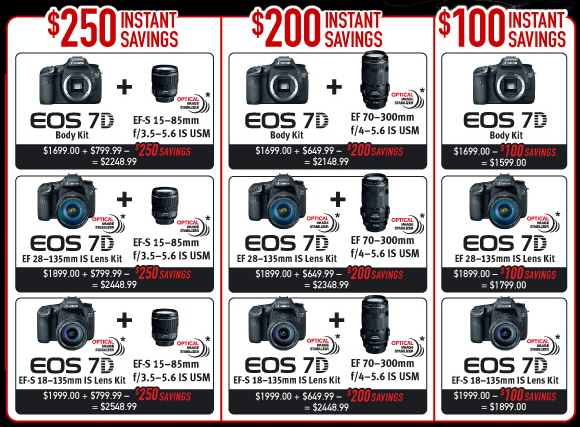 As you can see the rebates range from $100 on an EOS 7D body to $200 on various EOS 7D kits with the EF70-300 and another lens, to $250 on various EOS 7D kits with the 15-85 and another lens. Since some of these body and lens combinations were already discounted by some camera stores you may not end up actually saving the full amount over the prices they were last month, but you are still getting a discount. The Instant Rebate is deducted by the vendor at the time of sale so there are no forms to fill in and no waiting for a rebate check.
Note that Adorama also have refurbished EOS 7D bodies at $1399.95. The rebated price on new bodies is $1599.95, so you save another $200.
A search for "EOS 7D" on the Adorama website will turn up a list of EOS 7D + lens packages, many of which are included in this instant rebate scheme. Note that Adorama now have a 30 day return policy on most items (up from the previous 14 days). To see a list of EOS 7D lens and body kits just click on the "GO" button in the search panel below. Note there are multiple pages in the results, so look through all of them if you don't see what you are looking for on the first page. If you get a "page not found" error, just try it gain. The link is correct but the site sometimes seems a little "glitchy" on searches!
Aslo, if you are looking for a printer too, be aware that if you purchase the EOS 7D together with a Canon Pixma Pro9000 Mark II you get back $400 or with a Pro9500 Mark II Photo Printer you get back $500 - Look for any additional rebate links on the product page. These are mail in rebates, not instant rebates.