Canon Digital Rebel T1i - EOS 500D - Speedlite 270EX
In something of a surprise move, Canon today announced a new DSLR, the EOS 500D, known in the US as the Canon Digital Rebel T1i. It's a bit of a surprise since such announcements usually come at major trade shows and there was no word at PMA earlier this month.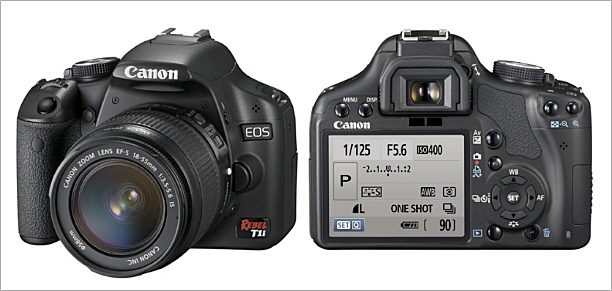 As expected, it has HD video capability (I'm sure all new Canon DSLRs will have video from now on), but perhaps a little surprising is a new 15.1 MP sensor (same size as the EOS 50D) and ISO capability up to ISO 12800 (3200 in normal mode, plus H1 at 6400 and H2 at 12800). The LCD has been upgraded to 3" and 920,000 dots (same as 50D). Frame rate is up to 3.4 fps with a buffer that can hold up to 170 Jpegs. The T1i uses a Canon Digic IV processor and a 14-bit A/D converter. It's not clear if the T1i 15.1MP CMOS sensor is exactly the same as the EOS 50D 15.1MP CMOS sensor. I suspect it's not identical (i.e. not the same part number), but I also suspect it's likely to be very similar (based on past experience of Rebel series vs 20D/30D/40D/50D sensors).
It looks like the T1i has a lot in common with the 50D and the 5D MkII, not least because it shares the same Digic IV processor which probably makes some of the new functions possible (including video, peripheral illumination correction, auto lighting optimization and high ISO noise reduction). It is in effect a "mini EOS 50D" (or even a mini EOS 5D MkII!).
I'll add more here later when I've had a chance to analyze the T1i specs in more detail, but it looks like a pretty impressive "entry level" camera. All it really lacks that a few similarly priced DSLRs from other manufacturers offer is in-body image stabilization (which Canon may be a long time in offering, if they ever do). My main complaint so far is the rather confusing meaning system that Canon USA is using. While the rest of the world has the 350D, 400D, 450D, 500D etc., the US gets the XS, XT, XSi, XTi and now the T1i. Not a big deal but I bet it will confuse a few buyers!
Delivery should start in May and the list price will be $799.99 for the body or $899.99 in a kit with the EF-S 18-55 IS lens. The street price is normally the "list" price when Canon DSLRs are launched. Only after a few months when the initial buying surge fades a little do prices start to fall to any signficant extent. Currently a new Canon EOS 40D sells for about $900, so the obvious question of whether to buy a 40D at $900 or a T1i at $800 will be asked and it won't be an easy question to answer. Obviously if video is important the T1i wins, but the 40D has better AF, a larger viewfinder, better ergonomics, more features, but also a 33% lower pixel count and an ISO 3200 limit. Tough choice. The EOS 50D currently sells for around $1150. Based on specs, the 50D appears to be a "better" (more fully featured) camera then the T1i. For an extra $350 you get a faster frame rate, larger buffer, better AF (9 cross sensors), a bigger viewfinder, micro AF adjustment, highlight tone priority and better ergonomics (rear QCD, top LCD) etc. but it does lack a movie mode which may be something many consumers will be attracted to in the T1i. I'm sure the 60D will have HD movie capability also, but that may be a year away and yet another few hundred dollars more.
Canon also announced a new Speedlite flash today, the 270EX. It has a bounce (but not swivel) head and is powered by 2 AA batteries.
Canon Rebel T1i Main Features
15.1 MP CMOS sensor
Integrated sensor cleaning system with fluoride coating
1080p HD video at 20fps (5D MkII has 1080p @ 30fps) as well as 720p HD (30fps) and 640x480 SD (30fps)
Mono sound recording in movie mode
ISO 100 to ISO 12800 settings (in full stop steps)
Shutter speeds 1/4000 to 30s (plus B)
Flash sync speed 1/200s
95% viewfinder coverage at 0.87x. Eye point 19mm
Peripheral Illumination Correction
Auto Lighting Optimizer
Creative Auto mode
High ISO noise reduction
3.4 fps for 170 JPEG frames (or 9 RAW)
3", 920,000 dot LCD screen
Live View with phase and contrast AF modes
Face detection in Live View
9 AF zones with center cross with enhanced precision for f2.8 and faster lenses
Digic IV image processor
SD(HC) memory card compatibility
Available in May at a probable street price of $799.99
Here's a copy of the Canon Press Release
As of the date of writing this preview (03/26/09) the T1i is not available anywhere, but can be "pre-ordered" from ADORAMA if you want one as soon as it is released to dealers which is supposed to be sometime in May. You can check the current stock (and pricing) via these links: