Canon Digital Rebel T1i (EOS 500D) Review
Video Recording Mode
The Digital Rebel T1i offers a video recording mode. To record movies the camera operates in Live View and makes a continuous recording of what is seen on the LCD screen as either 1920x1080 (1080p) HD video at 20 frames/sec, 1280x720 (720p) HD video at 30 frames/sec in 640x480 pixel 4:3 SD video at 30 frames/sec. The T1i has a built in microphone on the front of the camera for recording mono sound. Unlike the 5D MkII, there is no input jack for an external microphone.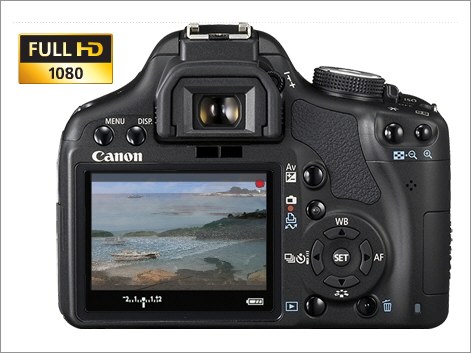 The major difference between the 5D MkII video and the T1i video is that the 5D MkII can shoot 1080p at 30 frames/sec while the T1i can only shoot 1080p at 20 frames/sec. This means that the 5D MkII video will be smoother when panning or recording moving subjects.
The maximum video file size is 4GB. This is a limitation of the FAT32 file system which is used to store data on the SDHC memory card. This is the same file system used on most Windows PCs and 4GB is the maximum size allowed for any single data file in the FAT32 system. With the Digital Rebel T1i in HD video mode, 4GB is enough to record for about 12 minutes. You can record any number of 4GB video files on a card, so you can record about 48 minutes of HD video on a 16GB CF card, but you have to do it in 12 minutes segments. In SD (640x480) mode you can record about 24 minutes in any one file.
To record 1080p HD video you need a card which can write at a speed of at least 330MB/s which means at least a class 6 SDHC card is required. Some class 4 cards might just be fast enough, but I'd advise getting a class 6 card since the price difference is very small.
Exposure in video mode is automatic, with the camera choosing the shutter speed, aperture and ISO and using center weighted metering. Exposure can be locked by pressing the "*" button (AE Lock). Shutter speeds between 1/25s and 1/125s are used. There is no continuous autofocus, but focus can be adjusted manually. Image stabilization operates as normal if an IS lens is used, but it's possible that the sound of the stabilization gyros may be picked up by the microphone in the camera if the external sound level is low. The audio is under AGC (automatic gain control), so that when things are quiet, the mic gain is increased which can lead to camera operation sounds being recorded. Contrast based autofocus during shooting is possible while shooting video, but it may be slow and there may be some overshoot or hunting.
Videos are recorded as .MOV files (with MPEG-4 compression), and the sound is recorded using uncompressed linear PCM (pulse code modulation). The Digital Rebel T1i has an HDMI socket which can be used to directly connect the camera to a compatible HDTV to play back full HD video directly from the camera.
One word of note here is that if you play back a full size 1920x1080 HD video .mov file on a Windows PC, it will default to playing via the Quicktime movie player. On many (if not most) systems, the video will not play smoothly. This is not the fault of the camera and doesn't indicate a fault with the file. The PC (or more likely the video card) is simply choking on the amount of data which is trying to be played! It's also said that Quicktime isn't well optimized on the PC and works better on a Mac (which makes sense since Quicktime is an Apple product). However There is a way that I found to get smooth playback on a PC using the free open source VLC media player program which is available from http://www.videolan.org/. Note that once you have installed it on your system you may have you may have to do the following to set it up for smooth HD video playback.
Open Tools, goto Preferences
Click Show settings = All
Goto Input/Codecs
Goto Other codecs/ FFmpeg subcategory
Set Skip the loop filter for H.264 decoding to ALL
Restart the program
The bottleneck with Quicktime may lay in the video card speed as a number of Windows PC users with fast video cards (and quad core CPUs?) report smooth playback with Quicktime. Playback of videos directly from the camera via the HDMI interface to an HDTV system should be smooth.
The Digital Rebel T1i has the ability to grab still frames at any time while you are shooting in movie mode, but the movie is interrupted while the camera records the full resolution still images, so this isn't something you'd want to do if you were trying to shoot continuous smooth video.