Canon EOS EOS-1D C; 4K and HD video DSLR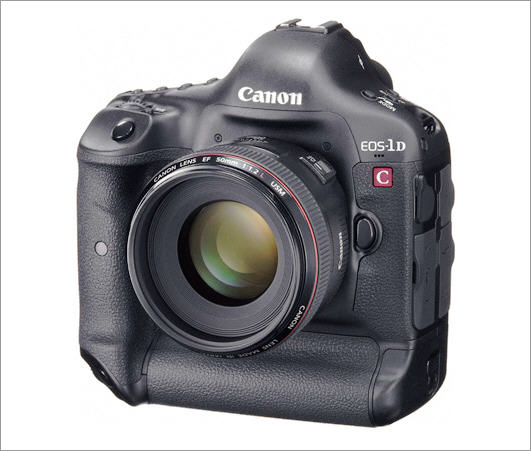 Today (4/12/12) Canon announced the EOS-1D C. It looks like a DSLR - and it is a DSLR - but it's not really aimed at still photographers. The target market for the Canon EOS-1D C is professional cinematography. Not only does it shoot regular 1080 HD video (like most other current DSLRs do), but it also shoots 4K video. If you haven't heard of 4K video it's not surprising. It's not a consumer format. In fact I don't think there are currently any production TVs which will display 4K video. You can buy monitors which support 4K video display, but they are very expensive. More expensive than the Canon EOS-1D C, which itself is $15,000. Though that's an astounding price for a DSLR, it's cheap by 4K video camera standards. In fact Canon also announced a new advanced digital video camera today, the C500, which also shoots 4K digital, but has an estimated price of $30,000.
4K video is 4096 x 2160 pixels. That's about 4x the pixel count of 1080 HD video, so it has twice the resolution. It's used by mainly by professional cinematographers and in TV production.
The Canon EOS-1D C has the same still shooting capabilities as the Canon EOS-1D X does.
Here are more details from Canon