Canon EOS 1D MkIII Autofocus Issues
Since it was first introduced in May this year (2007) there have been sporadic reports from some users that when the camera was used in AF servo (tracking) mode, focus was not consistent. If a series of images of an approaching subject were shot, some would be in focus, but others would not be. Not all users saw this problem, but there was sufficient evidence that the effect was real for some cameras at least some of the time.
Canon EUROPE have posted the following message on their website (https://self-service.canon-europe.com/ce/pages/) and it can be found via the FAQ for the EOS 1D MkIII
Phenomenon:
The focus or AF tracking is inconsistent when using the Artificial Intelligent (AI) servo continuous shooting mode under high temperatures in particular.
Cause:
In the digital SLR camera, EOS-1D Mark III that was launched in May this year, Canon has found that some cameras have an adjustment problem with the mirror for AF. The adjustment problem means for the affected products that the focus is not stable or that the Auto Focus tracking is not right when using the AI servo continuous shooting under high temperatures in particular.
Affected products:
The products that could have this problem can be identified as explained: If the serial number on the bottom of the camera is between 501001 and 546561, it could contain one of the AF mirrors with the adjustment problem.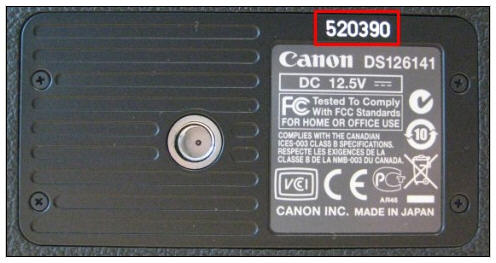 Location of Serial number on bottom of EOS 1D MkIII
Support:
For customers who have affected products and are experiencing these problems, we are making preparations to offer free of charge repairs planned to start from late November. We will announce additional details about the repair process on our Web site as soon as they become available.


Though there isn't yet anything on the Canon USA website, I have spoken with Canon USA representatives who acknowledge the same issue and an announcement should be coming form Canon USA soon about the procedure for repair. When such an announcement is made, I'll post the information here.
UPDATE. Canon USA have now issued a service notice which you can read HERE. It's reported that all 1D MkIIIs currently shipping have been fixed and that they can be identified by round blue sticker on the UPC code label on the box. So if you buy one from an authorized Canon dealer it should have the blue sticker and it should not have any AF issues. Dealers should have returned any stock with serial numbers in the range detailed above to Canon for repair.