Canon 1D MkIV
October 20th 2009 - Canon announced today the release of the new Canon EOS 1D MkIV DSLR. The major features are:
16.1 MP APS-H sensor (1.3x multiplier)
brand new 45 point AF system with 39 f2.8 sensitive cross sensors
10 fps continuous shooting
63 zone metering
Expanded ISO from 50 to 102400 (standard 100-12800)
1080p HD video at 30, 25 and 24fps and 720p at 60 and 50fps
Up to 121 large JPEG images in a single burst
High-speed Dual "DIGIC 4" processors for superb image quality
3.0" Clear View II LCD with Live View mode
Durable dust and water resistant body with 76 rubber seals
new EOS-1D Mark IV Wireless Transmitter WFT-E2 II (also compatible with existing Wireless File Transmitter WFT-E2)
Price - $4999; Availability - late December 2009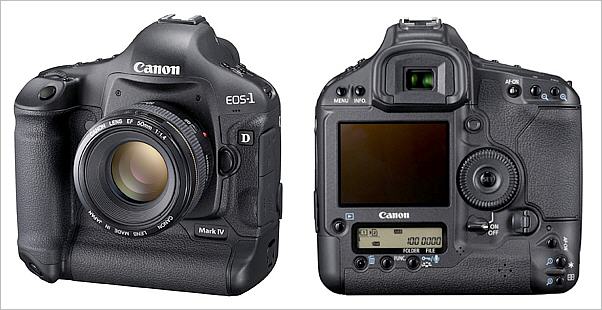 The new Canon EOS 1D MkIV
I'm sure Canon remember the initial (and continuing) problems with the AI servo tracking AF drive on the EOS 1D MkIII under difficult conditions and so they have likely gone to great lengths to make sure the AF system on the 1D MkIV works well! They have introduced a new AI Servo II system which they describe as follows:
Sounds good, but we'll have to wait and see what the performance is in real world testing. Canon have a more detailed description of the new AF system on their website: http://www.usa.canon.com/dlc/controller?act=GetArticleAct&articleID=3107.
The full specifications for the Canon EOS 1D MkIV can be found here on the EOS 1D MkIV specs page.
Here's the Canon USA Press Release on the EOS 1D MkIV: