Canon EOS 30D Compared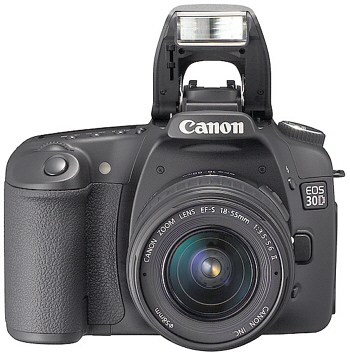 Many potential buyers of the new Canon 30D will now be wondering one of three things:
• Is it worth upgrading from an EOS 20D?
• Should I get an EOS 30D or an EOS 5D?
• Should I get an EOS 30D or a Nikon D200?

These are difficult questions and depend a great deal on how you intend to use the camera and how much you can afford to spend on a camera.
Canon EOS 30D or EOS 20D?
The EOS 20D is a very good camera indeed. I've been using one for well over a year and I've been very happy with it. The 30D does offer a few nice additions though. The larger LCD screen which, from my experience with the EOS 5D, is significantly easier to read (especially if your close vision isn't all that it once was!). The firmware improvement such as Picture Styles, and RGB histogram, tweaked AF etc. are also a definite plus. Right now the 20D is selling for maybe $1150 and it could drop to $1100. The 30D is expected to sell at $1400. If I didn't already have an EOS 20D, I'd certainly pay the extra $300 for the new Canon EOS 30D. Whether it's worth the $500-$600 it would cost to sell the 20D and buy a 30D is a different question. For some it will be, for some it won't. The image won't be any better, though the EOS 30D will be a nicer camera to use.
For those upgrading from a 6MP DSLR like the EOS 10D or original Digital Rebel, While the EOS 30D is more attractive, with the EOS 20D selling for around $300 less it's still quite a viable proposition. If money is tight and image quality is your major reason for upgrading, the 20D might just be an excellent camera for you while it's still available.
Canon EOS 30D or EOS 5D?
Whether you go for a 30D or a 5D depends on what you shoot. The analysis is very similar to that between the 20D and the 5D which I made some time ago and which you can read at EOS 5D or 20D. If you don't need the 5fps of the 30D and if image ultimate image quality is your primary concern, the Canon EOS 5D is an excellent camera. It's only bettered by the EOS 30D if you're a wildlife shooter working at the limits of your telephoto lens. If you need to crop the EOS 5D images because your lens isn't long enough (and for wildlife shooters, no lens is really long enough most of the time!), then the EOS 30D should yield better images. However if you're shooting portraits or landscapes, or anything else where you aren't limited by the maximum focal length of your lens, and you are making large prints, then the EOS 5D will yield better images, though it will cost you around $1600 more. For the average shooter, making prints from uncropped images no larger than 11x14, it might be very difficult to tell the difference between the results from the EOS 5D and EOS 30D, given the use of equal quality lenses.
Canon EOS 30D or Nikon D200?
The Canon EOS 30D vs Nikon D200 question is significantly more difficult to answer. The best answer for most people is probably to stick with what you already have. If you're a Canon shooter with Canon lenses, then the EOS 30D is the way to go. If you're a Nikon shooter with Nikon lenses, then the D200 is the way to go. They are pretty similar cameras in many respects including sensor size, frame rate, sync speed etc, though the D200 does have an extra 2MP and a few more features such as GPS capability, a larger buffer and a tighter spot meter. On the other hand,tests (see Dpreview) have shown that the noise level of the EOS 5D at high ISO settings (which is very similar to the noise level of the EOS 20D/30D) is visibly lower than those of the Nikon D200, especially at ISO 3200. The D200 is also around $300 more expensive than the EOS 30D ($600 more expensive than the EOS 20D), though it's $1300 cheaper than the full frame, 12MP EOS 5D. That assumes you can actually find one at the recommended price of $1700. Despite being announced in November 2005, as of writing this article (end of February 2006), the Nikon D200 is still in very short supply.
If you have no investment in either Nikon or Canon a potential user should carefully look over the whole system (body features, available lenses, available flash systems and other accessories) to decide which best meets their needs. I don't think there is any right answer or any subjective way to say which is "best". Remember that DSLRs these days have around an 18 month life cycle, so commiting to a system on the basis of any one camera body probably isn't a great idea. You really have to consider the whole system.

Canon EOS 30D, EOS 20D, EOS 5D and Nikon D200 Compared
Below is a comparison of the features of the EOS 30D, EOS 20D, EOS 5D and Nikon D200 so far as they are known at the moment
EOS 30D
EOS 20D
EOS 5D
Nikon D200
Sensor Size and Type
22.5 x 15.0 mm CMOS
22.5 x 15.0 mm CMOS
35.8 x 23.9 mm CMOS
23.6 x 15.8 mm CCD
Pixels
8.2 million
8.2 million
12.8 million
10.2 million
"Crop Factor"
1.6x (APS-C)
1.6x (APS-C)
1x (Full Frame)
1.5x (APS-C)
Image sizes (L/M/S)
3504 x 2336
2544 x 1696
1728 x 1152
3504 x 2336
2544 x 1696
1728 x 1152
4368 x 2912
3168 x 2112
2496 x 1664
3872 x 2592
2896 x 1944
1936 x 1296
Lens Mount
Canon EF lens mount (All EF and EF-S lenses supported)
Canon EF lens mount (All EF and EF-S lenses supported)
Canon EF lens mount ( EF-S lenses NOT supported)
Supports most Nikon F-mount lenses, with some limitations
Auto focus
9-point TTL
9-point TTL


9-point TTL plus 6 "invisible assist AF points" within the spot metering circle
11/7 area TTL
Multi-CAM 1000
AF range
-0.5 - 18 EV
-0.5 to 18 EV
-0.5 to 18 EV
-1 to +19 EV
AF assist
Yes
Yes
No (external flash with AF assist required)
Yes
Continuous speed
5fps/3fps
5 fps
3 fps
5 fps
Buffer Size
30/11 -JPEG/RAW
23 / 6 - JPEG / RAW
60 / 17 JPEG / RAW
37 / 22 JPEG/ RAW
Metering modes
Evaluative 35 zone
Partial (8%)
Spot (3.5%)
Center-weighted average
Evaluative 35 zone
Partial (9%)
Center-weighted average

Evaluative 35 zone
Partial (8%)
Spot (3.5%)
Center-weighted average
Matrix
Center Weighted
2% spot
Metering Range
EV 1.0 - 20 EV
1.0 to 20 EV
1.0 to 20 EV
0 to 20EV
2 to 20EV (spot)
ISO range
ISO 100 - 1600 plus 3200 via CF
ISO 100 - 1600 plus 3200 via CF
ISO 100 - 1600 plus 50 and 3200 via CF
ISO 100-1600 plus 3200 with boost
ISO steps
1/3 EV steps
1 EV steps
1/3 EV steps
1/3 EV steps
Image parameters
"Picture Style"
Standard
Portrait
Landscape
Neutral
Faithful
Monochrome
User 1
User 2
User 3
Parameter 1
Parameter 2
User 1
User 2
User 3
B&W
"Picture Style"
Standard
Portrait
Landscape
Neutral
Faithful
Monochrome
User 1
User 2
User 3

Normal
Softer
Vivid
More Vivid
Portrait
B&W
Custom image parameters
Sharpness: 0 to 7
Contrast: -4 to +4
Saturation: -4 to +4
Color tone: -4 to +4
B&W filter: N, Ye, Or, R, G
B&W tone: N, S, B, P, G
Sharpness: -2 to +2
Contrast: -2 to +2
Saturation: -2 to +2
Color tone: -2 to +2
B&W filter: N, Ye, Or, R, G
B&W tone: N, S, B, P, G
Sharpness: 0 to 7
Contrast: -4 to +4
Saturation: -4 to +4
Color tone: -4 to +4
B&W filter: N, Ye, Or, R, G
B&W tone: N, S, B, P, G
Sharpening: Auto, 6 levels
Tone: Auto, 3 levels, Custom tone curve
Color mode: I, II, III
Saturation: Auto, 3 levels
Hue: -9° to +9°
Viewfinder
95% frame coverage
0.9x magnification
95% frame coverage
0.9x magnification
96% frame coverage
0.71x magnification
Focusing screen can be changed
95% frame coverage
magnification approx. 0.94x

LCD monitor
2.5" TFT LCD
230,000 pixels
1.8" TFT LCD
118,000 pixels
2.5" TFT LCD
230,000 pixels
2.5 " TFT LCD
230,000 pixels

Histogram
Luminance and RGB
Luminance only
Luminance and RGB
Luminance and RGB
Flash sync
1/250 sec
1/250 sec
1/200 sec
1/250sec
Built-in flash
GN 13/43 (m/ft at ISO 100)
GN 13/43 (m/ft at ISO 100)
None
GN 12 (m @ ISO 100)
Exposure modes
Auto
Program AE (P)
Shutter priority AE (Tv)
Aperture priority AE (Av)
Manual (M)
Auto depth-of-field
Portrait
Landscape
Close-up
Sports
Night portrait
Flash off
Auto
Program AE (P)
Shutter priority AE (Tv)
Aperture priority AE (Av)
Manual (M)
Auto depth-of-field
Portrait
Landscape
Close-up
Sports
Night portrait
Flash off
Auto
Program AE (P)
Shutter priority AE (Tv)
Aperture priority AE (Av)
Manual (M)
Custom
Program Auto [P] - flexible program possible
Shutter-Priority Auto [S]
Aperture-Priority Auto [A]
Manual [M]
Folder selection
?
No
Yes
File size display on playback
Yes
No
Yes
Playback jump
10 images
100 images
By date
10 images
10 images
100 images
By date
By folder
Custom functions
19 with 53 settings
18 with 50 settings
21 with 57 settings
Vertical grip
BG-E2
BG-E2
BG-E4
MB-D200
Weight
700 g (1.5 lb)
without bar=ttery
685 g (1.5 lb)
770 g (1.7 lb) with battery
810 g (1.8 lb)
895 g (2.0 lb) with battery
830 g (1.8 lb) without battery
Dimensions
144 x 106 x 74 mm (5.6 x 4.2 x 2.9 in)
144 x 106 x 72 mm
(5.6 x 4.2 x 2.8 in)
152 x 113 x 75 mm
(6.0 x 4.4 x 2.9 in)
147 x 113 x 74 mm (5.8 x 4.4 x 2.9 in)
Price (est. street)
$1400
$1150
$2950
$1700
© Copyright Bob Atkins All Rights Reserved
www.bobatkins.com