Canon EOS 40D or Canon EOS 30D? Is the upgrade worth it?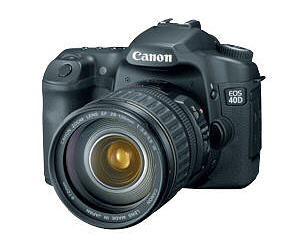 With the launch of the new Canon EOS 40D, many people are wondering if the new features make it worth upgrading from an earlier model, in all likely hood an EOS 10D, 20D, 30D or digital rebel. So let's take a look at the new features present in the Canon EOS 40D. Since I haven't had one in my hands to test, I'm basing my comments on what Canon have said, plus the experience of the EOS 1D MkIII, from which the EOS 40D inherits several features.
Pixels
The Canon EOS 40D has a 10.1MP sensor, the same pixel count as the 10.1MP sensor in the digital rebel XTi (EOS 400D).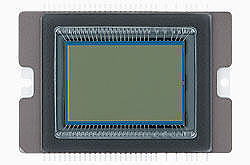 Though it's based on the XTi sensor (which probably means it uses the same lithography mask in fabrication) it's NOT the same sensor. For example it uses larger microlenses for more efficient light collection, a technology pioneered in the 1D MkIII.
A simple upgrade from 8MP to 10MP wouldn't make a huge difference, and if that was the only difference between the 30D and 40D, the justification for upgrading would be low. People tend to fixate on pixel count because it's an easy number to understand, but more doesn't always equal better. In this case I think it does because the sensor should generate not only more data, but better quality data too.
A/D conversion
The A/D converter is the device that takes the analog voltage generated by the photosensitive sites and turn it into digital data. Up to now all of the prosumer cameras (APS-C sensors) have used a 12-bit converter, which can 4096 different digital intensity levels. A 14-bit converter allows 16384 different digital levels.
If a signal is noisy, adding more bits won't help because all they will contain is noise. However with a low noise sensor (and Canon CMOS sensors are among the lowest noise sensors available), the extra bits can result in lower shadow noise, a wider dynamic range and a smoother transition between intensity levels. This has certainly been the case with the EOS 1D MkIII, the only other EOS DSLR which has a 14-bit converter (the new 1Ds MkIII, due out in November 2007 also uses 14-bits).
This is at least as significant as the increase in pixel count, possibly more significant. We won't know for sure until we see some actual test data, but I'm pretty sure it will be an improvement.
Buffer size
The buffer is the in-camera memory used to store images before they get written to the memory card. The buffer is high speed memeory, while writing to the card is a somewhat slower process. The 40D buffer can hold 75 large/fine JPEGs (the highest quality JPEGs) or 17 full size RAW files. A larger buffer is always useful, even though only the most dedicated action shooters are likely to shoot 75 JPEGs at the EOS 40D's fastest coninuous shooting speed of 6.5fps.
The 30D buffer holds 11 RAW images or 30 large/fine JPEGs and the EOS 20D buffer holds 6 RAW or 23 large/fine JPEGs, so the buffer of the 40D is significantly larger. A larger buffer isn't really on my list of "must have" features. I don't recall ever overrunning the buffer on my 20D, but for those who shoot action sequences I'm sure it will be useful.
Frame rate
The maximum continuous shooting rate of the EOS 40D is 6.5fps. This is the fastest frame rate available in any prosumer camera and is only beaten by a couple of high end professional models. The 20D and 30D had a 5fps frame rate and the digital rebels have a 3fps frame rate.
For me this isn't a big issue. I don't recall ever shooting at 5fps and wanting more. In fact I've rarely shot at 5fps. For action shooters the higher frame rate is nice, but for most of us, it's not something we have missed.
Large LCD
The LCD on the EOS 40D is 3" (diagonal), up from the 2.5" of the 30D and 2" of the 20D. Not only is it bigger it has a wider color gamut, meaning it should be easier to judge finer differences in color. For me size is the main feature. I just can't easily read the small menu text of the EOS 20D LCD without putting on reading glasses! The 3" LCD should make life a lot easier!
Live View
Live view first appeared on a camera called the EOS 20Da, which was a version of the EOS 20D designed for astrophotography. The mirror could be moved up, the shutter opened and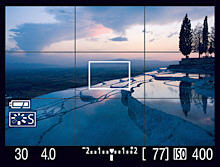 the images falling on the sensor was displayed on the rear LCD in real time. It was intended for focusing on dim objects like stars. It wasn't really a practical shooting mode.
The EOS 1D MkIII incorporated a more advanced live view feature that is actually useful in general photography for things like macro work and product photography. The LCD image can be magnified to give precise focus capability and the DOF in the image displayed on the LCDis easier to see than looking through the optical viewfinder. With the mirror up and live view operating there are some limitations on auto focusing and metering, but it's still possible to do those things. The 40D even has a quiet mode where taking the actual picture is quiet and the mirror doesn't come back down (and make noise!) until the shutter button is released.
I can see applications where live view will be very convenient. It won't really allow you to use a 40D like a p&s digicam, holding it at arms length and doing everything via the LCD, but if you wanted to do that, you'd be better of buying a P&S digicam anyway!
Weathersealing
The EOS 40D has somewhat upgraded weather sealing, but it isn't fully sealed like the 1D series cameras. It doesn't use a gasket on the lens mount as they do and it has a popup flash which is always a problem (the 1D series bodies don't have a popup flash). However Canon say it's better than the 30D (
"...upgraded dust and weather-resistant construction, particularly around the camera's connection ports, battery compartment, and single-slot compact flash (CF) memory card door...")
, so that's not a bad thing. I generally don't shoot in the rain, but it certainly never huts to have better seals to keep rain and dust out of the camera.
Sensor Dust Removal
Like the rebel XTi, the EOS 40D now incorporates Canon's dust removal features for minimizing sensor dust. While it may not work perfectly, every little helps and it's nice to have it.
Dedicated Wireless Capability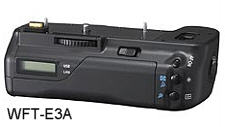 While the 20D and 30D could do wireless to some extent, the EOS 40D system has a dedicated wireless controller allowing both transmission of images to, and camera control by, a remote PC. The wireless controller also serves as a vertical grip. While I've never personally found the need for such wireless operation I can see how it could be useful in a studio setting or even at a wedding or an event at which it was desired to rapidly turn images into prints.
ISO Display
The EOS 40D displays the ISO setting continuously in the viewfinder (not just when changing ISO). For those of us who have tried to shoot in bright sunlight at ISO 3200 or in the dark at ISO 100 without flash, this will be a welcome reminder!
Autofocus improvements
Until we get test data it's just speculation as to how well they will work on what sort of improvement will be seen. Canon claim a 30% increase in AF speed over the 30D. The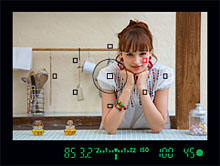 AF on the 20D and 30D is pretty good already. However for the EOS 40D Canon has made "
...significant improvements to AF speed, precision, and functionality, minimizing subject recognition problems in the process...
". There are now cross-type AF measurement at all nine focusing points for maximum apertures up to f5.6 and the central AF point now offers enhanced precision for both vertical and horizontal subject contrast when using EF or EF-S lenses featuring maximum apertures of f2.8 or faster. While I've generally been happy with 20D AF, I have had occasions on which an improvement in speed and precision would certainly have been welcome.
Interchangeable Viewfinder Screens
While the normal screen is more than good enough for autofocus use, the optional screen with gridlines for architectural use or the super precision matte sceeen for better manual focus will be a welcome addition for some users.
Larger Viewfinder
Viewfinder magnification has gone up from 0.90x to 0.95x. A small but welcome change
Highlight Tone Priority
The EOS 40D has a highlight tone priority mode which is supposed to retain detail in highlights rather than letting then "blow out". How well it works in practice remains to be seen, but it certainly sounds useful.
The final Verdict
So what's the final verdict? Is it worth upgrading?
Well, I can tell you what I did. My first DSLR was an EOS D30, which I bought used and kept for about 6 months before upgrading to the significantly better EOS 10D. The 10D was a good camera but my major grip was the several seconds it took to wake up, which caused me to miss quite a few shots. When the 20D came up I upgraded, not just for the 8MP, but for the much faster response time. When the 30D came along I didn't upgrade. The 30D is really a 20D with a few added bells and whistles. I like the larger LCD which I could read without putting my glasses on, but that really wasn't enough to make me upgrade, so I still have the EOS 20D.
On August 20th when I read the full specs of the EOS 40D, I placed my order with Amazon and got on the waiting list. It has enough new features to make me think that it is a worthwhile upgrade. It's clearly a big step up if you still have a 10D, a digital Rebel or a digital rebel XTi. Even for 20D and 30D owners I think the new features are significant. The 14-bit A/D, larger LCD and higher efficiency, higher pixel count sensor were all significant factors in my decision, as well as the promised increase in AF performance and the opportunity to try out the "live view" features. While the EOS 30D was really an EOS 20D MkII, it looks like the EOS 40D is a whole new camera.
I hope to have a full review here on bobatkins.com by the end of September, but if you want an EOS 40D soon, I think it would be wise to pre-order one. I'm sure they will be in short supply for a while as the first shipments come in to fill the pre-orders.

The Canon EOS 40D is also available with a kit lens. Currently Amazon are offering the EOS 40D with the Image Stabilized EF-S 28-135/4-5.6 IS USM for $1499.99, which is a pretty good deal. You're effectively paying $200 for the 28-135IS when it's part of the kit. If you buy the lens separately form Amazon, you'll pay $380 for it!