Canon EOS 40D - Full Review
Canon EOS 40D - Introduction
The new Canon EOS 40D, announced by Canon on August 19th 2007, is the latest addition to Canon's line of "prosumer" cameras and replaced the Canon EOS 30D. While the EOS 30D was a minor upgrade of the EOS 20D, the new Canon EOS 40D is a whole new camera, with a variety of new hardware and software features including a new sensor, a new mirror/shutter assembly, a new LCD, a new A/D converter system and a new AF system.
I'm updating this EOS 40D review with new information as I continue to use and learn about the camera. Here are the updates so far:
Update #1 - 09/08/07 High ISO noise performance
Update #2 - 09/09/07 Highlight Tone Priority test
Update #3 - 09/10/07 Focus Tracking in AI servo test
Update #4 - 09/10/07 White balance
Update #5 - 09/18/07 Low contrast and low light AF performance
Update #6 - 09/19/07 Comments on 40D weatherproofing
Update #7 - 09/21/07 ISO sensitivity and Exposure
Update #8 - 09/28/07 Further comments on Highlight Tone priority
Update #9 - 10/23/07 A look at Dynamic Range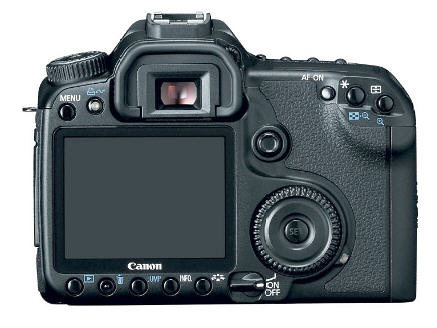 This image of the back of the Canon EOS 40D shows some of the new external features. The large 3" LCD is immediately noticeable, especially to EOS 20D owners (the 20D has a 1.8" LCD). There's a new dedicated AF button at the top right and a dedicated "Picture Styles" button (the rightmost button below the LCD). Otherwise the control layout should be very familiar to users of the EOS 20D/30D.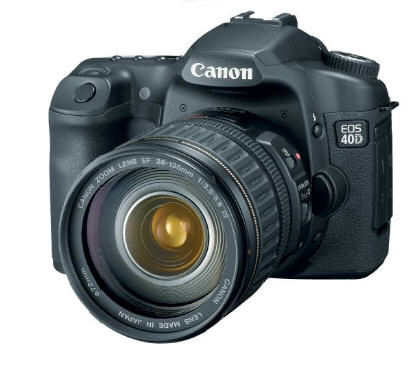 From the front the Canon EOS 40D closely resembles the EOS 20D/30D. It's shown here with the optional 28-135/3.5-5.6IS USM kit lens. Note that that this lens normally sells for around $380, but is included for only $200 more than the price of the body alone when purchased with the camera as a kit, so it's something of a bargain. If you a then add a Canon EF-S 10-22/3.5-4.5 USM, you have good coverage from wide to short telephoto. That lens combination would give you the equivalent in 35mm terms of 16mm to 216mm, with a small (and pretty insignificant) gap from 37mm to 45mm.
Canon EOS 40D Review - Brief Specifications
Here's a brief list the EOS 40D specs. I'll cover much of this in more detail on later pages:
The full Canon spcs can be found on the EOS 40D Specifications page.
Major Canon EOS 40D Features

Increased efficiency 10.1-megapixel CMOS sensor with larger microlenses
Large 3.0-inch LCD display with broadened color gamut
Live View
6.5 frame-per-second continuous shooting capability (3fps also available)
At 6.5fps, the buffer holds around 75 Large/Fine JPEGs or 17 RAW images
At 3fps the buffer holds around 205 Large/Fine JPEGs or 20 RAW images
New AF system with 9 cross type sensors
Enhanced precision center AF zone for lenses f2.8 and faster.
14-bit A/D conversion with Digic III processor
New quieter mirror/shutter assembly
Highlight Tone Priority
High-ISO Noise Reduction
Integrated Self-Cleaning Sensor Unit
Larger (0.95x) optical viewfinder magnification (30D is 0.90x)
Interchangeable focusing screens
Continuous display of ISO in viewfinder
Auto ISO mode
ISO 100-1600 plus "H" (3200) (same as 30D)
Powered by BP-511A, BP-511, or BP-512 lithium-ion battery pack
Stores images on CF cards
$1299.00 initial price
Availability - Available Now!
NEXT->
Part II - New Features in Detail