Canon EOS 50D Review
The Canon EOS 50D is Canon's most recent addition to their "prosumer" DSLR lineup. It's an upgrade of the EOS 40D, though as of right now Canon haven't discontinued the 40D so as of right now (11/08) The Canon EOS 50D is an addition to the Canon EOS lineup rather than a replacement of the EOS 40D.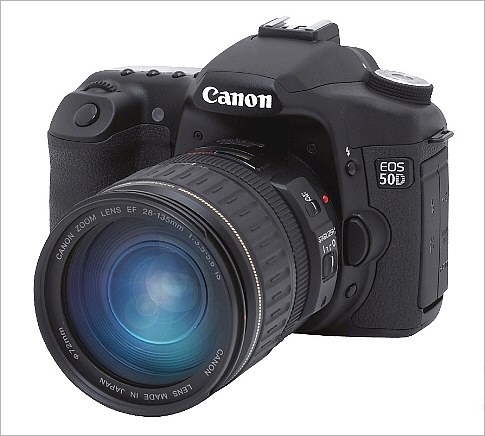 With the 10.1MP EOS 40D as their main "advanced amateur" or "prosumer" level camera Canon had received some criticism on the grounds that almost all competing cameras (and even some entry level cameras) had a higher pixel count. The Nikon D300 and D90 are both 12.3MP, the Pentax K20D is 14.6MP, the Sony A700 is 12.2MP and the Sony A350 is 14.2MP. Even the Digital Rebel XSi is 12.2MP. While more pixels doesn't always make a better camera, it's nevertheless a number that many camera buyers regard as important and so if you want to sell a camera you'd better make sure it's competitive in terms of pixel count. I'm sure Canon were under significant pressure from their marketing department to leap over the competition and come up with the highest possible pixel count camera consistent with maintaining traditional Canon image quality. What they came up with is the Canon EOS 50D, which at 15.1MP is now the class leader as far as pixels go.
Of course Canon added much more to the Canon EOS 50D than just another 5MP. Improvements over the EOS 40D include:
A 15.1 MP CMOS sensor with a "gapless microlens" design for higher efficiency
A 920,000 dot, 3" 640x480 pixel VGA resolution LCD with enhanced anti-reflection coating
Somewhat improved weather sealing (though still not "weather resistant").
A microfocus adjustment which can be applied on a fixed or lens by lens basis
An ISO range from 100-3200, plus expansion to 6400(H1) and 12800(H2)
An Auto ISO range of 100-1600
4 levels of high ISO noise reduction
4 levels of auto lighting optimization
A "creative auto" mode
Contrast detection AF in Live View mode
A Face detection mode in Live View mode
In camera peripheral illumination (vignetting) correction for JPEGs with certain Canon lenses
HDMI output for playback and display on an external monitor
A Digic IV processor for faster operation
Faster USB data transfer
USMA Support for UDMA enabled CF memory cards
Sounds great, but some reviews have suggested that the noise level of the Canon EOS 50D may be higher than the 40D. I'll look at all that in this review and make some comments on the significance of any differences from the EOS 40D. What really counts of course is the final output, which is usually a print. That's the bottom line for any camera. Lab tests are fine and can provide some useful insight into camera operation, but in the end it's the print that counts.
Canon EOS 50D Brief Specifications
Full Specifications are on the EOS 50D Specifications Page
| | |
| --- | --- |
| Image Sensor | 22.3mm x 14.9mm, 15.1MP CMOS, (4752 x 3168 pixels) |
| Autofocus | TTL-CT-SIR AF-dedicated CMOS sensor, 9 AF points (Cross-type) |
| ISO Speeds | ISO 100-3200 + H1(6400) and H2 (12800) |
| Metering Modes | 35-zone Evaluative, 9% Partial, 3.8% Spot, Center Weighted |
| Viewfinder | Pentaprism, 95% coverage, 0.95x |
| Shutter Speeds | 1/8000 to 30 sec. + B, X-sync at 1/250 sec. |
| Type | Retractable, auto pop-up flash, GN 13/43 (ISO 100 m/ft), coverage for 17mm lens |
| Memory | CompactFlash (CF) with UDMA support |
| LCD | TFT color, 3.0 in, 920,000 dots, 160 viewing angle |
| Power | BP-511A, optional Battery Grip BG-E2N (2 x BP-511A or 6 x AA) |
| Dimensions (WxHxD) | Approx. 5.7 x 4.2 x 2.9 in./145.5 x 107.8 x 73.5mm |
| Weight | Approx. 25.7 oz./730g (body only) |
Canon EOS 50D Sample Image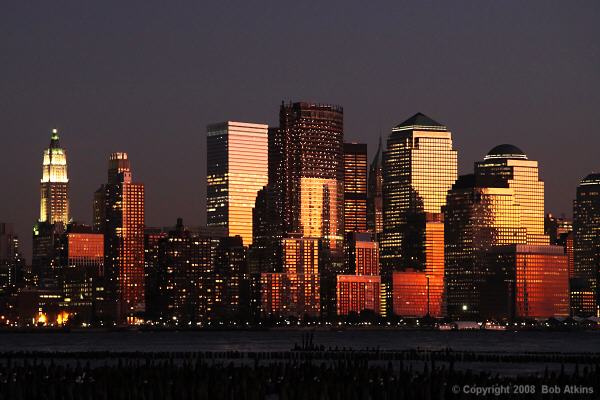 New York City Skyline at sunset on Halloween (shot from the NJ side of the Hudson River)
Canon EOS 50D, EF-S 17-85/3.5-5.6IS USM lens, 1/8s @ f8, 83mm, ISO 1600
NEXT --> Operation and Controls