Canon EOS 50D Review
Color Rendition
When reading some reviews of color rendition of digital cameras I hear a small voice in my head which sound a lot like Dr McCoy from Star Trek saying "Dammit Jim, it's a camera not a colorimeter"! What I'm getting at here is that small differences between cameras in color rendition don't overly concern me. They're typically a lot smaller than differences in color were with film, where Velvia and Kodachrome sometimes looked as though they were shot on different planets! The route from digital file to print is fraught with color problems from white balance to camera, monitor and printer color profiles, to the inks you use and the paper you print on. Minor differences in color between cameras are usually the least of your worries.
Most Canon DLSRs have a similar color rendition and the EOS 50D is no exception. For all practical purposes, 50D images look very similar to 40D images when you use the same camera settings for white balance, picture style etc. Color accuracy is good, maybe not perfect (cameras aren't colorimeters) but good. Nothing to complain or worry about.
White balance has the biggest effect on overall color of course. In general auto white balance works quite well, especially outdoors, but you can often do better by selecting a more appropriate fixed setting (Daylight, Cloudy, Shade, Fluorescent, Tungsten). If you're after "perfection" in color balance the best idea is to shoot RAW rather than JPEG and select the color balance via Canon's DPP RAW conversion software.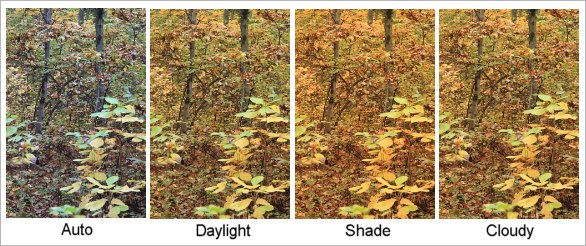 "Auto" doesn't always give the most pleasing results
If you must shoot JPEGs, then you can do a custom white balance or select a color temperature o get the most accurate colors. All Canon DLSRs have problems with indoor domestic tungsten lighting, even when using the "tungsten" white balance setting. This is because Canon use a color temperature of 3200K for their tungsten setting, which is fine for photographic tungsten lights and high power quartz-halogen lamps. However domestic tungsten lighting is significantly "cooler", with a typical 100W bulb having a color temperature closer to 2900K and a 60W bulb having a color temperature around 2800K.
By using Canon's "Picture Styles" you can further modify color rendition (as well as sharpness and contrast). Picture styles can selectively emphasize or saturate specific colors and Canon provide 6 different Picture Style options (Standard, Portrait, Landscape, Neutral, Faithful and Monochrome), plus you can create your own using supplied Canon software and they can be uploaded to the camera or used when doing RAW conversions using Canon's DPP software. According to Canon the various styles do the following:
Standard – for crisp, vivid images that don't require post-processing
Portrait – optimizes color tone and saturation and weakens sharpening to achieve attractive skin tones
Landscape – for punchier greens and blues with stronger sharpening to give a crisp edge to mountain, tree and building outlines
Neutral – ideal for post-processing
Faithful – adjusts color to match the subject color when shot under a color temperature of 5200K
Monochrome – for black and white shooting with a range of filter effects (yellow, orange, red and green) and toning effects (sepia, blue, purple and green).
The effects of the picture styles may be subtle on some images, depending on the colors involved. Here's an example of a color chart shot with an EOS 50D: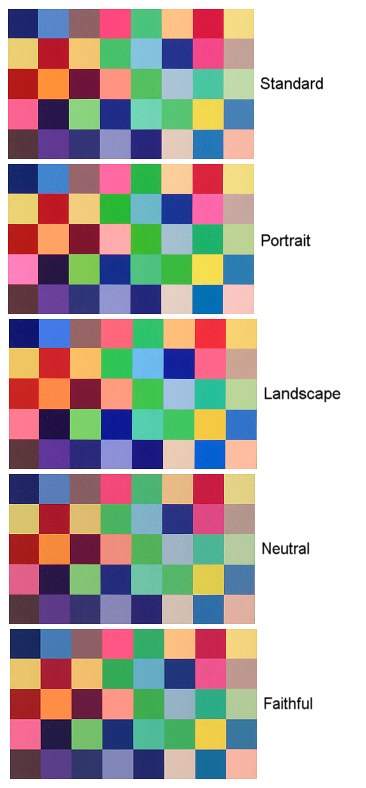 As you can see, you have to look closely to see the differences. The effect can appear stronger on some real world images, but the picture styles are designed to be quite subtle. If you make your own you can make then as extreme as you want to!
Here's a color chart shot with default settings on the EOS 40D and EOS 50D. As you can see, though they may not be identical, they are very similar.