Canon EOS 50D firmware update to v1.0.3
Canon have issued a firmware update for the new EOS 50D. It's a minor update which fixes a few specific (and uncommon) problems as follows:
Corrects a phenomenon in which an image becomes overexposed when C.Fn.II-3 Highlight tone priority is set to "1" together with other camera settings. (This correction has already been incorporated in the Version 1.0.2 and later firmware.
Corrects a rare phenomenon in which "busy" blinks on the camera's display panel and the shutter cannot be released due to the timing of battery installation.
Corrects a rare phenomenon in which "Err 99" appears on the camera's display panel and LCD monitor and the shutter cannot be released due to the timing of pressing the shutter button.
Firmware Version 1.0.3 is for cameras with firmware up to Version 1.0.2. If the camera's firmware is already Version 1.0.3, it is not necessary to update the firmware.
You can download the update and find all the instructions on how top install it on Canon's website at http://web.canon.jp/imaging/eosd/firm-e/eos50d/firmware.html. Installation is simple and involves downloading the update onto a CF card, inserting the card into the camera and following a few menu commands. The following precautions should be taken:
Use a fully charged Battery Pack or dedicated AC Adapter Kit (Optional) ACK-E2 for the firmware update.
Do not shut off the power during the firmware writing operation.
Do not open the CF card slot cover during the firmware writing operation.
The update can also be installed via the EOS Utility program with the camera connected to a PC.
EOS 50D status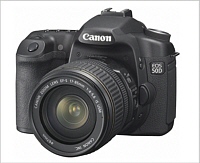 The EOS 50D is now shipping from most vendors and a few are even discounting the original price ($1399.99) by a few dollars. As I write this, Amazon's price is $1,370.47 with stock expected on November 1st 2008.
Early reports are that there are no big surprises with the EOS 50D. I have taken a few test shots with one and I can report that, as expected, resolution is little higher than that of the 40D and noise levels at high ISO settings are a little lower, at least with JPEGs and the default noise reduction settings (which may be stronger than used for the 40d). The micro adjustment for focus works as advertised, image quality looks great and the new high resolution LCD is very nice. I'll be publishing a full review here when I get the chance to do more extensive testing, but my preliminary opinion is that the EOS 50D is a very nice camera, and I'd certainly take one over a 40D if I could afford one!

If you can't afford one, the 40D is now a pretty good deal at around $920 (saving $450 on the price of the 50D).
Canon EOS 50D
Body Only
Canon EOS 50D
With 28-135IS
Canon EOS 40D
Body Only
Canon EOS 40D
With 28-135IS