Canon EOS 5D MkIII - Hands-on Preview 600EX-RT, BG-E11, ST-E3-RT, WFT-E7A, GP-E2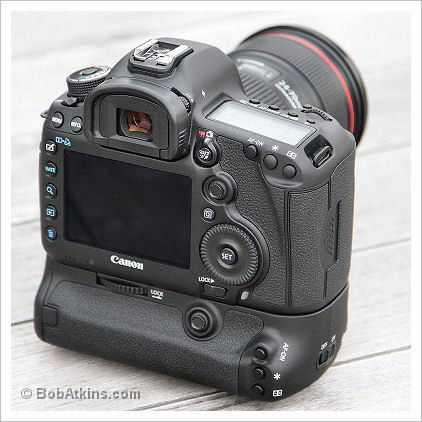 Canon EOS 5D MkIII with BG-E11 Grip
Along with the Canon EOS 5D MkIII, Canon also announced the following accessories:
The Canon 600EX-RT Speedlite
The Canon 600EX-RT is first professional Speedlite on the market with a built-in wireless radio transmitter The 600EX-RT is compatible with all EOS Digital SLRs, this new model eliminates the need for accessory radio slave units and their inherent limitations. The Speedlite 600EX-RT features Master-Slave two-way transmission, letting the photographer control the Speedlite settings directly from the "Master" camera.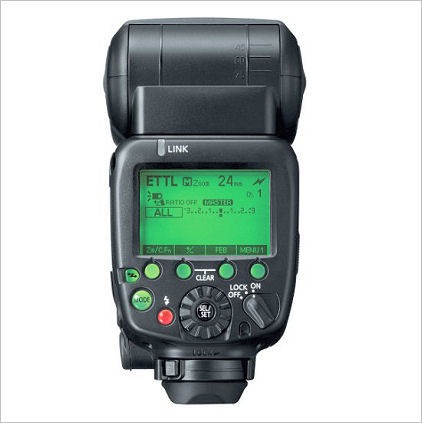 Radio-based Wireless E-TTL can be performed with up to 15 Speedlite 600EX-RT "slave units" in up to 5 groupsat distances from the camera of up to 98.4 feet (30m). The remote units can be triggered by either a "Master" 600EX-RT on-camera, or the optional new Speedlite Transmitter ST-E3-RT. Used with the EOS 5D Mark III or EOS-1D X, up to five groups of flashes can be completely controlled, independently, off-camera. Rge 600EX-RT also remains fully compatible with Canon's legacy optical-based Wireless E-TTL technology. The 600EX-RT features enhanced weather-resistant construction — matching that of the EOS-1D X camera body — and a more reliable electrical contact. The flash head zooms from 20mm to 200mm.The Speedlite also allows remote shutter release of a single EOS camera, or Linked Shooting (simultaneous firing of up to 15 cameras, when one "Master" camera is fired) icludes gelatin filters and a dedicated filter holder to help photographers match ambient light.
Price: $629.99 Availability: end of March 2012
The Canon BG-E11 Grip and Battery Pack
Battery Grip BG-E11 is an optional accessory for the EOS 5D Mark III that accepts one or two LP-E6 lithium-ion battery packs or a set of six AA-size batteries. The grip has a multicontroller and a multifunction (M.Fn) button together a with a full set of grip controls for easy operation when shooting vertical format photos. The BG-E11 is made from magnesium alloy and has the same degree of weather resistance as the EOS 5D Mark III.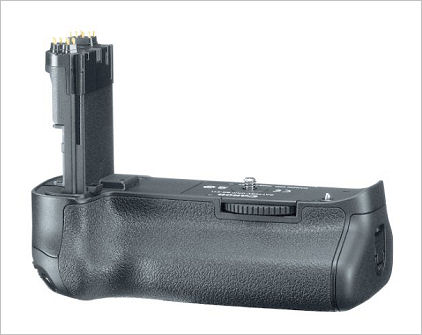 Price: $490 Availability: end of April 2012
The Canon GP-E2 GPS unit
The Canon GPS Receiver GP-E2 can be connected to the camera via the accessory shoe or a USB cable. The GP-E2 can log latitude, longitude, elevation, and the Universal Time Code – and allow viewing of camera movement on a PC after shooting. Using a built-in compass, the GP-E2 receiver can also record camera direction when shooting, even when shooting vertically. The Canon GPS Receiver GP-E2 is compatible with the EOS-1D X and EOS 7D as well as the EOS 5D Mark III. With the 7D there are some limitations including (a) the geotagging function will not work for movies while recording;,(b) geotagging features will not work for movies when using the Map Utility, (c) electronic compass information and automatic time setting is not available and (d) transmission via the hot shoe is not possible.
Price: $390 Availability: end of April 2012
The Canon WFT-E7A Wireless File Transmitter
The Canon Wireless File Transmitter WFT-E7A has wireless LAN support for 802.11 a/b/g/n signal protocols for various network environments. It connects to the camera through its USB port and includes a built-in gigabit Ethernet connection, time syncing for multiple cameras on the same network, FTP mode, EOS Utility mode, WFT Server mode and Media Server mode. Clocks can be synchronized on multiple cameras and the WFT-E7A supports linked shooting when utilizing multiple cameras. Bluetooth-compatible equipment can be linked to the WFT-E7A as well.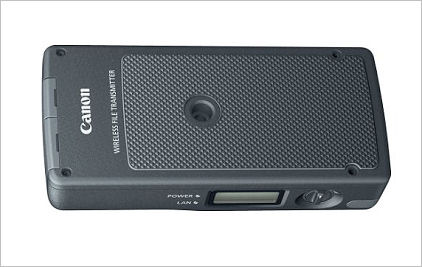 Price: $849.99 Availability: end of April 2012
The Canon ST-E3-RT Wireless Speedlite Controller
The Speedlite Transmitter ST-E3-RTprovides full support for Canon's new radio-based wireless flash technology (600EX-RT). It can control up to five groups of flashes, up to 98.4 feet (30m) from the camera. The remote shutter release capability enables photographers to either fire a single camera remotely (by pressing a button on the ST-E3-RT), or to fire up to 15 EOS cameras with Canon's Linked Shooting feature. All of the Speedlite Transmitter features are accessible through the Flash control menu of the EOS-1D X and EOS 5D Mark III cameras.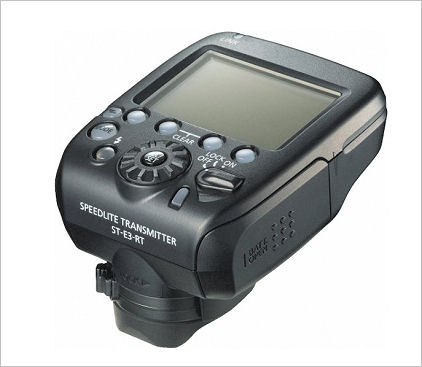 Price: $470 Availability: end of March 2012
Links to: