Operating Speed, AF and Other Features
Continuous Shooting Rate
Using audio tracings of the shutter sounds similar to the one below, I measured the camera operating speed under a variety of conditions using both fast and slow CF memory cards.

With a Sandisk Extreme III CF card (30 MB/s), in JPEG mode with the shutter speed set to 1/500s and focus set to manual, I shot continuously for 100 seconds (385 frames) without filling the buffer at an average frame rate just over 3.8 frames/sec. Canon quote a buffer size of 78 frames for a non-UDMA card (though they don't seem to specify a card speed). Though 30MB/s Sandisk extreme III cards aren't marked as UDMA, I believe that they are, and the unlimited buffer capacity seems to confirm this. In RAW mode the frame rate was also 3.8 fps, but the buffer filled after 16 frames and after that the frame to frame spacing increased to 0.76 seconds (1.32 frames/sec).
Canon quote a "startup" time of 0.1s for the EOS 5D MkII and 0.2s for the original EOS 5D. To me they both seem to turn on instantly, so the shorter startup time isn't really a big deal.
So what happens if you don't have a superfast UDMA compliant CF card? Well, at ISO 100 with a shutter speed of 1/500s and manual focus, using a slower CF card, a 4GB Kingston 45x, the initial continuous shooting rate for large/fine JPEGs was again just over 3.8 frames/sec for the first 185 frames, then it dropped to 2.3 frames/sec. In RAW mode the rate was just over 3.8 frames/sec for 14 frames, then it dropped to approximately 0.6 frames/sec. Yes, it's slightly slower, but not much. If you're shooting JPEGs and don't fire bursts longer than 180 frame, you might not notice the difference. Even with RAW files the difference is quite small.
The ISO setting (and probably the amount of detail in the scene) can affect the buffer size. For example when shooting with the Kingston 45x card at ISO 25600, the buffer filled after 18 frames (vs. 185 frames at ISO 100), though the shooting speed was still 3.8 frames/sec. After the buffer filled the frame rate dropped to around 0.95 frames/sec (vs 2.3 frames/sec at ISO 100). The likely reason for this is that images shot at high ISO have more noise and noisier images are harder to compress as JPEG files, so the average file size increases, in this case from about 3.1 MBytes at ISO 100 to 13.8 MBytes at ISO 25600 (4.45x as big)
Note that with High ISO Noise Reduction enabled and shooting at ISO 1600, the buffer filled after only 8 large/fine JPEGs at 3.8 frames/sec, then dropped to 2.3 frames/sec. The manual notes that high ISO noise reduction lowers the buffer capacity and slows shooting and it certainly does! I presume this is because of the extra time it takes to perform the noise reduction on the JPEG images before they can be saved, so the buffer fills at the same rate but is simultaneously emptied much more slowly.
Canon quote a "startup" time of 0.1s for the EOS 5D MkII and 0.2s for the original EOS 5D. To me they both seem to turn on instantly, so the shorter startup time isn't really a big deal.
Autofocus
The Canon EOS 5D MkII inherits the basic AF system of the EOS 5D. There are 9 visible AF zones arranged in a diamond pattern. The center zone has a cross sensor which can detect both horizontal and vertical lines and the vertical sensor is high precision with lenses which have an aperture of f2.8 or faster. The two AF zones immediately above and below the center zone are sensitive to vertical lines and the remaining 6 zones to the right and left of the center zone are sensitive to horizontal lines. All horizontal sensors are normal precision and work with lenses having a maximum aperture of f5.6 or faster.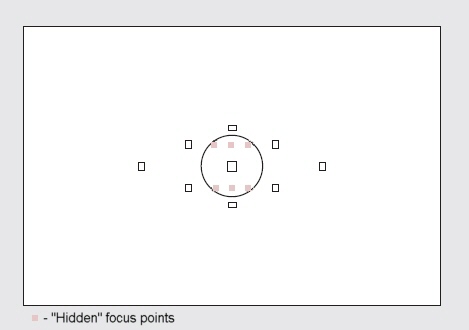 In addition to these 9 visible AF zones there are 6 "hidden" assist zones clustered around the center marked zone. These are used in servo AF mode to keep better track of a moving subject if it transitions from the center to one of the outer zones.
Though the same AF hardware is shared by the 5D and 5D MkII, Canon claim that AF performance is improved through the use of the faster and more powerful Digic IV chip which is used in the 5D MkII.
Other Features
The Canon EOS 5D has a number of optional image processing features.
Long Exposure Noise Reduction
Set via custom function II-1, this can be set to OFF, AUTO or ON. For exposures longer than 1 second in "Auto". mode, a second, blank, exposure is taken if noise is detected. In "on" mode the second exposure is always taken. This second exposure lasts as long as the first, so if you take a 15 second exposure and long exposure noise reduction is active, a second, blank 15 second exposure will be made (and subtracted from the first exposure). This obviously slows things down considerably.
High ISO Noise Reduction
Set via custom function II-2 this can be set to OFF, LOW, STANDARD and HIGH. Noise reduction is applied at all ISO settings, but if particularly effective at high ISO settings which generate significant noise. Note that the higher the setting the more the image resolution is reduced and noise reduction (especially on "high") can greatly reduce the number of continuous frames that can be shot before the buffer fills. If you are shooting RAW, High ISO Noise Reduction can be applied (and changed) using the Canon's DPP (Digital Photo Pro) software which is supplied with all EOS DSLRs.
Highlight Tone Priority
Highlight tone priority increased the "headroom" in an image by preventing the highlights from blowing out (expanding the dynamic range for highlights).When enabled, ISO can be set from ISO 200 to 6400. This appears to be a hardware function since it is applied to the RAW file as well as JPEGs. It cannot be applied (or removed) in DPP. It can increase shadow noise.
Peripheral Illumination Correction
This function corrects the vignetting often seen when lenses are used at large apertures when certain Canon lenses are used. The correction data for these lenses is stored in the camera and additional lenses can be added via the Canon EOS Utility program supplied with the EOS 5D MkII. The correction is applied to JPEGs. RAW files can be corrected in DPP.
Auto Lighting Optimizer
This can be set to OFF, LOW, STANDARD and STRONG and automatically corrects image brightness and contrast for best results. It's applied to JPEG images and can be applied to RAW images using DPP. It is possible that under some conditions the use of the Auto Lighting Optimizer may increase image noise.
Other New Features on the 5D MkII
Battery - The 5D MkII uses a new battery which in NOT interchangable with any previous Canon batteries. Though it resembles the BP-511/512 which is used in most other pro and prosumer level Canon EOS DSLRs, it's a slightly different shape. The new LP-E6 is an "intelligent" Li-ion cell with a higher capacity than the BP511/512 (1800mA). The "intelligent" part is that each battery has an ID number which the camera can read. If you use multiple batteries the camera can recall the state of charge of each cell when it's removed from the camera. The 5D can also read the charge level of the battery in finer increments than was previously possible and the state of charge is continuously displayed in the viewfinder so that you don't get surprised when the battery runs out of power!
IR Remote - The EOS 5D MkII has adopted one feature of the Digital Rebel series cameras. It can be controlled using the RC-1 and RC-5 IR remote controllers. These are small and inexpensive. I don't know why Canon didn't put this ability on the EOS 10D/20D/30D/40D and 50D. As I said, it's on the digital Rebels and it was on most of the consumer level EOS film bodies too.
NEXT: Resolution