Conclusions
The Canon EOS 5D MkII is a worthy successor to the venerable EOS 5D. It does all the 5D can do and more. It has a higher pixel count yielding higher resolution images, a similar level of noise which combined with the higher pixel count can actually yield lower noise levels in prints. It has Live View and broadcast quality HD video with stereo sound recording options. The sensor is now self-cleaning (at least to the extent that any sensor is self cleaning) and the ISO range has been expanded from 50-3200 to 50-25600 (though noise levels can be pretty objectionable above ISO 6400). The continuous shooting rate has gone from 3fps on the 5D to 3.8 fps on the 5D MkII and the image buffer is larger (unlimited for JPEGs when using a fast CF card).
There are no major strikes against the 5D MkII as far as I can tell. Canon have fixed the "black dot" problem which was initially reported by some users. AF seems to work in a similar manner to that of the 5D, with possibly slightly better performance due to the increased speed of the Digic IV processor. Exposure metering and white balance performance are again similar to the original EOS 5D.
The only real question about the 5D MkII is whether it's worth the price ($2700) and if you can get one (they are still hard to find in stock anywhere as of early February 2009). The original 5D can be found for around $2000 new, $1400 refurbished and maybe $1200 used. If you just want a basic full frame DSLR, don't need all the bells and whistles of the MkII (such as HD video) and you're not printing larger than maybe 16x20, the original 5D may be good enough and will probably yield images which are pretty much indistinguishable from those from the 5D MkII, at least up the the 5D ISO limit of 3200.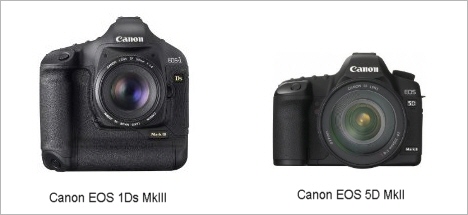 In comparison with more expensive cameras, the 5D MkII is about $3900 cheaper than the 21.1MP EOS 1Ds MkIII. The 1Ds MkIII is more sturdily built. It has a built in vertical grip and battery holder. It has a more advanced AF system with 15 zones, more hidden assist zones and more cross-type sensors. It has a faster (5fps) frame rate and it's fully weather sealed. For hard professional use, especially where the upmost in AF performance is critical and you have to get the shot rain or shine, the Canon EOS 1Ds MkIII is still clearly the champion. However the price difference is very large (you could buy two 5D MkII bodies for the price of a 1Ds MkIII and still have $1200 left over for lenses!). Image quality is similar, so for those who don't absolutely NEED the features of the 1Ds MkIII, the EOS 5D MkII is probably a better buy.
So is the 5D MkII perfect? No, no camera is. It would have been nice if Canon had upgraded the AF system a little more and made all the AF zones sensitive to both horizontal and vertical lines by using cross-type sensors (as they do in the 40D and 50D). It would be nice if the 5D MkII had a built-in popup flash and even nicer if that built in popup flash could act a a wireless controller for speedites (as is possible with some Sony and Nikon DLSRs). I'd love to see a Canon DLSR with stabilization built into the body as Sony have done with their 24MP full frame $3000 A900 DSLR (though I think that is pretty unlikely to happen). The HD video on the 5D MkII is great, but would be better if it was possible to select the aperture and maybe the ISO setting and if audio gain could be manually set.
However all these minor "gripes" are just that. As I said no camera is perfect and none ever will be, which is why there will always be a newer, better (and possibly more expensive) model a few years down the line. For now the EOS 5D MkII stands out as exceptional value at $2700. The original EOS 5D was $3000 when it was introduced and the 5D MkII offers a lot more.
The new EOS 5D MkII would be an excellent choice for serious landscape and portrait photographers and anyone who needs a full frame camera for both the quality of the images and the capability to fully utilize lenses such as the full frame 15mm fisheye and ultra-wides like the 16-35/2.8L (which loose their wide view when used on crop sensor cameras). When used in combination with fast lenses, full frame cameras also provide the shallow depth of field that many portrait photographers like. The EOS 5D MkII is also an great choice for budding videographers who want to exploit its excellent HD video capability. The EOS 5D MkII may, however, be overkill for casual amateur use, where something like the Canon EOS 50D would likely be more cost effective and still meet all the user's needs. If you treat your camera roughly though, work in adverse weather and need fast operation with the most dependable possible AF system (e.g. combat or sports photography), then the Canon EOS 1D MkIII or Canon EOS 1Ds MkIII might be worth their extra cost to professional shooters.
Where to Buy
The only problem with buying the Canon EOS 5D MkII has been they may be hard to find in Stock! However as of September 2009 the situation seems to have eased up and most of the major online retailers to seem to have both the body and body+24-105 kits on the shelf. You can check the current price and stock situation via the links below.
Canon EOS 5D Mk II - Body Only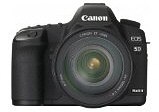 Canon EOS 5D MkII + EF 24-105/4L IS USM kit
The 5D MkII is also available as a kit with the
EF 24-105/4L IS USM
lens at a discount. You save about
$400
by buying the kit rather than buying the lens and body separately, which is a pretty good deal. The 24-105/4L IS USM is a very good lens (see
review
). It's well built ("L" series construction), has an effective IS system and covers a lot of ground from a true wideangle 24mm to a short telephoto 105mm, making it excellent for everything from landscape and travel work to portraits. It shows some barrel distortion and vignetting wide open at 24mm, but both of those effects can automatically be corrected in Canon's DPP software. The EF 24-105/4L IS USM is probably the best "single lens" general purpose solution for the 5D MkII (or any other Canon full frame DSLR)

Note: There are some dealers selling via Amazon at prices inflated above the list price. Unless you simply can't live without a 5D MkII for another second, I wouldn't buy a 5D MkII for more than $2700 or a 5D MkII + 24-105/4L for more than $3500.