Canon EOS 5D Review - Part II
Metering modes
In addition to the standard metering modes found on the EOS 20D (35-zone evaluative, partial and center weighted), the EOS 5D also adds a 3.5% spot metering mode. The partial mode on the 5D is also slightly tighter than that of the 20D (8% vs. 9%). The area of the spot meter is marked on the viewfinder screen by a circle as shown below.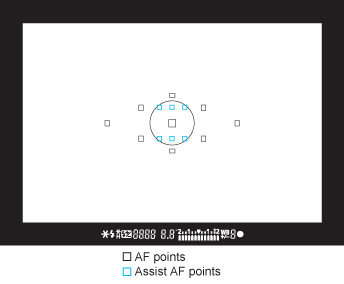 File Size
There are 6 different size/quality settings plus RAW. In addition you can save images as both RAW and any one of the JPEG combinations simultaneously
Large/Fine: Approx. 4.6MB (4368 x 2912 pixels)
Large/Normal: Approx. 2.3MB (4368 x 2912 pixels
Medium/Fine: Approx. 2.7MB (3168 x 2112 pixels)
Medium/Normal: Approx. 1.4MB (3168 x 2112 pixels)
Small/Fine: Approx. 2.0MB (2496 x 1664 pixels)
Small/Normal: Approx. 1.0MB (2496 x 1664 pixels)
RAW: Approx. 12.9MB (4368 x 2912 pixels)
Exact file sizes depend on the subject, ISO speed, Picture Style, etc
Sensor Noise and ISO settings
The amount of sensor noise is something that's always of interest with any new digital camera. The EOS 5D has a native range of ISO 100 to ISO 1600 in 1/3 stop steps, plus it can be expended via a custom function setting to add ISO 50 (L) and ISO 3200 (H). When setting ISO, the current value is displayed both on the top LCD and in the viewfinder, so as long as you remember which button to push you can set ISO without taking your eye from the viewfinder! ISO is not displayed in the viewfinder during normal operation, only while its value is being set.
Below are noise samples (100% crops) from a series of images of a grey card shot with both an EOS 20D and EOS 5D. They are all direct crops from large/fine JPEGs shot using the camera's default parameters and with no post-exposure processing. What you see is what I got!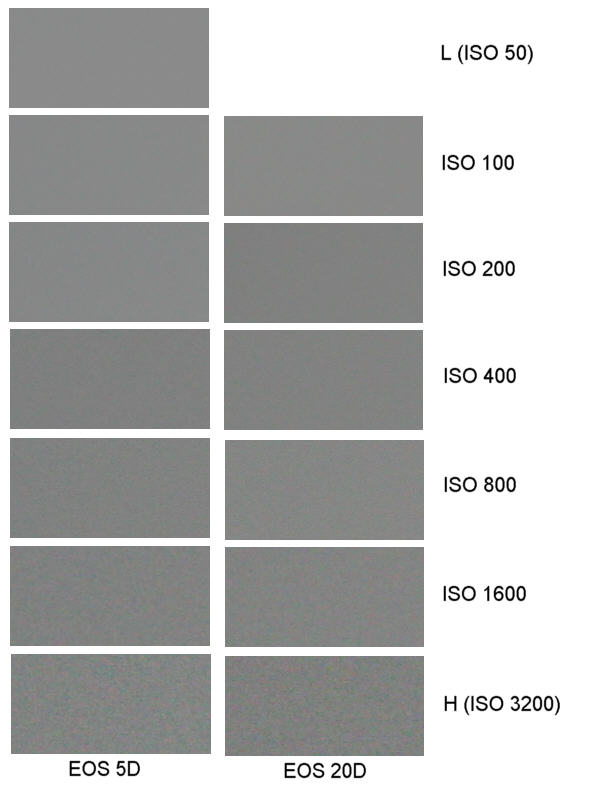 Are there differences in noise? Yes, I'm sure there are. Are they significant? No, not really. Essentially the noise levels of the EOS 5D and 20D are the same, or at least very similar. Both are very good up to ISO 800, noise starts to appear at ISO 1600 and it's fairly pronounced at ISO 3200, though image quality is still very usable even at ISO 3200, certainly better than film pushed to the same speed.
One other point to note is that since the 5D image has to be enlarged less than an image from a camera with a smaller sensor, even if the intrinsic noise of each camera is the same, it will be less visible in prints made from the 5D image. This is analogous to prints being made from medium or large format negatives showing less grain than those from smaller negatives such as 35mm, because the enlargement factor is smaller.
Dynamic Range
Dynamic range is always a little tricky to measure but my impression from shooting high contrast subjects and deliberate overexposure is that if there are difference in dynamic range between the EOS 5D and EOS 20D, they are small enough to be of no consequence (or use!). It is worth noting though that the "L" setting in the expended ISO range (equivalent to ISO 50) does reduce dynamic range somewhat (maybe by a stop or so) at the highlight end or the range. This is no doubt why Canon make it a custom function selectable choice rather than a standard ISO setting. When using ISO 50 you have to be aware of this and expose accordingly. While I have not personally tested the dynamic range of the 1D series bodies, the general consensus seems to be that their dynamic range is also similar to the EOS 20D, so dynamic range seems to be a function of sensor technology, and is pretty much the same for all the current Canon EOS DSLRs.
Flash Sync
The flash sync on the EOS 5D is 1/200s, which is 1/3 stop slower than the 1/250s sync found on the EOS 20D, 1Ds MK II and ID Mk II N. Whether this 1/3 stop difference is of any consequence is a matter of debate. I don't think it's going to be a big deal for 99% of users. Those wanting much faster sync in a Canon digital body have to go back to the original 4MP EOS 1D, which had a 1/500s sync speed. Of course all the current Canon EOS DSLRs support high speed sync mode with compatible speedlites which gives sync at any speed (but the faster the shutter speed, the lower the effective power of the flash becomes).
Shutter
The EOS 5D shutter is rated for 100,000 cycles. Not as many as the 1D series bodies, but more than the Digital Rebels. Compared to the sound of the EOS 20D shutter/mirror noise, it sounds a little quieter and less harsh. I didn't measure shutter release lag time, but Canon specify it as 0.075s (75ms), which is very fast. The camera "wakeup" time is specified as 0.2s (200ms), again very fast and almost not noticeable. The camera seems to have "instant on".
Exposure
I found that the EOS 5D I tested consistently gave slightly lighter images than the comparison 20D. The difference was usually around 1/3 stop and didn't depend too much on subject or metering pattern. Of course with only one sample of each camera I can't say if all EOS 5Ds and all EOS 20Ds will compare similarly, but for what it's worth, the ones used in these tests did.
Overall exposure accuracy using evaluative metering was good. Of course as with any DSLR you have to make sure that you don't clip highlights when shooting scenes of high contrast with bright areas. The 5D has the same histogram display as the 5D for checking overall exposure and clipped highlights will flash black/white if the review image is set to display information. However in addition to this, the EOS 5D can display individual histograms for the red, green and blue channels, making it easier to detect clipping in just one channel.
White Balance
The EOS 5D shows the typical pattern of Canon auto white balance behavior. It's very good outdoors and not bad indoors under fluorescent lighting, but it's very warm under tungsten lighting. Here are crops from images taken of a grey card illuminated by a standard 75W tungsten household light bulb.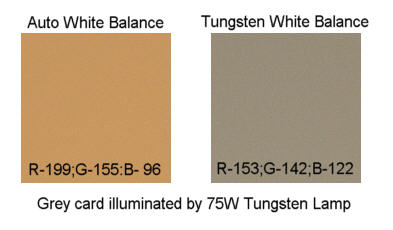 As you can see, the image shot with auto white balance has a strong red/yellow bias. With "Tungsten" white balance selected there's still a small red/yellow bias, but it's much less. Both Canon digital Rebels, the 10D and 20D all show similar performance with a strong red/yellow bias under tungsten light in auto white balance mode. It has been suggested that this is deliberate (and I think it must be) because people expect indoor shots under tungsten light to look very warm. Even the 1D series bodies show this effect though, and you'd expect maybe professionals would prefer a more neutral white balance, even under tungsten light.
The available white balance options are:
Auto
Daylight
Shade
Cloudy
Tungsten
Fluorescent
Flash
Custom
Kelvin temperature (2800K to 10000K)
Both white balance correction (+/- 9 levels) and white balance auto bracketing (+/- 3 levels) are availab
Continuous Shooting
Below are the 1st and 12th shots in a continuous sequence. The time difference between the shots is 3.59 seconds, which means the average time between shots is 0.326s. This is equivalent to 3.06 frames per seconds. Pretty close to the Canon specified 3 frames/second!

Canon specify the buffer size as 60 images in large/fine/JPEG and 17 images in RAW. With a fairly slow CF card (12x Kingston 1GB CF) at ISO 100 shooting at 1/125 with the lens in manual focus mode shooting a uniform target I found that I could shoot 18 RAW images before the buffer filled up. In fine/JPEG mode I got 132 frames! Of course JPEG files of uniform targets are much smaller than those of images with detail in them so this would represents and unrealistic condition. Shooting in more normal conditions using ISO 400 and a "typical" scene with a "typical" amount of detail I got 68 frames in fine/JPEG mode and 17 frames in RAW. With a faster card you might expect to do a little better with JPEGs, but probably not much.
Once the buffer fills up the camera pauses and then shoots at a much slower rate. Using a CF card rated at 60x (X Digital Media) the rate in RAW mode slowed down to 1 frame every 2.6 seconds. With the slower rated Kingston card the rate dropped to 1 frame every 3.2 seconds.
Full Frame vs. APS-C
I've actually written a separate article on this topic which you can read here. However the conclusion is that as long as you are using good quality optics, the EOS 5D is capable of yielding images which are superior in quality to those which you can get from an APS-C sensor camera such as the EOS 20D. One exception to this is if you are limited by available focal length and need to crop the 5D image, as, for example, a nature photographer might need to do if their longest lens wasn't long enough and they couldn't get closer to a subject. Under those circumstances the higher pixel density of the 20D can yield better results.
The image below shows crops from the center of two test shots, one using a 5D and the other using a 20D, upsized using bicubic interpolation to yield the same final image size. The lens used was a 50mm f1.8, set to f8. The distance to the target was different for the two shots in order to equalize the linear field of view (i.e. fill the frame with the whole target set). As you can see the 5D image has higher sharpness and resolution.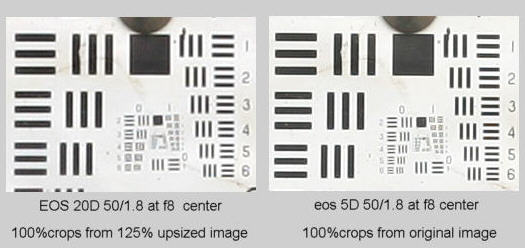 Here's a real world example.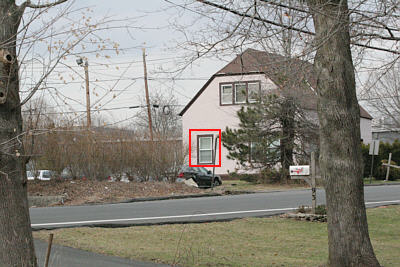 The area shown outlined in red is shown as a 100% crop in the two images below: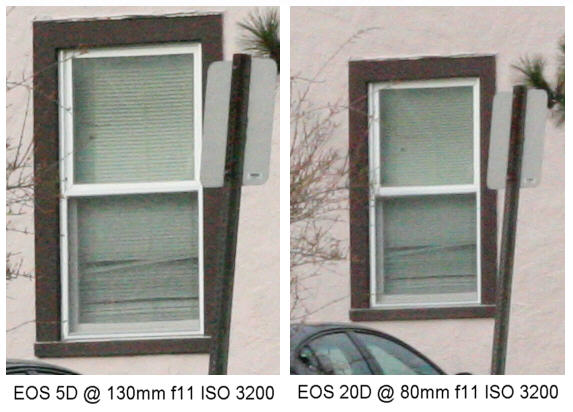 I think it's pretty obvious that the 5D yields the better and higher resolution image - even at ISO 3200!
Sample Images
Canon have full size EOS 5D images on their website. They vary in size from about 6MP to 12MB, so you'll really need a high speed connection (or a lot of spare time) if you want to download them, but if you want to get a good idea of image quality, downloading a full size image is the best way to do it.
Conclusions
As I said at the beginning of this review, the 5D is more of a big brother to the EOS 20D than the little brother of the 1Ds Mk II or 1D MkII N. The 1Ds Mk II has everything - a 16.7MP full frame sensor, full weather sealing, 4fps continuous shooting, a built in vertical grip, a high capacity battery, the ability to use both CF and SD cards etc. However it will cost you $7200. The 1D MkII N has "only" an 8.2MP 1.3x sensor, but it has full weather sealing, a built in vertical grip, CF and SD card capability, high capacity battery and it can shoot at 8.5 fps for 48 frames (high resolution JPEGs, 22 RAW frames). However the price is somewhat lower at just under $4000. The EOS 5D has a 12.8MP full frame sensor (less than the 1Ds but more than the 1D) , 3fps, no weather sealing, only takes CF cards, has a smaller battery and no built in grip - but the price is just under $3000.
The 1Ds MkII is the clear choice for the professional photographer who must have the very highest possible image quality is the most rugged possible body. However you have to be pretty serious to spend $7200 on a digital camera body. The 1D MkII N is the clear choice for the professional sports and action shooter or photojournalist who regularly has to work outdoors in all weather and who really needs a lightning fast frame rate (8.5 frames/sec). However it does have a 1.3x sensor which means that you can't get a super-wide-angle and it is "only" 8MP. It's not the camera you would probably pick for studio or landscape work.
The EOS 5D is a good compromise for a significant number of photographers. It combines high image quality with the ability to fully utilize EF series wideangle lenses (like the EF 16-35/2.8L). If 3fps is a fast enough frame rate (and for most photographers, it is) and don't need to regularly shoot outdoors in pouring rain, at around $4200 less than it's nearest full frame competitor (the EOS 1Ds Mk II) it's a very attractive camera. Under most shooting circumstances it produces higher quality images than the EOS 20D and it's undeniably a nicer camera to use with the larger viewfinder, clearer LCD screen and additional firmware functions such as the style modes and RGB histogram. There are circumstances under which it is possible for the EOS 20D to outperform the EOS 5D, specifically if the 5D image must be cropped because of the lack of a long enough lens - but obvious solution for this dilemma is of course is to buy both an EOS 5D and an EOS 20D for backup - and get the best of both worlds! That would still be about $3000 cheaper than buying an EOS 1Ds Mk II.
Where to Buy
Amazon.com is pretty reliable and I use them myself. Currently you can get an Canon EOS 5D through them for under $2300