Canon EOS 7D MkII coming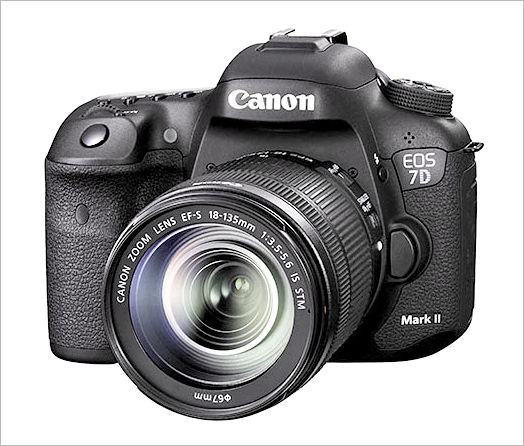 Finally, after years of unfounded rumors it looks like the Canon EOS 7D MkII is finally about to appear. No real surprises in the rumored specs - I posted my "predictions" a year or so ago Thoughts on an EOS 7D MkII. The biggest camera show in the world - Photokina - runs from Sept 16th through the 21st in Cologne, Germany and that's likely where the 7D MkII will make its debut, with the official announcement coming sometime after midnight on September 15th.
Looks like it will use a 20.2MP CMOS sensor with Dual Pixel CMOS AF. Whether this is the same as the existing 20.2MP CMOS sensor used in the 70D isn't known yet. It could be the same in pixel structure but have some sort of enhanced readout capability for higher speed. Continuous shooting at 10 fps, GPS built in (but strangely no WiFi?). Dual Digic processors (like the 7D) but upgraded to the Digic 6. Magnesium alloy body with fixed LCD screen. 65 AF zones (all cross sensors?). ISO 16000 (plus expansion presumably to 32000 and maybe 64000?). 60fps HD video. Intervalometer. Metering sensor-assisted servo tracking (iTR) like the 1D-X
No word on whether storage will be CF, SD or a combination of both.
So basically we have something that looks very much like the existing EOS 7D, with the expected hardware upgrades from other current EOS models. No estimate on price yet and no release date. For that we'll probably have to wait a few days for the official Canon announcement. I'd guess at a price of maybe $1600-$1700, given the 70D lists for $1100 and the EOS 6D for $1900. The current list on the EOS 7D is $1500. (all prices before any discounts).
I'm not sure why Canon didn't include WiFi (assuming the "no WiFi" rumor is true). Possibly because of the all metal body blocking signals, though GPS need to be able to receive signals and GPS is included in the EOS 7D MkII. The GPS antenna probably sits under a raised portion of the body in the flash housing just forward of the hot-shoe, which may put it outside the metal chassis. The existing 7D lacks this "bump". Maybe there wasn't room for a Wi-Fi antenna as well?
When? Well, it's usually a few weeks (if not a month or more) before supplies of a newly announced product hit the stores. If you want one ASAP, the thing to do is to place a pre-order with someone like ADORAMA, which will put you on the list for the first shipments the store gets. The reputable stores won't be listing the Canon EOS 7D MkII until after Canon make their official announcement, so it will probably be at least Tuesday of next week (September 16th 2014) before you get an opportunity to place your order.
If you aren't looking to spend over $1500 and you want most of the basic 7D functions, you can currently get a refurbished 7D for $899 (free shipping) . I bought my 7D refurbished several years ago and it was perfect - just like new. Canon refurbs are essentially brand new cameras. The EOS 7D is a great camera. I fully expect the Canon EOS 7D MkII to be even better, though many people may not actually need all the new features, bells and whistles. If you don't need them, the existing EOS 7D is a truly excellent camera.