New EOS DSLR on the way? EOS-b? EOS-100D?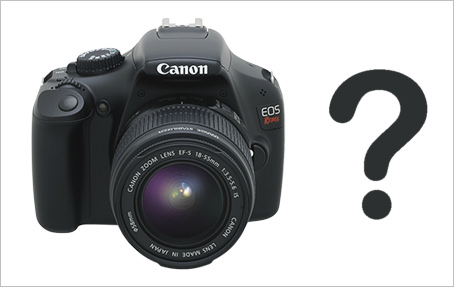 It looks like word has leaked out about a new Canon EOS DSLR ahead of Canon's scheduled press conference on the 21st. The Best Buy website briefly listed details of a new camera. While there is absolutely no guarantee that these details are accurate, or even that a camera will be announced soon, the odds are that the details are substantially correct.
It looks like a new Canon EOS Digital Rebel. The site listed it as the "EOS-b", but I've also seen references to it as an "EOS 100D". However what it's called isn't very important or interesting. The major feature of this camera would be the size. It's significantly smaller and lighter than the current Digital Rebels. How many people have been thinking "well, I'd buy a Digital Rebel if only it was smaller and lighter" I don't know. I guess there are some and Canon's market research may indicate there are a lot. However you can't squeeze a DSLR with optical reflex viewing and which takes standard EF and EF-S lenses into something really small. The flange to sensor distance has to be 44mm. There's no getting around that. Since you also have to mount the sensor (which has some finite thickness) and put an LCD on the back of the camera (which also has some finite thickness) there's no way to get the depth of a Canon EOS DSLR down to less than a couple of inches. The requirement of a reflex viewing pentaprism/pentamirror puts a limit on the minimum height too.
The following table compares the Rebel T4i with the reported specs on the new camera, plus the EOS-M. As you can see, while the new DSLR is quite a bit smaller and lighter than the T4i, the EOS-M is even smaller and even lighter. The EOS-M of course can use the EOS-M series lenses (of which there are still only two) because of it's smaller flange to sensor distance.
| | | | | |
| --- | --- | --- | --- | --- |
| | Height | Width | Depth | Weight |
| Rebel T4i | 3.9" | 5.2" | 3.1" | 18.3 oz |
| New Rebel ? | 3.6" | 4.6" | 2.7" | 13.1oz |
| EOS-M | 2.6" | 4.3" | 1.3" | 9.2 oz |
No matter how small you make an EOS DSLR designed for EF/EF-S series lenses, the lenses don't get any smaller of course, so unless you have something like the 40/2.8 "pancake" lens mounted the lens is a substantial fraction of the size. Often the lens will be as large as or larger than the camera!
So on to the reported camera specifications. Looks pretty much like what you'd expect. An 18MP sensor like the T4i. A digic V processor (now Canon's standard). A touch sensitive LCD screen, the usual HD video, storage on SD/SDHC/SDXC memory cards. The 4fps frame rate is slightly slower then the 5fps of the T4i. A viewfinder (probably pentamirror based) with 95% coverage at 0.87x (the T4i is 95%, 0.85x). Looks like pretty much the same AF system as the T4i. The battery is reported to be the LP-E12, which is the same as is used in the EOS-M and smaller than the T4i's LP-E8.
18MP CMOS APS-C sensor
5184 x 3456 pixels
Digic V processor
Touch sensitive 3" LCD with 1,040,000 dots
30-1/4000s shutter
HD video with mono sound
Continuous shooting at 4fps
9 point AF with dual cross f2.8 center zone
95% viewfinder with 0.87x magnification
ISO 100-12800 with 25,600 expansion
Built in flash
Face detection
Advanced special effects
SD/SDHC/SDXC memory card
3.6"x4.6"x2.7" (H/W/D)
13.1 oz
LP-E12 battery
So overall it looks like a smaller version of the Rebel T4i. I'm sure there will be some additional software features in terms of special effects and in-camera image processing and maybe some other small differences. Best Buy listed a price of $799.99 with the EF=S 18-55/3.5-5.6 IS II kit lens, which seems reasonable for the list price (MSRP). The current T4i with the same lens is selling for $649, but Canon's list price (MSRP) would be closer to $850.
So if this is announced at Canon's press conference on March 21st, I hope it's not the only thing that's announced. A smaller DSLR is interesting, but not exactly earth shattering and not what most current Canon EOS system owners would be waiting for. I think an EOS 70D or an EOS 7D MkII would be of much more interest to them, as would any new lenses or updates to older lens. We can only hope...but don't hold your breath! If this is the only DSLR announced this week, I think there will be a lot of disappointed Canon users out there,