Canon Powershot G1 X Review

The Canon Powershot G1 X is one of a very small number of cameras with a large sensor and a permanently attached zoom lens. In fact it's the only one with a sensor similar in size to most small sensor DSLRs. The Powershot G1 X sensor measures 18.7 ◊ 14 mm. That means it's a bit smaller than Canonís typical APS-C sensor (22.3 ◊ 14.9 mm) but a bit larger then the Olympus 4/3 sensor (17.3 ◊ 13 mm). the only other camera that could claim to be similar is the Sony Cyber-shot RX100 which has a sensor larger than compact digicams, but significantly smaller than the G1 X. The RX100 uses a 13.2 ◊ 8.8mm sensor, the same size as that used by Nikon in their 1-series mirrorless cameras.
The advantages of a larger sensor are improved image quality and the ability to use selective depth of field to better isolate subjects.
There are several other large sensor (APS-C) cameras with fixed lenses, but those lenses are typically semi-wide prime lenses (i.e. they don't zoom). Examples would be the Fuji X100 (23mm f2.0) and the Leica X2 (36mm f2.8), both of which use APS-C sized sensors.
So if you want the smallest camera with the largest sensor and the widest zoom range, the Canon Powershot G1 X is top of the (very short) list!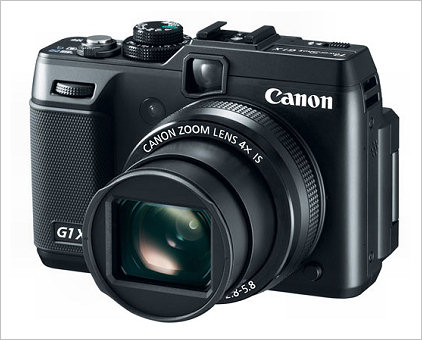 The Canon Powershot G1 X is clearly a member of the Powershot G family. It looks a lot like the G11/G12/G15 models, with similarly placed controls and a similar overall appearance. It's a little larger, especially in depth (2/3" thicker), due to the physically larger lens required for the large sensor and a little heavier. Just like the other cameras in the G series, you can have it in any color you want - as long as that color is black!
Powershot G12 - 4.41 ◊ 3.00 ◊ 1.90 in. (112.1 ◊ 76.2 ◊ 48.3mm), approx. 14.3oz (403g)
Powershot G15 - 4.21 x 2.99 x 1.57 in. (107 x 76 x 40mm), approx. (12.4 352g)
Powershot G1 X - 4.60 ◊ 3.17 ◊ 2.55 in. (116.7 ◊ 80.5 ◊ 64.7mm), approx. 19oz (534g0
Here's a brief comparison of the G12 and G1 X:
| | | |
| --- | --- | --- |
| | Canon Powershot G1 X | Canon Powershot G12 |
| Sensor | 18.7 x 14 mm, 14.3MP CMOS | 9.5mm x 7.6mm, 10MP CCD |
| Lens (35mm eqivalent) | 28-112/2.8-5.8 | 28-140/2.8-4.5 |
| LCD | 3", 922,000 dots | 2.8", 461,000 dots |
| Battery | NB-10L, approx 250 shots (LCD on) | NB-7L, approx 370 shots 9LCD on) |
| Max video resolution | 1920x1080 @ 24fps | 1280x720 @ 24fps |
| Processor | Digic 5 | Digic 4 |
| RAW files | 14-bit | 12-bit |
| ISO | 100-12800 | 80-3200, plus 6400-12800 in 2.5MP mode |
| Shutter speeds | 60s - 1/4000s | 15s - 1/4000s |
| Smallest aperture | f16 | f8 |
| Video Zoom | Optical | Digital |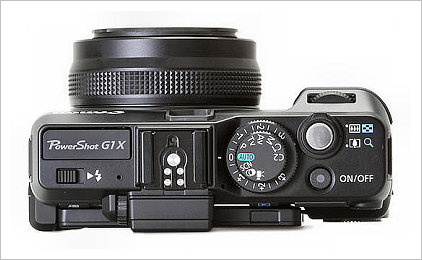 The user interface of the G1 X is very similar to that of other cameras in the G series, A top mounted click stop dial is used to select shooting mode. These include Manual, Av, TV, Program, Full Auto, Scene, special effects (which includes HDR), Video and two custom modes, C1 and C2. An exposure compensation dial surrounds the mode dial and allows EC to be applied from +3EV to -3 EV in 1/3 EV steps. Next to the mode dial is the shutter release which is surrounded by the zoom control ring.
The Powershot G1 X has two control dials for setting shutter speed, aperture etc. On the front of the camera below the shutter release there is a horizontal dial and on the rear of the camera surrounding the 4-way controller. In default mode the front dial controls aperture in Av mode, shutter speed in Tv mode and in Manual mode the front dial controls shutter speed and the rear dial controls aperture (though that can be changed via the menu system).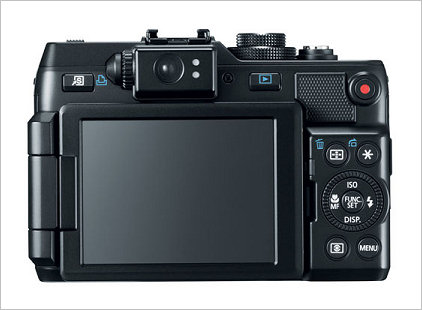 The rear 4-way controller selects the menu for changing ISO, flash mode, focus mode and display information. Separate buttons select metering mode and bring up the main menu system. There's also a dedicated video button which can be used to select video recording at any time, no matter what the position of the mode control dial. There's also a user programmable button which provides a shortcut to one of 16 different menus shuch as image quality, white balance, image aspect ratio etc. I found that having it select between JPG, RAW and RAW+JPEG was most useful for me.
Optical viewfinders are becoming increasingly rare on compact cameras, so it's nice to see that the G1 X has one. It's not very accurate when it comes to precise framing since it only shows about 80% of the image and doesn't correct for parallax when shooting closeups, but it's still quite useful. For example it can be used in very bright light when the LCD can be somewhat difficult to see, it can be used to follow action since it doesn't black out or lag like an LCD screen can. It's also useful for holding the camera steady, which I find easier to do looking through the viewfinder than holding the camera out in front of me so I can see the LCD.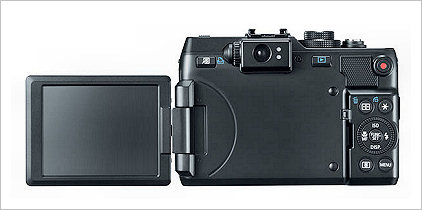 The LCD itself shows 100% of the frame and it can be folded out, tilted and swiveled for self portraits and high and low level shots. The LCD can also be set to show shooting information including a live histogram and an electronic level. The LCD can be turned off to reduce power consumption - another reason for an optical viewfinder! With the LCD on the G1 X is rated for around 250 shots, but with it off that goes up to 700 shots.
The G1 X supports all current varieties of SD card. The old SD format (up to 2GB capacity), SDHC (up to 32GB capacity) and the new SDXC cards (over 32GB capacity). It's also compatible with Eye-Fi cards.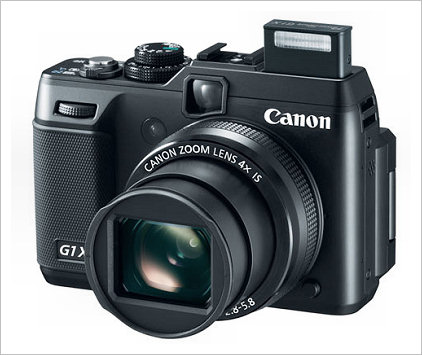 The G1 X has a popup flash, though popup is a manual operation, not automatic. There are 4 flash modes, Always on, Always off, Auto and Slow Sync). Though Canon don't specify a guide number I measured it to be around 8m (26ft) at ISO 100. There's also a hotshoe which can accept any EOS compatible speedlite, which greatly expands the possibilities for shooting with flash such as using bounce flash or using multiple speedlites if the camera mounted flash can act as a wireless controller.
Connectivity is provided via a mini HDMI output for displaying video an images on an HDMI compatible TV and via a mini USB connection which provide USB 2.0 connectivity with a PC. The mini USB can also output analog audio and video via a special cable (not supplied with the camera). There's also a 3mm jack for wired remote control using the Canon RS60-E3. There is no provision to attach an external microphone.
Speed of Operation
The Powershot G1 X is reasonably responsive for a compact digicam. It generally responds pretty much instantly to any control inputs (buttons and dials). The time from pushing the "on" button to being able to record the first image is around 2.7 seconds. This includes the time taken for the lens to extend and the time taken to autofocus. Somewhat slow by DSLR standards, but pretty normal for a compact digicam.
In continuous shooting mode (JPEGs) the G1 X can shoot at almost 2 frames/second for an unlimited number of frames (assuming you have a reasonably fast SD card). In RAW mode that drops to around 1.2 frames/second. In single shot mode (JPEG) the fastest you can shoot is around every 2.7 seconds since the camera finished recording one image before it will shoot the next (images aren't buffered). There is a "high speed" mode which allows up to 6 frames at 4.5 frames/sec, but it only works for JPEGs using fully automatic exposure, auto ISO and auto white balance since it's one of the cameras "scene" modes (High Speed Burst HQ). All these numbers refer to "one shot" AF, i.e. the focus is determined and fixed at the first shot. If you want tracking focus, the G1 X has it, but the frame rate drops even more, to around 0.7 fps.
The contrast detection focusing is accurate and usable in low light, but it's not particularly fast. In normal light it's around 0.7 seconds on average. If you prefocus before taking a shot by 1/2 depressing the shutter button, the lag between fully depressing the shutter and the image being taken is less than 100ms (1/10s).
Shooting and following fact action is not a strong point of the G1 X. Even automatic 3 shot bracketing isn't fast, taking around 0.85 seconds between shots in JPEG mode and closer to 1.4 seconds between shots when recording RAW+JPEG.
Focusing
The Powershot G1 X has a number of focusing modes. In "Flexizone" the user can manually select the size and position of the focusing zone anywhere within about 80% of the center of the screen. The choice of size is between large and small areas. "FaceAiAF" mode allows the camera to check for a face in the image and if it finds one it automatically sets exposure and WB as well as focus. "Tracking AF" allows to camera to lock focus onto a subject in the center of the screen and then follow that subject, keeping it in focus and adjusting exposure, if it moves around the frame.
"Servo AF" and "Continuous AF" are also available in "Flexzone" and "Face AiAF". In Continuous AF, the camera adjust focus all the time, even when the shutter button isn't 1/2 depressed. Servo AF also tracks focus, but only when the shutter is 1/2 depressed.
All focusing is done using contrast detection, where the camera is looking at the image on the sensor and adjusting focus by looking for maximum contrast. This is slower than phase detection AF which is used by DSLRs and a few compact cameras and so average AF time is around 0.7 seconds. However focusing is accurate and can be done in low light (with some increase in focus time). The Powershot G1 X does have a built in AF illuminator, but it only works when the AF zone is in the center of the frame. The AF illuminator can be turned off if desired.
The Powershot G1 X has two focusing ranges, "macro" and "normal". However magnification isn't very high, even at the closet focus distance in "macro" mode (~8" at 28mm, ~33" at 112mm). At the widest setting and closest focus the area of coverage is around 9" x 6.75", while at the telephoto end of the range it's around 11" x 8.25", neither of which is very "macro".
Image Quality
Since the Powershot G1 X has a sensor only a little smaller than APS-C (and larger than four-thirds) you'd probably expect image quality to ne good, and you'd be right. Overall the images rival those from Canon's DSLRs. Noise is well controlled and is far lower at high ISO settings than you will see from digicams with smaller sensors.
Though the sensor is smaller than APS-C, it's also a different aspect ratio (3:4 vs 2:3), and if you work out the pixel pitch for an 18MP APS-C sensor and the 14.2MP G1 X sensor you find that it's about 4.3 microns in both cases. This means you wouldn't really expect to see much difference in resolution - and you don't.
Shooting with a EOS 7D + EF24-70 and the G1 X side by side and adjusting the lenses for similar angles of view it was very hard to tell the images apart, even up to the 12800 ISO limit of the G1 X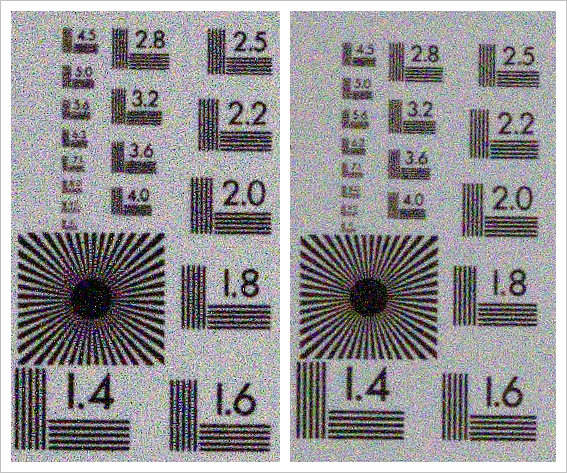 Left: EOS 7D with 24-70/4L, Right: Powershot G1 X
Both lenses shot at f8, both cameras set to ISO 12800. G1 X lens at 112mm, 7D lens set to match
Both are 100% crops from RAW files converted in RAWTherapee with no noise reduction
After looking at quite a few test shots (RAW) comparing the EOS 7D and Powershot G1 X I came to the conclusion that the G1 X was at least equal to the 7D in terms of image quality. Out of the camera JPEGs looked a little smoother from the G1 X, probably because of slightly more agressive JPEG default noise reduction
Images can be saved as JPEG, RAW or JPEG+RAW. However a number of modes available in JPEG mode are not available when you save a file as RAW+JPEG. For example in JPEG mode you can chose one of 10 "My Colors" settings including "Sepia", "Neutral", "Vivid" and "Monochrome". However if you shoot in JPEG+RAW these options are not available
The lens
The G1 X lens is actually a 15.1-60.4/2.8-5.8 zoom. Canon approximate that it has a similar coverage to that which a 28-112mm lens would have on a full frame DSLR (or a 18-70mm lens would on an APS-C DSLR). The lens isn't particularly fast (especially when zoomed out), but the image the quality is quite high. It hits f4.5 by the time it's zoomed to a full frame equivalent of 50mm and by 85mm the maximum aperture drops to f5.6. The image appears sharp across the frame and chromatic aberration is low, though corners are slightly softer at the wide-angle setting of the zoom. Distortion appears well corrected and even at the widest setting it's not noticeable (less then 0.5% barrel). This is good performance by any standard and especially good for a compact digicam.
But appearances can be deceptive. It turns out that Canon are doing a lot of post exposure correction, especially at the widest setting of 15.1mm (=28mm FF equiv). The JPEG and even the RAW file of a wideangle (28mm) shot looks just fine in Canon's DDP RAW conversion software. However if you look at the RAW file that doesn't read Canon's proprietary correction information that's saved along with the image you get something of a different view

Left: Image at widest setting as viewed as a JPEG or as a RAW file in Canon's DPP software
Right: RAW image at widest setting viewed in RAWTherapee (a non-Canon RAW converter)
What this reveals is that at the widest setting the lens has a lot of barrel distortion and vignettes quite significantly. When the image is stored however, Canon work some digital magic and correct the distortion and vignetting. The JPEG is saved in the modified form. The RAW file appears to be saved as a true unprocessed RAW file, but it must have information included that tells Canon's DPP software to correct it. As far as I could tell, this correction could not be turned off in DPP. When the RAW file was opened in RAWTherapee, the true RAW image is displayed. Presumably RAWTHerapee doesn't understand any proprietary correction data that's included in the RAW file.
Digital correction of this type aren't really a problem, but they can lead to a slight softening of detail in areas where the image has to be stretched most (edges and corners), because some pixels hav eto be interpolated.
At longer focal lengths these corrections do not seem to be needed. Significant correction is still applied at the 18mm (=35mm FF equiv.) setting, but by 26mm (=50mm FF equiv.) distortion correction is no longer applied so the image corners retain their full sharpness. There is some very slight residual barrel distortion which can be measured even at full zoom, but which is very unlikely to be detected in an image.
Tricks
The Canon Powershot G1 X can perform a number of tricks (or apply a number of processing options to the image if you prefer). It can shoot an HDR image with limitations. The limitations are that you must shoot in JPEG mode, exposure is automatic (program) and it only takes three shots (at different exposures). There's no control over what exposures are used and the three original image JPEGs are not saved, only the final HDR image.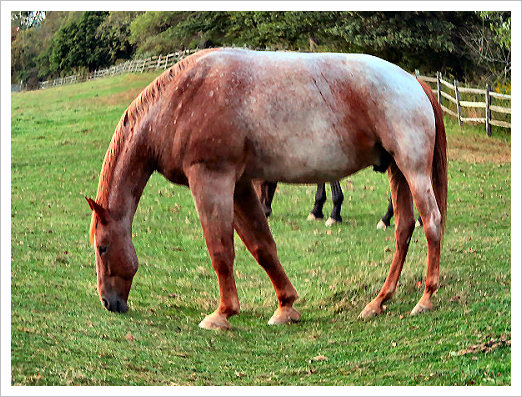 A shot taken with the "fisheye" effect
There are a number of image modes such as "Toy Camera" which vignettes the image corners and mutes the colors, "Fisheye" which adds barrel distortion, "Miniature" which blurs the top and bottom portion of the frame, "Nostalgic" which allows 3 levels of fading, "Super Vivid" which dials up saturation to "11". It's also possible to keep one color and turn all others to shades of gray, or swap colors (turn all reds to green and all greens to red). Again these effects can only be applied when shooting in JPEG mode. If you are shooting in RAW or JPEG+RAW in another mode, then switch to the effects mode, the camera automatically switches to JPEG only mode. Switching back to the original mode (P/Av/T/M) restores the RAW or JPEG+RAW setting.
Video
There are four video options on the Powershot G1 X.
Full HD video, 1920 x 1080 (1080p) at 24 frames/sec
HD video, 1280 x 720 (720p) at 30 frames/sec
VGA video, 640 x 480 at 30 frames/sec
iFrame video at 1280 x 720 (720p)
Both digital and optical zoom are available during video recording and the zoom rate is slowed down to give smoother transitions and less noise. Some zoom noise is picked up by the internal microphones during optical zoom, but it's at a relatively low level. The audio is recorded in stereo via the built in microphones, the level setting is automatic and there is no provision to add an external microphone. There is a "wind" filter which can be activated which filters out lower frequencies. The audio cannot be turned off during video recording.
The Powershot G1 X uses H.264 / MPEG-4 AVC compression and the files are saved as .MOV. Audio is linear PCM, 16-bit, 48khz.
Autofocus is operational in video mode but it is slow. It can maybe keep up with a slow moving subject but it won't keep up with anything moving fast, such as a car or a runner. You can select between Face AiAF and center focus AF during video recording.
Exposure in video mode is fully automatic so you can't set shutter speed or aperture. You can apply the built in 3x ND filter if you want to force wider apertures and you can apply exposure compensation if you don't like the exposure the camera chooses.
There's an interesting "movie digest" mode that captures a short video clip just before each still shot you take. In this mode it records when the shutter is 1/2 depressed and it save a few seconds of video before you fully release the shutter. At the end of a day's shooting these clips are strung together into a video which shows your still photography activity for the day.

Conclusions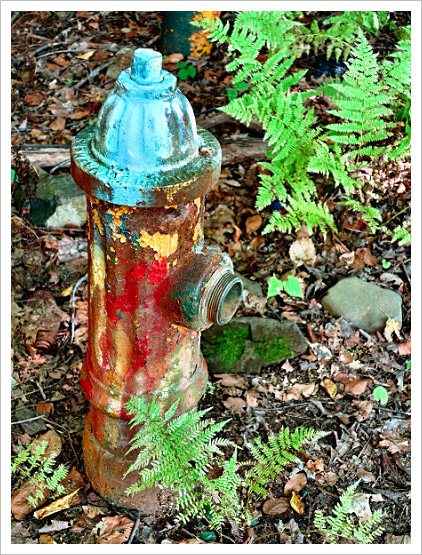 Canon Powershot G1 X, lens at 34.7mm, 1/25s @ f5, ISO 800
The Powershot G1 X provides the best compromise between size, weight and image quality of any compact zoom lens digicam. It's image quality can rival that of many APS-C DSLRs. Where it's a little weak is in the area of speed of shooting and focus. That means it's not really an ideal camera for most sports and action work where the relatively slow AF and continuous shooting rates would be a handicap. However, as a camera for travel photography, shooting landmarks and landscapes, it's probably the best camera of its type. It's small enough to carry in a (large) jacket pocket, has a versatile zoom lens and it's capable of producing images of very high quality.
Alternatives such as the APS-C mirrorless offerings from Olympus (Pen series), Sony (NEX series) and Canon (EOS M) are also capable of high quality imaging, but are not as small as the G1 X once you add a comparable lens.
The closest competitor might be the Sony Cyber-shot DSC-RX100, though it uses a smaller sensor (13.2 x 8.8mm) and has a more restricted zoom range (28-100/1.8-4.9). It also lacks an optical viewfinder and a hotshoe for external flash. However it does have the advantage of being smaller and lighter.