Canon Powershot S5 IS
The Canon Powershot S5 IS is Canon's latest "superzoom" digicam and presumably will replace the Powershot S3 IS. It appears to use the same lens, an image stabilized zoom equivalent to 36-432mm in 35mm equivalent terms. However the pixel count has risen from 6MP to 8MP and the new Digic III processor has been added which provides faster start up, faster autofocus, quicker shutter response times and more efficient power consumption, resulting in extended battery life under typical shooting conditions. The Powershot S5 features a "Moviesnap" mode which enables 8MP still images to be recorded at any time while a move is being shot. Movies can be recorded at 30fps in 640x480 resolution or at 60fps in 320x240 resolution. Maximum recording time is 1hr or maximum file size is 4GB, depending on the size, quality and speed settings.
The Powershot S5 IS now has a hotshoe for attaching an EX series speedlite (lacking on the S3) and is powered by 4 AA cells (good for over 400 shots when using NIMH cells). Maximum ISO setting is 1600 (it was 800 on the S3). Shutter speed range is 15-1/3200 sec (setable in M and Tv modes) and shooting modes include Auto; Creative: P, Av, Tv, M, C; Image: Portrait, Landscape, Sports, Special Scene (Foliage, Snow, Beach, Fireworks, Aquarium, Indoor, Night Scene, Color Accent, Color Swap), Night Snapshot, Super Macro, Stitch Assist and Movie. Maximum frame rate for full resolution still images is 1.5fps. The Powershot S5 IS is compatible with SD, SDHC and MM (Multimedia) memory cards.
One thing missing that some Canon users would like to see is the ability to shoot in RAW image mode. The S5 IS only records sill images as JPEGs. The only current Canon cameras with RAW ability are the DSLRs
The Powershot S5 IS looks like a very capable digicam indeed. With an image stabilized lens covering 36-432mm and an ISO capability up to 1600, and pretty much the same shooting modes as the Canon DSLRs, there won't be too many situations in which the S5 will fail to get the shot. One limitation is that 36mm isn't very wide. Canon do have a front mount teleconverter (TC-DC58B ) with a 1.5x multiplier factor, giving you a maximum focal length of 648mm, but strangely they don't have a wideangle converter, which would probably be more useful. There are a number of 3rd party wideangle converters available, but most of them result in some loss of image quality.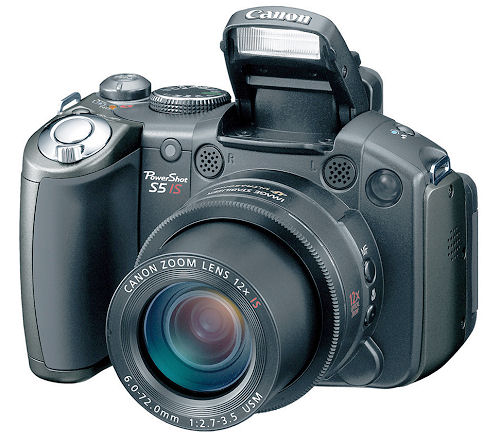 Here are a few things Canon had to say about the Powershot S5 IS in their press release:
"The PowerShot S5 IS digital camera meets the demands of active family photographers and discerning photo hobbyists looking for high-end features and maximum photo flexibility, while maintaining the light weight, trim profile and affordability of a point and shoot digital camera," said Yuichi Ishizuka, senior vice president and general manager, Consumer Imaging Group, Canon U.S.A. "With a broad range of features and a powerful ultra-zoom lens, it is no coincidence that the PowerShot S5 IS digital camera's look and feel evokes the sense of a small, lightweight SLR."
Taking a page out of Canon's legendary lens technology book, the Canon PowerShot S5 IS digital camera's 12x ultra-zoom lens features an extraordinary optical focal length range of 36 - 432 mm (35mm film equivalent) and rides that range quickly and quietly by using the same type of silent, ultrasonic motor (USM) drive found on Canon's high-end autofocus SLR lenses.
Movie Action and MovieSnap
The PowerShot S5 IS camera features four movie modes with Canon's Face Detection AF and AE. Similar to its still mode role, Face Detection AF focuses on the faces in the movie scene while Face Detection AE measures and accounts for the brightness of the faces when it is evaluating the appropriate overall scene exposure. What's more, the one-touch "modeless movie" feature makes the decision to capture movies virtually instantaneous by engaging the movie function at the press of a dedicated button, without first switching to a shooting mode.

For even greater flexibility, The S5 IS camera's MovieSnap feature enables users to capture high-resolution eight-megapixel still images at any point during the movie. This "best of both worlds" solution transforms the family photographer into the family videographer, and preserves moving memories and milestones in their original action format while making key moments a snap to view in frames, photo albums and easy-to-share in emails.

Rugged, Reliable and Ready-To-Go
The feel is unmistakably one of reliability. Canon's new PowerShot S5 IS digital camera ergonomic grip fits firmly into the hand and the ready-for-action rubberized grip cover offers a substantial sense of reassurance. From its fast shutter-speed capabilities - up to1/3200 sec. - to the new accessory Hot-Shoe that accommodates a variety of Canon EX-series Speedlite flashes, the PowerShot S5 IS digital camera is a technological bridge between Canon's advanced point and shoot compact digital cameras and its entry-level digital SLR cameras. For those seeking still greater optical capabilities, Canon offers an optional 1.5x teleconverter, a .75x wide converter and a close-up lens.

What's in the Box?
Despite its rich repertoire of photo features, the PowerShot S5 IS digital camera measures a mere 4.6 inches long, 3.15 inches high and 3.06 inches wide and tips the scales at less than 16 ounces. In stores beginning in early July 2007, the PowerShot S5 IS digital camera kit includes four AA alkaline batteries, a 32MB SD memory card, a USB interface cable, a stereo AV cable for audio/video output, and a full suite of Canon's latest software applications. The PowerShot S5 IS digital camera carries an estimated selling price of $499.99.