Canon Powershot SX50 HS - Full Hands-on review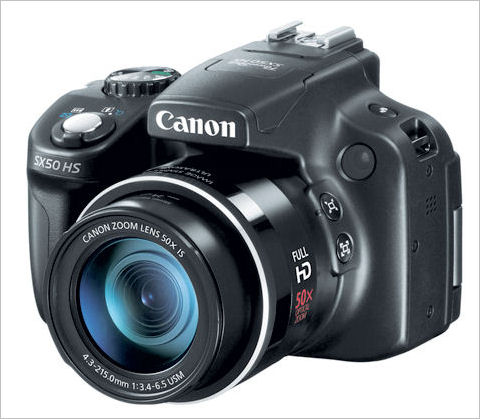 When asked what the best lens was for a DSLR, the old (and not very funny) joke was a "small, light, 24-1200mm zoom". Of course such a lens for a DSLR would be very large, very heavy and very expensive - if it could be built at all. However...advances in technology have made such a lens practical for small sensor digicams. They've been around on consumer video cameras for a while. The trick is, of course, that they aren't actually 24-1200mm lenses. They are 24-1200mm "35mm equivalent" lenses in that they provide the same angle of view (or "reach" or "magnification") as a lens of that focal length range mounted on a camera with a 24mmx36mm sensor.
In fact the lens on the Canon Powershot SX50 HS is a 4.3-215mm zoom but the 5.6x multiplier of the small sensor makes it act like a 24-1200mm lens. That makes the lens much more practical to make. It can even be made small, light and fairly inexpensive. Of course the question is can it also be made reasonably sharp - and the answer, as we will see, is yes it can.
What kind of camera is the Canon Powershot SX50 HS?
The Canon Powershot SX50 HS is what is sometimes called a "bridge" camera since it bridges the gap between small and simple digicams and interchangeable lens cameras such as DSLRs and MILCs (Mirrorless cameras). The lens is not interchangeable, though with a range from 24mm to 1200mm there's really no reason why it should be. The sensor is small, which makes the camera and lens small. It also places some limts on performance as we will see later. As a bridge camera the SX50 HS offers more features than found on smaller and less expensive digicams. It offers more user controlled options for those who want to access its full capabilities, as well as many fully auto and scene modes for the less experienced photographer. While it won't fit in your pocket at 4.8" x 3.4" x 4.2" , it will fit easily in a small camera bag.
Canon Powershot SX50 HS Controls and Operation
I'm not going to describe all the camera operations, button functions and menu options in detail. To do so would require too much space. The Canon user manual is a 42MB pdf file and runs to 285 pages. However I'll give a brief overview. Brief specs ate listed below but if you want the full specs you can find them on the Canon Powershot SX50 HS Specifications Page
| | |
| --- | --- |
| Sensor | 12.1 Megapixel, 1/2.3-inch CMOS |
| Focal Length | 4.3 - 215/3.5-6.5 (35mm film equivalent: 24-1200/3.5-6.5) |
| LCD Monitor + VF | 2.8" TFT Color Tilt and Swivel LCD (+ EVF) |
| Shutter Speeds | 1-1/2000 sec. 15-1/2000 sec. (in Tv and M modes) |
| ISO Sensitivity | Auto, ISO 80-6400 |
| Storage Media | SD/SDHC/SDXC Memory Card |
| Dimensions (W x H x D) | 4.82 x 3.44 x 4.15 in. / 122.4 x 87.3 x 105.4mm |
| Weight | 21.0 oz. / 595g (CIPA standard) 19.4 oz. / 549.9g (camera only) |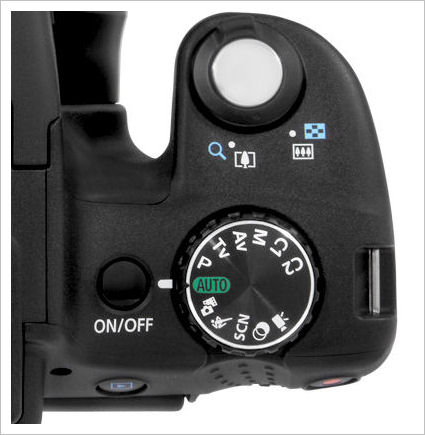 The menu system and control system will be quite familiar to anyone who has used a recent Powershot digicam. The main mode selection is done using the primary control dial. There are the usual Manual, Aperture Priority, Shutter Priority, Program and intelligent auto modes. Also available is an auto with movie clip mode which records a few seconds of video before each shot (from a buffer, it doesn't wait to take the shot). The video segments can then be strung together as a sort of "video diary" of a day's shooting.
A "sports" setting optimizes the camera for shooting moving subjects by setting ISO to give a fast shutter speed and setting AF to automatically track moving subjects. You can do all this in any of the M, Av, Tv and P modes of course, but sports mode does it all for you. There's a dial position for the scene modes which include Portrait, Smooth Skin, Smart Shutter (Smile, Wink Self-Timer, FaceSelf-Timer), High-speed Burst HQ, Handheld Night Scene, Snow, Fireworks and Stitch Assist. There are also creative filter(including HDR) and Video dial setting - more on these two later.
The C1 and C2 dial positions can be customized by the user. They remember mode settings, focal length settings, ISO settings and just about any other user adjustable parameter.
The rear controls are pretty simple and similar to other Powershot digicams. The screen folds out, tilts and swivels or can be folded back with the screen facing into the camera for protection in transit. There's also an EVF (Electronic Veiwfinder) which I personally found very useful and used most of the time (especially for telephoto shots). It's pretty low resolution (202,000 dots) so you can't really judge sharpness very well, but it shows shooting info and it's fine for framing shots - and it's much easier to see in bright sunlight than an LCD. Also on the rear of the camera a combined 4-way controller and secondary control wheel which are used to set camera parameters and scroll through menu options. In the center of this is a "Set" button which is used to call up various shooting parameter options and set selected values. There are dedicated buttons for image playback and video start/stop.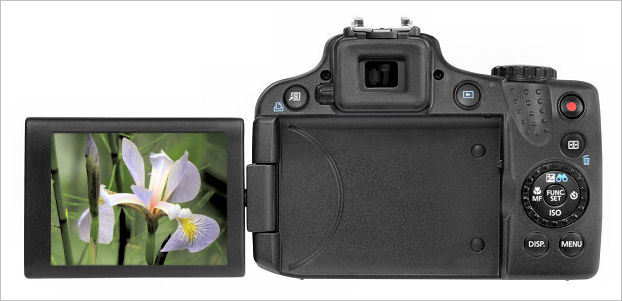 Images are stored on an SD/SDHX/SDXC memory card. There's a single card slot next to the battery and there is no internal memory in the camera. Images can be stored as JPEG files in a number of file sizes and compression ratios up to 3000x4000 pixels "superfine". Optionally images can be stored in Canon's RAW format for further processing via an external program such as the provided Canon DPP (Digital Photo Professional). You can also store both JPEG and RAW versions of the same image.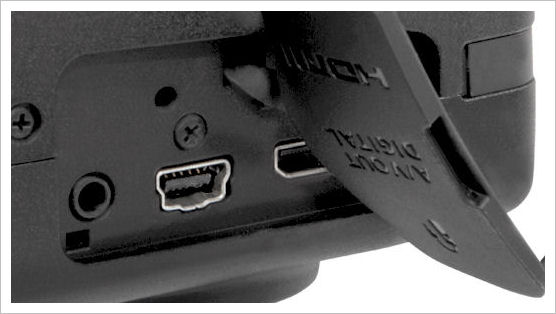 Connectivity is available for HDMI video output, a wired remote controller, USB 2.0 connectivity and analog A/V out (via a special cable, not supplied with the camera). The wired remote socket is compatible with the Canon Remote Switch RS-60E3
The SX50 HS doesn't have a super fast frame rate in regular shooting mode. When shooting large fine JPEGs the frame rate is around 1.9 frames/sec when you fix focus on the first shot. If you select a focus tracking mode the frame rate slows, depending on how hard a time the camera has keeping a moving subject in focus. If you shoot RAW+JPEG the frame rate drops to around 1 frame/sec for 5 frames, then dropping closer to 0.7 frames/sec after that. Frame rate is slower when shooting multiple images in singe shot mode, since the SX50 HS won't shoot another frame until the first one has been written to the memory card. On average you can shoot about 1 JPEG every 2 seconds in single shot mode, so continuous mode is about 4x faster.
However if you do need a faster frame rate, that where the "HS" (High Speed) of the SX50 HS comes in. Though only available in JPEG mode with ISO defaulting to "auto" and only good for 10 shots, the SX50 HS can shoot those 10 shots at a rate of 13 frame/second (the LCD and EVGF blackout during shooting). If you really need high speed the SX50 HS can shoot 120fps 640x480 video or 240fps 320x240 video.
The SX50 HS has a small built in flash which can be manually "popped up" when required. It's adequate at short range and useful to have. However the SX50 HS also has a hotshoe that's compatible with any Canon EOS Speedlite, which greatly increases the flash capability of the camera.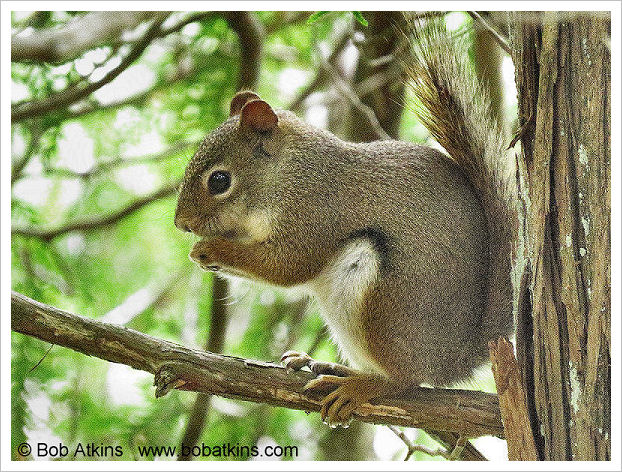 Canon Powershot SX50 HS, ISO 3200, 607mm, 1/20s @ f5.6 (handheld)
The ISO range is 80-6400 (plus an auto setting). I'd try to stick to settings or 800 or lower whenever possible though. You can get decent images at higher ISO settings with some work, especially if the images are displayed on the web or small prints are all that is required.
Filters can be used with the SX50, but an adapter is required. The adapter has a bayonet type fitting and clips onto the lens. Adapters to 58mm and 67mm (Canon FA-DC67A) are available. There doesn't seem to be any vignetting with 58mm filters (I've tried them), so I'm not quite sure what advantage the 67mm adapter has (unless you have a bag full of 67mm filters I guess).
Maximum macro is obtained at the widest lens setting (24mm) and in macro focusing mode. You can pretty much focus down to the front element of the lens (though getting light on your subject then becomes tricky). The area images is around 4cm x 3cm. However in normal focusing mode with the lens zoomed all the way out (1200mm) you can focus down to an area about 6cm x 4.5cm from a distance of 1.3m (4.3ft).
Canon Powershot SX50 HS - Image Quality and Performance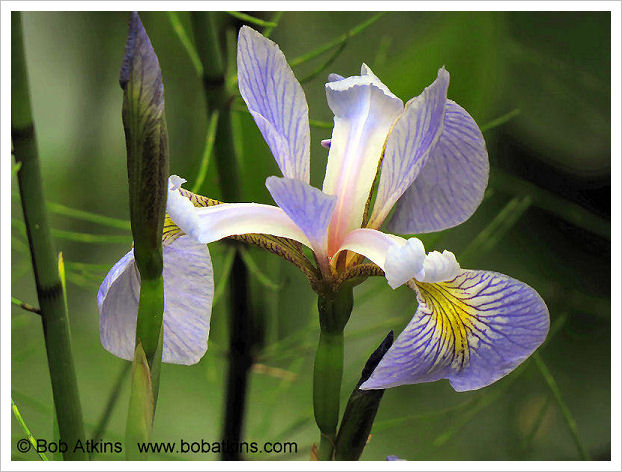 Canon Powershot SX50_HS, ISO 80, 1200mm, 1/100s @ f6.5 (Handheld)
The one line summary on image quality is that while it's obviously not as good as that of a DSLR, it's probably as good as any small sensor digicam and better than most. While the lens isn't perfect, it's actually much better than I had expected it to be and it's very usable indeed at 1200mm. Now down to details. These observations are based on bench tests as well a a two week field trip on which I used the SX50 HS every day in real world conditions.
Exposure accuracy was generally good, but like many small sensor digicams the SX50 HS does have a slight tendency to blow out highlights on high contrast scenes shot in bright sunlight. It's something to watch for and can be prevented by either dialing in a small amount of -ve exposure compensation or by utilizing the Dynamic Range Correction (i-Contrast) function which can be set to one of two strengths or set to "auto". Dynamic range correction is only selectable when shooting JPEGs. RAW images can be corrected in DPP. There is also an HDR mode which shoots 3 JPEG images and combines them into one HDR image. It's pretty much an automatic mode (auto ISO) and the 3 original shots are not saved, so for serious HDR work you'd probably want to bracket your own shots and combine them in external software.
Most of the time focus was accurate and reasonably quick by digicam standards (though no match for a DSLR). There were times with low contrast subjects where the AF system could be fooled and no AF lock was obtained. There were also times when I couldn't get an AF lock with the camera horizontal, but had no trouble with the camera vertical. Not sure why this was since contrast detection AF shouldn't be sensitive to image orientation, but there seemed to be times when it was. AF is not as dependable as it is with a DSLR, but I rarely found AF to be a problem in practice. Then again, I wasn't expecting it to be perfect. However when the focus zone does flash green and the camera beeps (which it does 95% of the time), you can pretty much be sure that AF is good.
Canon Powershot SX50_HS, 1200mm, 1/1600 @ f8, ISO 80
There were times when lens flare was evident with a bright light (e.g. the sun) in the frame, but not always. The above shot taken at 1200mm of the setting sun really doesn't show excess flare. A lens hood might help with light sources outside the frame, but you can't design a lens hood that's efficient at both 24mm and 1200mm so in practice I'm not sure just how much the accessory lens hood would help. Based on a couple of weeks shooting in the field with the SX50 HS I wouldn't regard lens flare as a significant problem.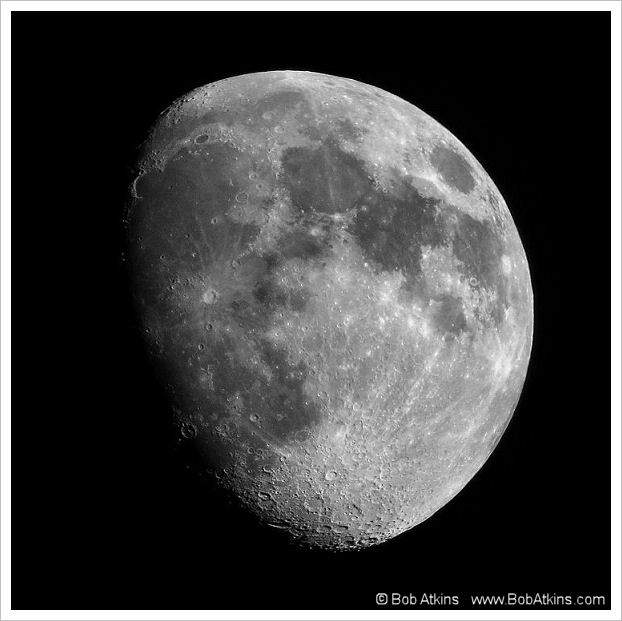 Canon Powershot SX50 HS, 1200mm, ISO 80, 1/50s @ f6.5. Image cropped and downsized.
Image sharpness was remarkably good for a small digicam with such an extreme zoom range. The above shot of the moon as taken at 1200mm wide open (f6.5) and ISO 80. Here's a 100% crop from the original image: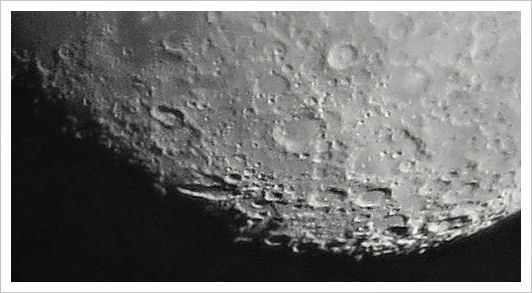 Next is a composite of 100% crops from the center and left and right edges of a JPEG image shot at about 80mm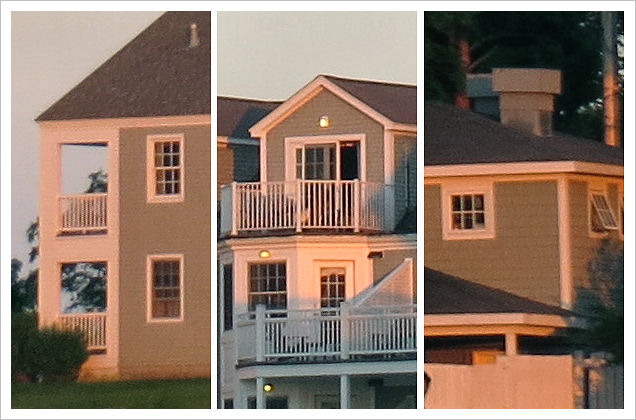 Canon Powershot SX50 HS, 80mm, 1/60s @ f4.5, ISO 80. 100% crops
Left: left side of image Center: Center of image Right: right side of image
You can see that sharpness hold up well to the edges of the image and that there's no readily visible chromatic aberration. But... These are JPEGs that have automatically had corrections applied to them in camera. If you look at the RAW files and turn CA correction off you can see that the lens itself does show CA, but that Canon's correction algorithms do a good job of eliminating it, as shown below

Left: Uncorrected image Right: Corrected (auto JPEG or RAW+DPP)
CA becomes more pronounced in the RAW, uncorrected, images shot at the widest setting (24mm equivalent), but the corrections are still pretty effective. Vignetting is minimal throughout the focal length range and can be automatically corrected if you shoot in RAW and use DPP.
Noise is always a concern with small sensors. Below are 100% crops from ISO 100 to ISO 3200 with no noise reduction applied. The images were shot in RAW and all noise reduction turned off in DPP before converting the images to JPEG format.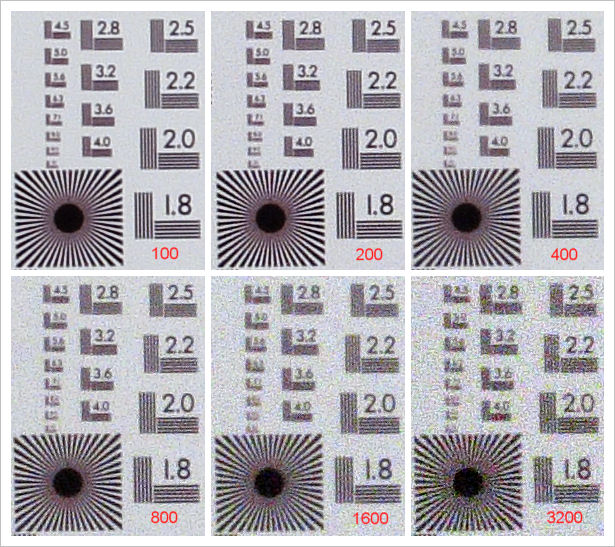 Image noise and resolution with all noise reduction turned OFF
As you can see, there's little noise at ISO settings up top about 400. Noise at 800 is still pretty well controlled and even ISO 1600 isn't that bad. At ISO 3200 you can see significant chrominance noise coming in along with increased luminance noise. Remember these are images with no noise reduction applied. You can apply noise reduction in DPP or in other software to adjust the noise levels to your liking. However the more noise reduction you apply, the more you will soften the image. If you shoot JPEGs, you can apply noise reduction in the camera at low, standard or high settings. I'd recommend using the low setting. You can't turn noise reduction off for JPEGs.
Finally here are two examples of 100% crops from images shot at ISO 6400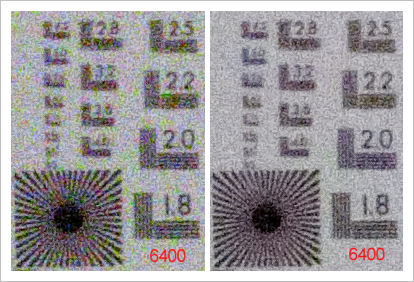 The image on the left is again showing the intrinsic noise, i.e. a RAW image processed in DPP with noise reduction set to zero. On the Right is the same image, this time processed with a luminance noise reduction setting of 10/20 and a chrominance noise reduction setting of 20/20. ISO 6400 should probably be reserved for emergency use only.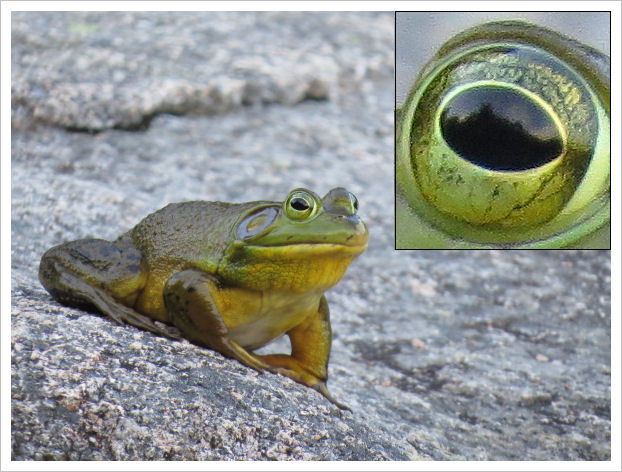 Powershot SX50 HS, ISO 640, 1/50s @ f6.5, 1200mm. Inset shows 100% crop
A good image stabilization system is an absolute essential if you have any hope of handholding a 1200mm equivalent lens, and the SX50 HS has one. I took some sharp shots at 1200mm and a shutter speed of 1/50s. If you believe the old "rule of thumb" that you need 1/1200s for sharp image with a 1200mm lens, the stabilization for sharp shots at 1/50s would have to be equal to about 4.5 stops. That's actually what Canon claim and their claim appears to be valid in my experience. The IS system is a hybrid system with smarts. It decides if the lens is panning, on a tripod, in macro mode etc. and selects the most effective type of IS to apply accordingly.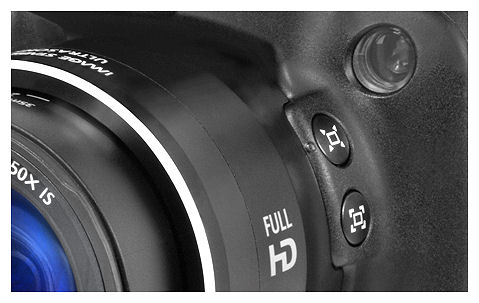 Other problems at 1200mm are (a) finding your subject since the field of view is so small and (b) keeping the lens on the subject. The SX50 HS addresses both of these issues. On the side of the lens are two buttons as shown above. The upper button assists in finding the subject. When it's pressed the lens zooms out giving a wider field of view and making the subject easier to locate. When released the lens zooms back in to the original setting. The lower button is used when the subject has been located. It uses the IS System not only to stabilize the image but also to try to keep the subject located in the center of the field if your aim drifts slightly.
So what's wrong with the images? Well, small sensors = high ISO noise and typical noise reduction algorithms smear detail. You can get around this to some extent by shooting RAW, applying less (or no) noise reduction and living with a little image noise. If you shoot JPEGs you can set the noise reduction to "Low" but you can't turn it off completely. Auto correction for CA sometimes leaves details a little low in contrast and still slightly smeared, but the effect is mainly confined to the edges of the image and even there it's typically only visible at high screen magnification of in large prints.
Conclusions
The exceeded my expectations. In fact after I returned the camera loaned to me by Canon, I bought one for myself. That pretty much tells you all you need to know about my opinion of it!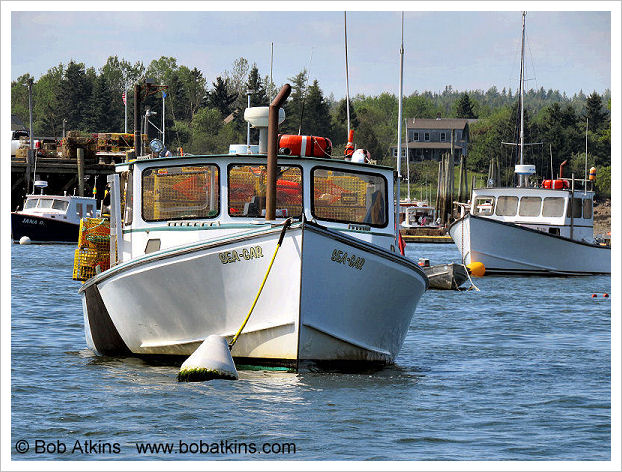 Canon Powershot SX50_HS, 330mm, 1/500s @ f5.6, ISO 80
No, it's not perfect. It has most of the limitations you should expect from a small sensor digicam. The image can get noisy at higher ISO settings. It's not as sharp as a DSLR with a good prime lens. There are sometimes purple fringes on high contrast features. Operation (focusing and frame rate) is slower than even the slowest DSLR (except when in HS mode). If you set shutter speeds over 1 second, the ISO is fixed at 80. There's no printed user manual. It won't fit in your pocket. And so on...but many of these attributes are what you'd expect from any small sensor digicam and come with the territory. For relatively low cost and a high degree of convenience you have to make compromises. It's not a DSLR, but used with some skill it can yield very good images.
What the Canon SX50 HS does give you the capability of taking a small lightweight camera almost anywhere you go which can capture reasonably good images of anything from wideangle scenics to distant wildlife and does so at a price around (or lower) than that of a typical consumer grade zoom for a DSLR. While the "1200mm" lens might not give you the quality you'd get from a high quality prime 1200mm lens on a full frame camera, (a) You can't easily find a 1200mm prime lens, (b) if you could you wouldn't be able to afford it or lift it and (c) You'd need a large and heavy tripod to support it. In DSLR terms it's also about equivalent to an APS-C DSLR like the 7D with a 500mm f4 lens and a 1.4x TC on it (at a cost of around $9000 and a weight of maybe 15lbs including a tripod). That would give you an 1120mm f5.6 equivalent lens. The SX50 HS weighs less than the 7D body alone, costs less than the 1.4x TC and gives you an equivalent 1200mm f6.5 lens that fits in a small camera bag.
The Canon Powershot SX50_HS also has RAW file capability which allows you to extract the best possible image from the saved digital data and you can mount a Canon EOS Speedlite if you want to do sophisticated flash work. If you're a video shooter, it can do 1080 HD video (24 frames/sec) with stereo sound too.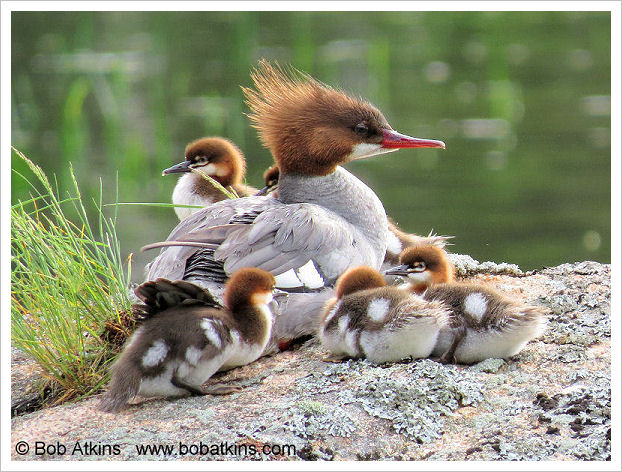 Powershot SX50 HS, 1200mm, 1/100s @ f6.5 ISO 200
So the Canon Powershot SX50 HS makes a hard to beat "backup" digicam for a DSLR shooter, especially one who is interested in capturing images of wildlife. When you don't want to drag 20lbs of gear on a hike, you can take the SX50 HS and have a good chance of coming back with images that, as smaller prints, many people might not be able to distinguish from those shot with the DSLR, especially if you shoot RAW images at low ISO and properly optimize them. It's also ideal for the beginner interested in wildlife work but who can't afford a DSLR and prime telephoto lens.
As I said, I bought one (regular retail, no discount from Canon). Spending my own money on a camera is my highest form of recommendation!