Canon Powershot G11 Review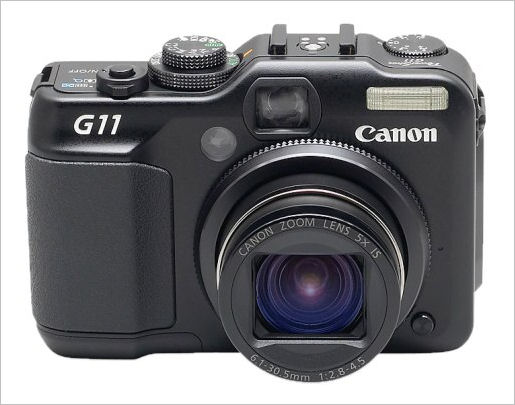 I don't do a lot of P&S digicam reviews here, but the Canon Powershot G11 is interesting for a number of reasons. First Canon made the rather bold decision to lower the pixel count from 14.7MP in the G10 to 10MP in the G11. This runs pretty much counter to the industry practice of cramming ever more pixels onto the sensor, no matter what it does to the ultimate image quality. Second, the Canon Powershot G series has long been held up as a leader in P&S type digicams and G series cameras have been used by many photojournalists who want to shoot digital but for one reason or another can't use a DSLR. The G11 boast a "low light" mode with ISO settings up to 12800. That's pushing things even for a DSLR, so I was interested in just how a digicam with a tiny sensor (and tiny pixels) can do in low light.
While the Canon Powershot G11 is small, it's by no means tiny and in fact it's probably one of the larger P&S digicams out there (except for those with superzoom lenses). At a size of 4.4" x " x 1.9" and a weight of 12.5oz, you know when you have it in your jacket pocket and I don't think its going to fit in your pants packet very comfortably. However it's a lot smaller than any DSLR and it is a camera you can carry around with you all the time without it being conspicuous.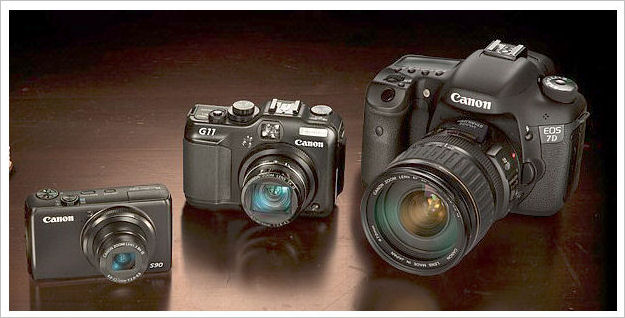 Left: Powershot S90, Center: Powershot G11, Right:EOS 7D
Below is a comparision with the Powershot A720is and an old Olympus XA, one of the smallest full frame 35mm film rangefinder cameras.

Left: Powershot A720is, Center: Powershot G11, Right: Olympus XA
Main Features of the Canon Powershot G11
10 MP CCD sensor (1/1.7")
28-140/2.8-4.5 (35mm equiv.) with optical image stabilization (IS)
Built in 3 stop ND filter
ISO 80-3200 and up to 12,800 in reduced resolution mode
Shutter speeds 15s-1/4000s (not all speeds available in all modes)
Continuous shooting at 1.1 fps (JPEG)
Optical viewfinder with diopter correction
2.8" articulating LCD (461,000 dots)
Hotshoe for Canon Speedites
Socket for wired remote
SD video (640 x 480 and 320 x 240 @ 30fps)
DIGIC IV image processor
JPEG and RAW storage
HDMI output
NEXT: Operation and Controls