Canon Powershot G12 Review
Canon G12 Settings and Controls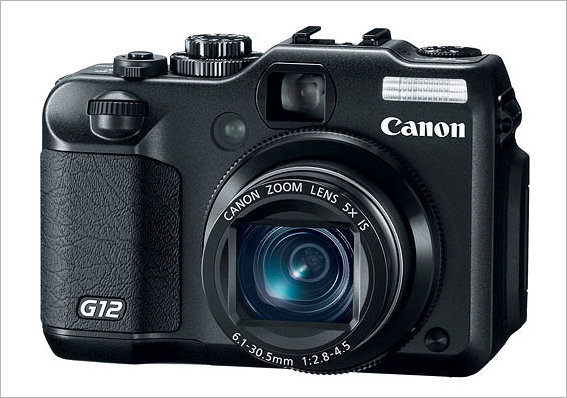 On the front of the camera you can see the built in flash at the top right. This is fixed (i.e. it doesn't pop up). To the left of the flash is the optical viewfinder window and to the left of that and slightly lower is the AF illuminator light. On the left side of the camera is the front control wheel which can be used for functions such as setting shutter speed or aperture. It can also be assigned other functions such as white balance of format control via the camera's menu system. At the lower right is a button which on an SLR might be the lens release. The G12 lens is not interchangeable of course. This button actually releases a ring around the lens. When this ring is removed and optional filter holder can be attached which allows the use of standard 58mm filters.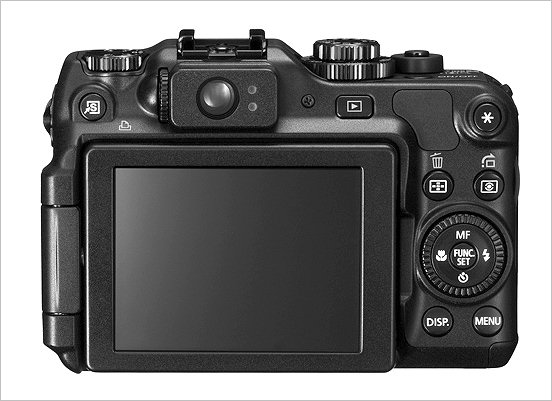 On the back of the camera is the flip out LCD. It can be adjusted so that the LCD screen faces outward as shown in the image above, or it can be reversed so that it faced inwards to protect it when the camera is not in use. The screen also swings out 180 degrees (see the image at the top of the page). In this position it can be used for self-portraits.
There's the usual digicam 4 way controller with a "set" button in the middle, and this is surrounded by a rotating control ring used to set camera parameters such as shutter speed or aperture and to scroll through some of the menus. The 4 way controller also activates the menus for flash mode, macro mode, self timer mode and manual focus mode. Above the controller are buttons to select focus point and metering mode and below the controller are buttons to call up the camera menus and select the information presented on the LCD display.
At the top right the "*" button is for locking exposure. At the top left is a customizable button [S] which can be set to do a number of functions including selecting white balance, selecting between JPEG and RAW modes etc. These can also be accessed via the menu button and scrolling to the appropriate selection, but the [S] button provides a short cut directly to your selected function.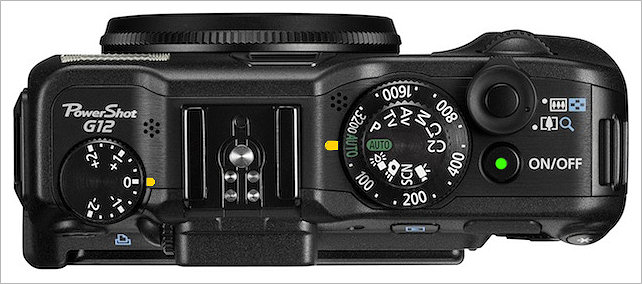 The top deck of the camera carries many of the major controls. There's the shutter release on the right which is surrounded by the zoom control (which controls lens zoom in shooting mode and image zoom in playback mode). There's an on/off button which lights up in green when the camera is on. The main mode control sets the shooting mode (Manual, Aperture Priority, Shutter Priority, Program, Auto, Scene modes and Video mode). It's a metal knurled wheel with positive click stops. Around the mode control dial is the ISO dial which allows ISO to be set from 80 to 3200 in 1/3 stop steps, plus an auto mode. In shooting modes which permit manual ISO control, the indicator mark lights up in orange. On the left of the camera is an exposure compensation dial which allows +/- 2EV compensation in 1/3 stop steps. Like the ISO dial marker, the EC dial marker lights up in orange when you're in a mode that permits exposure compensation.
You can also see the hot shoe which is compatible with all EOS Speedlites. On either side of the hot shoe are the openings for the built in microphones (stereo) used top record auto in video mode.
The G12 uses SD format memory cards and supports SD cards (up to 2GB), SDHC cards (up to 32GB) and SDXC cards (over 32GB). It also supports Eye-Fi cards, MMC plus and HC MMC plus cards. There is a not in the manual that Canon do not guarantee support for Eye-Fi card functions since they have no control over 3rd party hardware. However I've seen quite a few user reports of successful Eye-Fi card operation with the G12, so I guess Canon are just covering themselves against potential problems with a 3rd party product.
The G12 has USB 2.0 connectivity, HDMI and A/V output and supports the use of a wired remote (1/8" jack, e.g. Canon RS60-E3). There is no provision for an external microphone. The battery is the Canon NB-7L.
Canon Powershot G12 in Use
Specs on paper are all very well, but the test of a camera comes from actual use. So how well does the Canon Poweshot G12 do at it's job of obtaining images?
Let's start with handling. The G12 is not a tiny camera. It's not going to fit in a shirt pocket, though it will quite easily fit in a jacket or coat pocket. It's 4.4" x 3" x 1.9" (112.1 x 76.2 x 48.3mm) and weighs around 12.4 oz. (351g). Part of the weight comes from the solid construction, It's built on a stainless steel chassis for added strength and durability. So though it's not the smallest or lightest digicam around, I didn't find either the size or weight to be a problem. For me it's small enough to carry with me anywhere, which is all that counts. If you want small, look at the Powershot S100, which is Canon's premium "shirt pocket" camera.
Shooting Speed
The G12 powers on pretty quickly considering that it has to extend the lens before it can shoot. The time from turn-on to the first shot being recorded, including the time for the lens to extend and focus is just under 3 seconds. Focusing and shooting takes around 0.7 seconds if you fully depress the shutter button. If you 1/2 press the shutter to prefocus, I measured the delay between fully depressing the shutter and the image being captured (shutter lag) at around 90ms. To put that in perspective, it's about the same as a Digital Rebel DSLR. The 7D is a little quicker and has a shutter lag of around 60mS. However when taking a picture, you also have to factor in that the minimum "human response time" is in the 150-250ms range. That's the time between you seeing something, your brain telling your figder to move and you actually pushing the shutter release! So, assuming a 200ms human response time, for the 7D the total lag time (you + camera) after you decide to proess the shutter and the shutter actually opening might be 260ms, while with the G12 it would be 290ms. Not a significant difference.
Continuous shooting in JPEG mode can be done at around 2 frames/sec with focus being locked at the first exposure. If you're shooting RAW+JPEG the frame rate is around 1 frame/sec. In both cases the camera seemed capable of shooting at least 30 frames. I didn't test for longer but it's not likely many will want to shoot for more than 15 seconds at a time. Continuous shooting can be done much faster than repeat shooting of single images since the camera will refocus for each shot. Even with focus fixed the shortest time between frames in one shot mode is around 2 seconds.
In Low Light mode the frame rate is up to 4 frames/sec, but maximum image size is 1824 x 1368 pixels. The frame rate drops a little at higher ISO settings. In this mode ISO can be set as high as 12800 (or as low as 320), but in order to lower noise, each set of 4 pixels is averaged so the image size is reduced from 3648 x 2736 to 1824 x 1368.
Continuous shooting speed is lowered if AF servo tracking is selected. In this mode the camera will track the subject and refocus for each shot. Maximum frame rate for full sized images (JPEGs) drops to around 1 frame/sec or less.
Manual control dials
I really liked the manual dials for ISO and EC setting. Much faster and easier than scrolling through menus. The dual control wheels (one front, one back) also made selection of camera options faster and easier than with most other digicams. The camera also fits my hands well. I can shoot one handed quite easily. In fact I can shoot, zoom, change mode, lock exposure and change ISO setting one handed if I have to! The control dials feel solid and have very positive click stops. It's unlikely they could be rotated by accident.
Optical Viewfinder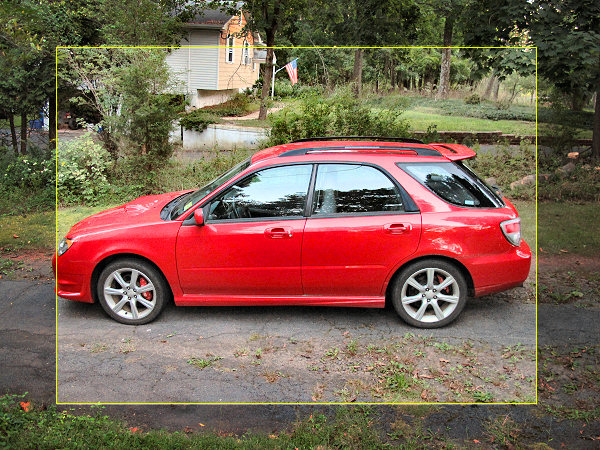 Approximate optical viewfinder coverage
I found the optical viewfinder on the G12 to be quite useful, even though it generally gets a bad rap in reviews. It shows just under 80% of the frame, so clearly it's not designed for precision framing. However if you make sure that your main subject is right up against the edges of the viewfinder, in the final image it will be framed OK! What an optical viewfinder is useful for is in tracking moving subjects in continuous shooting mode (no viewfinder or LCD blackout). It's also useful for stabilizing the camera. I can hold it steadier up to my eye than I can out at arms length. One more use is that with the LCD off, the G12 is capable of recording around 1000 shots. With the LCD on that drops to around 370 shots. Though the viewfinder has no information display, there is a light that shows when AF has been achieved and you can happily shoot in Program mode and be confidant that your exposure will be good. Even with the LCD off, the manual ISO dial allows you to change ISO (auto - 3200). You can set the G12 to shoot with the LCD off, but briefly display a review of the image after it's shot so you can check exposure, framing etc. if you want to.
Image Stabilization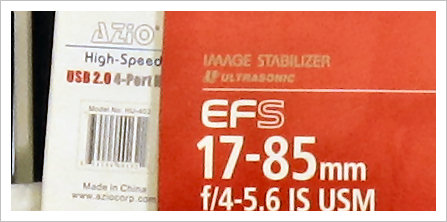 100% crop from image shot at 1/5s with the lens zoomed fully out (140mm focal length equivalent)
Image stabilization works well. Most of the time I was able to get sharp images with the lens zoomed all the way out to 140mm (35mm equiv) at shutter speeds as low as 1/5s. That's between 4 and 5 stops of stabilization and is remarkably good. Note that the G12 has hybrid IS which corrects for both angular movement of the camera (pitch and yaw in aeronautical terminology!) and translational movement (side to side and up and down), the latter being particularly important for macro shots.
ND filter
The built in 3x ND filter (3 stops) allows the use of wide apertures in direct sunlight and allows long shutter speeds if you want effects like the blurring of running water. The blur function is probably the most likely use since the G12 at ISO 80 and f2.8 can shoot as fast as 1/2000s. "Sunny f16" would suggest that in bright sunlight at f2.8 and ISO 80, shutter speed should be 1/2500s, so it's probably only on rare occasions that you'd need to use the ND filter because the light was too bright. Unlike DSLRs where you may need an ND filter when shooting wide open in bright sunlight with flash (since max flash sync speed is often 1/250s or less), the G12 can sync its internal flash at any shutter speed up to 1/2000s, so you can shoot with flash in bright sunlight at 1/2000s and still get good results. Note however that using an external speedlite mounted on the hotshoe lowers the maximum flash sync speed to 1/250s.
High Dynamic Range (HDR)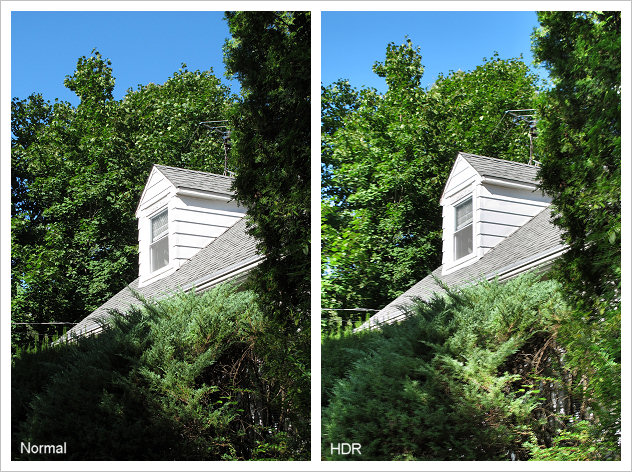 The built in HDR shooting mode can be useful. It takes three shots at different exposures and combines them into an HDR image. Again things are fully automatic and the three initial shots aren't saved, just the final HDR result. HDR mode works best with the camera on a tripod in order to ensure that the three images align properly. If you really want to do HDR properly of course, you would shoot three (or more) images at different exposures and then combine them in HDR software post-exposure. Still, the HDR mode could be useful if you had a scene with really high dynamic range you wanted to capture "in camera" for direct display or printing.
Electronic level
The G12 has a single axis electronic level on the horizontal axis, so it shows if the camera is tilted to one side. It works in both horizontal (landscape) and vertical (portrait) camera orientation The LCD can be set to show a grid pattern and well as the electronic horizontal level so there's no excuse for sloping horizons!
Shutter Speeds and Apertures
The Canon Powershot G12 has a shutter speed range of from 15s to 1/4000s and an aperture range of from f2.8 to f8 at the widest setting of the lens to f4.5 to f8 at the telephoto setting. Apertures smaller than f8 are not available and that makes some sense since with a small sensor diffraction blurring becomes significant past f8. It's important to note however that not all shutter speed/aperture combinations are available in all modes. For example, in Aperture Priority (Av) mode with the aperture set to f2.8 the maximum shutter speed is 1/2000s. At f4 you can go to 1/2500s and from f5.6 to f8 1/4000s is available. In Av mode, the longest shutter speed the camera will select is 1 second. In shutter priority mode speeds from 15s to 1/4000s are available, though the same aperture restrictions apply at high shutter speeds. In program mode the longest shutter speed the camera will set is again 1 second. Though it's counterintuitive, in low light mode the 1 second limit on shutter speed also applies. In the full auto mode, it appears 1/8s is the slowest shutter speed. If the shutter speed and/or aperture is at one of their limits and the correct exposure cannot be obtained, they display in orange on the LCD screen. If exposure is correct, they display in white.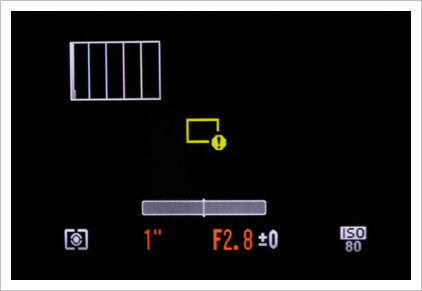 Shot in a fully dark room. Shutter speed (1") and aperture (f2.8) display in orange since both have reached their limit in Program mode and the image is still underexposed. The AF frame display in yellow indicates that focus has not been achieved. If focus is correct the AF zone displays in green.
Flash
The internal flash of the Powershot G12 is spec'd by Canon with a maximum range of 23ft at the wideangle setting (f2.8?) and 13ft at the telephoto setting (f4.5?), however they don't specify what ISO that is measured at and they don't give a guide number. I measured the flash output using my Minolta flash meter and I came up with a guide number of around 8m (26ft) at ISO 100. At ISO 400 that would suggest at flash range (for full illumination) of 38ft at f2.8 and 23ft at f4.5. It would appear that the Canon numbers are based on an ISO setting of around 250.
The internal flash will sync at speeds up to 1/2000s, so it can be used for fill flash even in bright sunlight with the lens wide open.
An external flash can be mounted on the G12 Hotshoe. An external Canon speedlite will provide fully automatic flash operation and can be controlled either via the G12 menus or via the controls on the flash. One thing to note however is that with a Canon Speedlite mounted the maximum allowed flash sync speed drops to 1/250s. However you can use the flash in high speed sync mode which will allow the use of any shutter speed.
In theory it should be possible to use a non-Canon hotshoe mounted flash with the G12. Canon do not specify a maximum sync voltage for the G12 but they do say that using a "non Canon flash, especially a high-voltage flash" may damage the camera. The safest option would be to use a flash with a sync voltage of 6v or less. That was the spec on many older Canon DSLRs. Current DSLRs can take up to 250v. Many older flash units have even higher sync voltages, up to 400v in some cases, so if you want to put your old manual flash on the G12, check the sync voltage and do so at your own risk.
Video
The Powershot G12 has 720p HD video (24fps) as well as 640x480 and 320x240 modes. There's no dedicated video stop/start button. Video mode is selected via the mode control dial and is started and stopped with the shutter release. Sound (stereo) is recorded via two built-in microphones. Video is pretty much a fully automated mode. You can set white balance, color mode (e.g. monochrome, sepia, vivid colors etc.) but the camera automatically sets ISO, aperture and shutter speed. Digital zoom is available while shooting, but optical zoom isn't. Autoexposure is active during video recording, but focus is fixed at the start of shooting. For most casual video applications all of these limitations are fine. You wouldn't want to try to make a feature length movie with a G12, but then few people are likely to try that.
Macro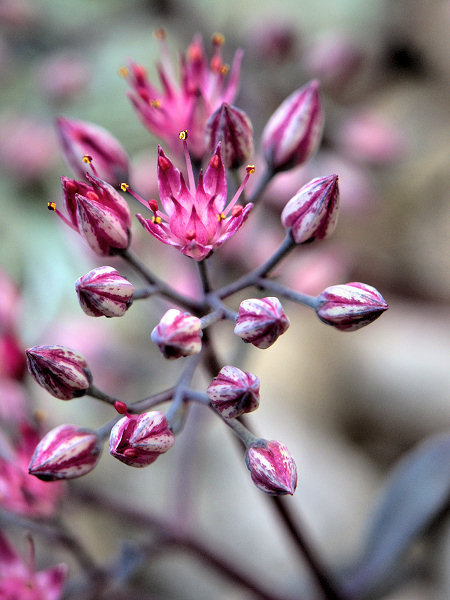 Macro shot at closest focus with G12 lens zoomed all the way out (140mm focal length equivalent)
The G12 has macro focusing at all focal length settings, but magnification is highest at the wide angle end of the range (28mm equivalent). The drawback is that to get that maximum magnification you have to be about 1cm from your subject, which generally means you put it in shade (or scare it away!). At the telephoto end of the range magnification is lower, but you get about a 25cm (10") working distance. At the wide end maximum magnification covers an area of about 2.5cm x 1.875cm (1" x 3/4"), while at the telephoto end maximum magnification covers an area of about 9cm x 6.75cm (3.5" x 2.7"). Note that the built in flash is useless for close macro shots at the widest setting (highest magnification) since the lens shades just about all the light from the flash.

Left: Macro at 28mm Right: Macro at 140mm
Filters
With the optional 58mm filter holder which mounts in place of the ring around the lens you can add a filter such as the Hoya 720 IR filter as shown below. Other useful filters might be a polarizer or a closeup filter for higher macro magnification.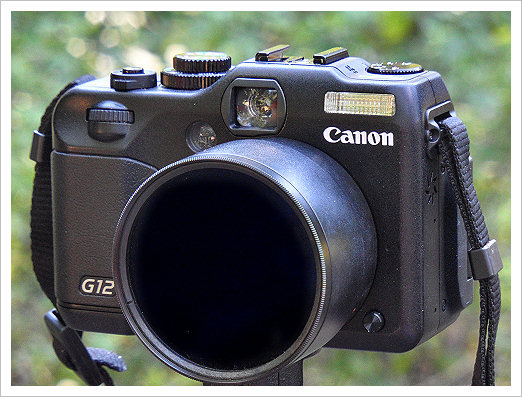 Canon Powershot G12 with optional 58mm filter holder and Hoya 720 IR filter
NEXT => Image Quality
• Canon Poweshot G12 at ADORAMA