Canon Powershot SX10 IS
[Updated 10/12/08 - Added full specifications and slightly revised text. SX10 IS is now shipping from stock]
The Canon Powershot SX10is is canon's leading "ultra zoom" P&S digicam. It has a 10MP 1/2.3" CCD image sensor (6.16mm x 4.62mm). The Powershot SX10is features an Image Stabilized lens which is equivalent to a 28-560mm zoom on a full frame 35mm camera, an enormous 20x zoom! It's not slow either with an aperture of f2.8 at the wide end of the zoom range, dropping to f5.7 at the telephoto end.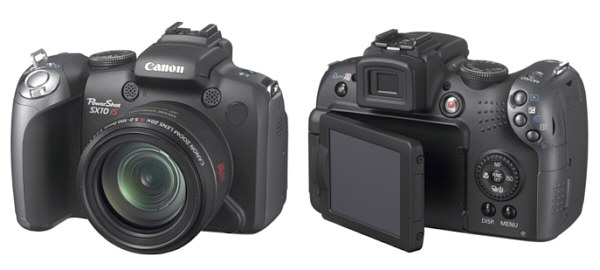 The Canon powershot SX10 is has a hotshoe which will accept any of Canon's EX series speedlites and a 2.5" LCD which swings out and swivels as shown below: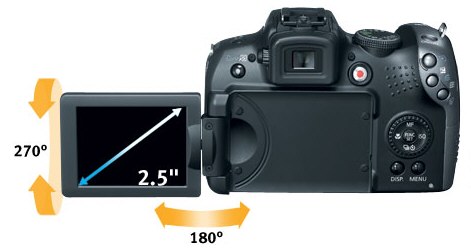 The Canon Powershot SX10 is has all the usual Canon powershot exposure, metering and focus modes, with a shutter speed range of 15-1/3200 sec and an ISO range from 80 to 1600 (plus an auto ISO mode). Image storage is on an SDHC memory card and the stored image format is JPEG. RAW is not available on the SX10 is. If you want the capability to record images in RAW format, you'll have look at either the new Canon Powershot G10 or an EOS DSLR. In movie mode the powershot SX10 IS can record up to a file size of 4GB or 1 hour (whichever comes first) at 30fps in either 640 x 480 or 320 x 240 formats.
The Powershot SX10 IS is close to the ultimate "do everything" P&S camera. It has a true wideangle (28mm f2.8) and a true telephoto (560/5.7) lens, Image stabilization, a tilt and swivel LCD. It's powered by 4 easily available AA batteries, which means you'll never be left without a power source. Of course all these features come at the price of a size which makes the camera difficult to fit into a pocket (it's 4.88 x 3.48 x 3.42 in./124.0 x 88.3 x 86.9mm) and a weight of 560gm (1lb 4oz). However it's still pretty small and light by traditional SLR standards and would make an ideal lightweight travel camera.
As with all "superzoom" digicams, the SX10 IS uses an electronic viewfinder rather than an optical viewfinder. Even on smaller digicams with smaller zoom ranges optical viewfinders are becoming less common. At least it has a viewfinder and you don't have to hold it at arms length and use the rear LCD to compose your images (though you can if you want to). The downside of electronic viewfinders (EVF) is that they can sometimes be a little "jerky" when you pan. There's nothing like a true high quality optical viewfinder, but they are now only really found on DSLRs. Even when digicams have an optical viewfinder, their quality (and coverage) is often less than ideal.
If you're looking for something with a wide range zoom which is a little smaller and less expensive, you might consider the "baby brother" of the SX10 IS, the Powershot SX110 IS which has a 9MP sensor and a 36-360 10x zoom rather than the 10MP sensor and 28-560 20x zoom of the SX10 IS. It doesn't have a hotshoe for external flash or a tilt and swivel LCD but it is somewhat smaller and lighter than the SX10 IS (111 x 71 x 45 mm and 245g)
The Canon Powershot SX10 IS is now shipping. The "official" price is $399.99 but it seems to be selling for around $380. It is available via Amazon.com (click on the link below to see the details).
Canon Powershot S10 IS Press Release
LAKE SUCCESS, N.Y., September 17, 2008
– Canon U.S.A., Inc., a leader in digital imaging, today introduced the expansion of the ever-popular ultra-zoom SX-Series, the PowerShot SX10 IS digital camera. The new digital camera features a wide-angle (28 mm - 560 mm) 20x optical zoom lens, an Optical Image Stabilizer (OIS), Canon's new DIGIC 4 image processor and a smooth, curved grip that fits in the hand comfortably. This compact camera is capable of capturing long-range shots of soccer field action from the bleachers or sunsets from your hotel balcony easier. Photographers can now quickly zoom in close enough to capture facial expressions and details from far away.
In addition to its ultra-zoom capabilities and new DIGIC 4 image processor, the Canon PowerShot SX10 IS digital camera is loaded with a full range of performance and convenient features that camera enthusiasts have come to expect from Canon - 10.0 megapixel resolution, Genuine Canon Face Detection Technology, large 2.5-inch vari-angle LCD screen and MovieSnap mode for capturing high-resolution still images while shooting video.
"The PowerShot SX10 IS digital camera feature set has been enhanced to provide even greater zooming power and creative control, offering the photo enthusiast a compact camera at a price they will appreciate," said Yuichi Ishizuka, senior vice president and general manager, Consumer Imaging Group, Canon U.S.A. "With the ability to shoot in wide-angle, consumers no longer need to choose between getting their loved one or the background in the shot."
For users whom movie capability is an important consideration, look no further. The Canon PowerShot SX10 IS digital camera offers consumers many creative possibilities, including the ability to shoot VGA movies. The PowerShot SX10 IS digital camera can capture individual movies up to one hour or 4GB per clip, all while utilizing the new Voice Coil Motor (VCM), which enables faster focusing speed while reducing focusing noise.
Additionally, the Canon PowerShot SX10 IS digital camera comes equipped with 24 shooting modes, ranging from fully automatic to manual, and is easily accessible through an SLR-style mode dial located on top of the camera. While in manual shooting mode, a variety of settings can be selected through the screen, including Program AE, Shutter-speed priority AE, Aperture priority AE, Manual exposure and Custom mode.
Canon DIGIC 4 Imaging Processor
The newly upgraded DIGIC 4 image processor, a proprietary technology, accounts for the camera's higher performance levels, including significantly improved signal processing speed and higher image quality.
One of the most important new features made possible by the DIGIC 4 image processor is Servo AF, which is a form of continuous focus tracking for moving subjects. By pressing the shutter button half-way, the camera can track subject movement up to the instant of exposure, resulting in sharper photographs. Additionally, the processor's high ISO speed noise reduction processing has improved substantially to enable consumers to shoot high-quality images, even in extremely dark situations without the use of a flash. The new Intelligent Contrast Correction function automatically improves image quality in high-contrast shooting situations.
The Genuine Canon Face Detection technology has evolved even further, thanks to DIGIC 4. Improved features include the ability to recognize human faces at most angles. Another innovation is the Face Detection Self-Timer, which automatically takes a photo two seconds after a new face enters the scene.
Availability and Pricing

The Canon Powershot SX10 is currently shipping. The "official" price is $399.99, though it's currently selling for around $380. The kit contents include four AA Alkaline batteries, a USB interface cable, an AV cable, a neck strap, lens cap, lens hood, Canon's software suite and a 1-year Canon U.S.A., Inc. limited warranty
Canon Powershot SX10 - Complete Specifications
Type of Camera
Type of Camera

Compact digital still camera with built-in flash, 20x Optical/4x Digital/80x
Combined Zoom with Optical Image Stabilizer System
Image Capture Device
Type
10.0 Megapixel, 1/2.3-inch type Charge Coupled Device (CCD)
Total Pixel
Approx. 10.3 Megapixels
Effective Pixels
Approx. 10.0 Megapixels
Lens
Focal Length
5.0-100mm f/2.8-5.7 (35mm film equivalent: 28-560mm)
Digital Zoom
4x
Focusing Range

Normal: 1.6 ft./50cm-infinity (W), 3.3 ft./1m-infinity (T)
Macro: 0.39 in.-1.6 ft./1-50cm (W)
Super macro: 0-3.9 in./0-10cm (W)
Autofocus System
TTL Autofocus
Viewfinder & Monitor
Viewfinder
TFT color
LCD Monitor
2.5-inch TFT color vari-angle LCD with wide viewing angle
LCD Pixels
Approx. 230,000 pixels
LCD Coverage
100%
Aperture and Shutter
Maximum Aperture
f/2.8 (W) - f/5.7 (T)
Shutter Speed
15-1/3200 sec. (settable in Tv and M)
Exposure Control
ISO Sensitivity

Auto, High ISO Auto, ISO 80/100/200/400/800/1600 equivalent (Standard output sensitivity. Recommended exposure index)
Light Metering Method

Evaluative*, Center-weighted average, Spot**
* Control to incorporate facial brightness in Face Detection AF 13/20
** Metering frame is fixed to the center/linked to AF frame
Exposure Control Method

Program AE, i-Contrast, Manual; AE Lock, Program Shift, Safety Shift, Auto ISO Shift
Exposure Compensation
+/-2 stops in 1/3-stop increments
White Balance
White Balance Control

Auto, Preset (Daylight, Cloudy, Tungsten, Fluorescent, Fluorescent H, Flash), Custom

Flash
Built-in Flash

Auto, Auto w/ Red-eye Reduction, Flash On, Flash On w/ Red-eye Reduction, Flash Off; FE lock, Safety FE, Slow Synchro
Flash Range

1.0-17.0 ft./30cm-5.2m (W), 3.3-9.2 ft./1.0-2.8m (T) (when sensitivity is set to ISO Auto)
Recycling Time
12 sec. or less (battery voltage=6.0V)
Flash Exposure Compensation
+/-2 stops in 1/3-stop increments
Shooting Specifications
Shooting Modes

Auto, P, Av, Tv, M, C, Portrait, Landscape, Sports, Special Scene (Foliage, Snow, Beach, Sunset, Fireworks, Aquarium, Night Scene, Indoor, ISO 3200, Color Accent, Color Swap), Super Macro, Night Snapshot, Stitch Assist, Movie
Photo Effects

My Colors
Vivid, Vivid Blue, Vivid Green, Vivid Red, Neutral, Sepia, Black & White, Positive Film, Lighter Skin Tone, Darker Skin Tone, Custom
Self-Timer

Activates shutter after an approx. 2-sec./10-sec. delay, Face Self-Timer, Custom
Wireless Control
N/A
Continuous Shooting

Normal: approx. 1.4 fps; AF: approx. 0.7 fps; LV: approx. 0.8 fps (Large/Fine)
Image Storage
Storage Media

SD/SDHC Memory Card, MultiMediaCard, MMC Plus Card, HC MMC Plus Card
File Format

Design rule for camera file system, DPOF Version 1.1
Image Compression

Normal, Fine, SuperFine
JPEG Compression Mode

Still Image: Exif 2.2 (JPEG)
Movie: MOV (Image: H.264; Audio: Linear PCM (Stereo))
Number of Recording Pixels

Still Image: 3,648 x 2,736 (Large), 2,816 x 2,112 (Medium 1), 2,272 x 1,704 (Medium 2), 1,600 x 1,200 (Medium 3/Date Stamp), 640 x 480 (Small), 3,648 x 2,048 (Widescreen)
Movie: 640 x 480 (30 fps/30 fps LP), 320 x 240 (30 fps) available up to 4GB or 60 minutes
Playback Specifications
Playback Modes File

Still Image: Single, Magnification (approx. 2x-10x), Jump, Auto Rotate, Rotate, Resume, My Category, Transition Effects, Histogram, Index (9 thumbnails), Over Exposure Warning, Slide Show, Red-eye Correction, Trimming, Resize, Image Inspection Tool, i-Contrast;
Movie: Normal Playback, Special Playback, Editing, Auto Rotate, Resume
Erasing Specifications
Erase Modes
Still Image: single image, all images
Movie: part of movie, all of movie part of movie, all of movie
Interfaces
Computer Interface

USB 2.0 Hi-Speed (mini-B jack)

Video Out
NTSC/PAL
Audio Out
Stereo
Other

Memory card slot; direct connection to Canon and SELPHY Compact Photo Printers, PIXMA Photo Printers and PictBridge-compatible printers via camera's USB 2.0 Hi- Speed cable
Power Supply
Power Source

1. AA-size Alkaline Battery (x4)
2. Rechargeable AA-size Ni-MH Battery (x4)
3. Compact Power Adapter CA-PS700 (optional)
Shooting Capacity

Still Image: approx. 340 shots (AA-size Alkaline Battery), approx. 600 shots (AA-size Ni-MH Battery)*
* LCD screen on. The above figures comply with CIPA testing standards and apply when fully-charged batteries are used.
Playback Time

Approx. 720 min. (AA-size Alkaline Battery), approx. 840 min. (AA-size Ni-MH Battery)
Physical Specifications
Operating Temperature

32-104°F/0-40°C

Operating Humidity

10-90%

Dimensions (WxHxD)

4.88 x 3.48 x 3.42 in./124.0 x 88.3 x 86.9mm

Weight

Approx. 19.8 oz./560g (camera body only)

Availability and Pricing

The Canon Powershot SX10 is currently shipping. The "official" price is $399.99, though it's currently selling for around $380. The kit contents include four AA Alkaline batteries, a USB interface cable, an AV cable, a neck strap, lens cap, lens hood, Canon's software suite and a 1-year Canon U.S.A., Inc. limited warranty