Canon Rebates February 2012
Canon's last rebate cycle ran though February 4th 2012. On February 5th a new rebate cycle started which will run though March 3rd 2012. This rebate cycle offers similar rebates on lenses and speedlite to the last program, but this time the rebate is doubled if you buy an EOS 7D, 60D or 5D MkII at the same time. There are some changes from the previous rebate cycle. A few lenses have been dropped and a few new ones added. Rebates have also changed. For example the previous rebate on the EF 70-200/2.8L IS II USM was $300. In the current rebate cycle it's $200, but that goes up to $400 if you buy one of the eligible bodies at the same time. The EF 20/2.8 has been dropped, but the EF 8-15/4L fisheye zoom has been added. In general the current rebates are lower than those in the last program if you just buy the lens, but higher than the last program if you also but an eligible body.
The prices listed are the Canon suggested retail prices. The store price should be no higher than this price, and in some cases may be significantly lower so check out prices at the recommended retailers and see who has the best deal.
Canon EOS DSLRs at B&H Photo
Canon EOS 7D Rebates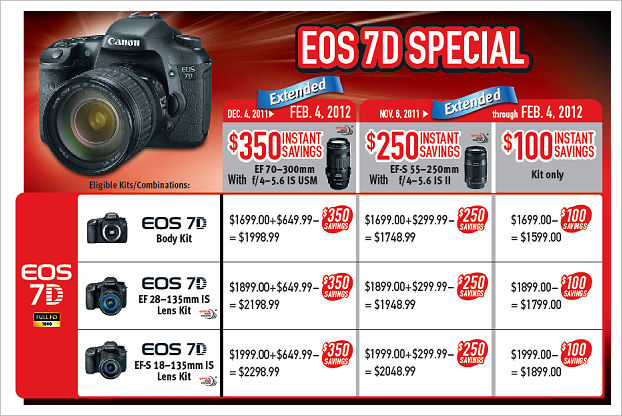 -->
Canon Lens and Speedlite Rebates