Canon EOS 50D, T1i, XSi and XS rebates - November 2009
Canon are currently running an extra "instant rebate" promotion whereby if you buy an EOS 50D, EOS Rebel T1i, EOS Rebel XSi or EOS Rebel XS plus two specified lenses (as shown below) you get an instant rebate of $200 for the 50D, T1i and XSi or $100 for the XS. This program runs from November 1st 2009 to November 21st 2009 and is in addition to the current lens and speedlite rebates.
Looks like a good deal if you like the choice of lenses. The 50D kit might have been better (but more expensive) if they'd included the 17-85 rather than the 28-135, but if you don't need a really wide angle, the 28-135 and 70-300 combination of lenses is quite nice. The T1i and XSi kits with the 18-55IS and 55-250IS are pretty good since you get an excellent focal length coverage and the lenses both have effective image stabilization.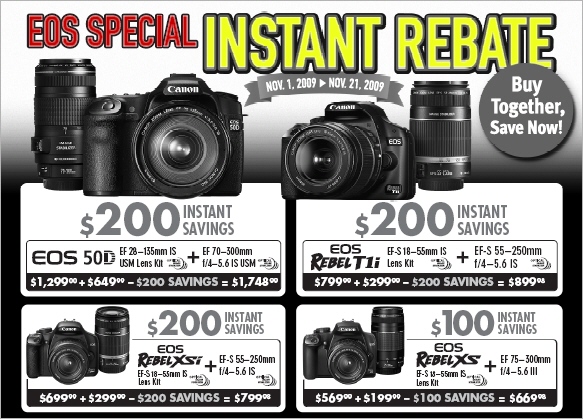 The above are the Canon list prices, but of course most stores already discount them, then take off the extra "instant rebate". So, for example, the 50D + 28-135is + 70-300is is listed above as $1748 after the $200 discount. However if you go to AMAZON (see link below), their normal price for that kit is $1680.13, then they take off another $200, so when you checkout the total price you will pay will be only $1480.13 (prices as of 11/04/09). I went through their checkout process to make sure they were taking the $200 off their discount price - and indeed they were. $1480.13 (with free shipping) was my final cost.
Note that all three items (body and two lenses) must be purchased from the same vendor at the same time in order to receive the "instant rebate". Note that if you buy from Amazon, you need to purchase all three items from Amazon themselves, rather than using one of their 3rd party vendors for one or more of the items. Some vendors may follow the Canon list prices, so watch out when buying the kit and make sure you get your full "instant rebate" off the normal discount price of the items, not the Canon list price!
EOS 50D
EF 28-135IS
70-300IS
$1480.13
EOS T1i
18-55IS
55-250IS
EOS XSi
18-55IS
55-250IS
EOS XS
18-55IS
75-300