New Canon Lens and Speedlite Rebates for Summer 2011
This year Canon are much later then usual in offering lens rebates, but late is better than never! During August (actually August 7th through September 3rd 2011) select lenses and Speedlites carry a rebate, plus the rebates on the Digital Rebel T2, T3 and T3i camera kits have been extended through September 3rd.
It's the now normal "instant rebate" scheme where the rebate is deducted from the retail price by the vendor at the time of sale, so there are no forms to mail in and no wait for a check.
The rebates are mostly on Canon's higher end (i.e. more expensive) lenses, though the Canon EF-S 15-85/3.5-5.6IS USM carries a $60 rebate and that's a pretty popular "walking around" lens that covers the needs of many photographers, especially for general purpose and travel photography. Another less expensive lens which has a $40 rebate is the Canon EF-S 60/2.8 macro USM, which is not only an excellent macro lens for crop sensor cameras, but can also serve as a pretty good portrait lens.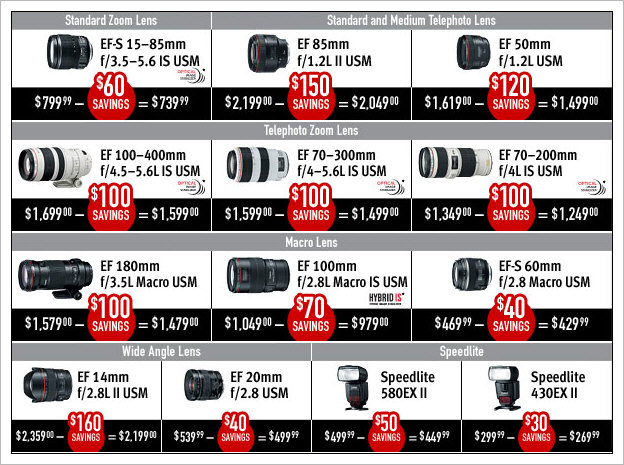 These lenses and speedlites are available though the following recommended vendors:
The rebates on several Canon EOS DIgital Rebel T3, T2i and T3i kits are also extended through September 3rd.