Canon Rebates - Summer 2011
This year Canon are running instant rebates on a number of "body + lens kits" where the bodies concerned are the Canon EOS Rebel T3i, Canon EOS Rebel T2i and Canon EOS Rebel T3 for a rebate which runs from June 19th 2011 through June 30th 2011 and Canon EOS 60D and Canon EOS 7D for which the rebate runs from June 19th 2011 through September 3rd 2011.
For all the Rebel rebates your are required to purchase the camera body with at least one of the kit lens options, but for the 60D and 7D there is a $100 rebate on the body purchased without a lens. Additional rebates apply if you buy one of several specified lenses. For the Rebel series bodies the instant rebates range from $50 to $200 while for the EOS 60D and EOS 7D the rebates range from $100 to $300.
As has been Canon's recent custom, the retailer deducts the rebate at the time of sale, so there is no complex mail-in process to navigate through.
Rebate options for Canon EOS Rebel T3i, T2i and T3
June 19th 2011 through June 30th 2011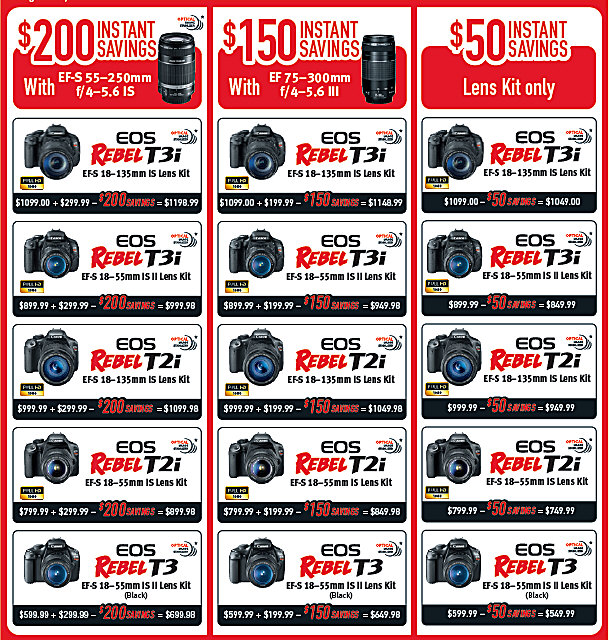 Rebate options for the Canon EOS 60D and 7D
June 19th 2011 through September 3rd 2011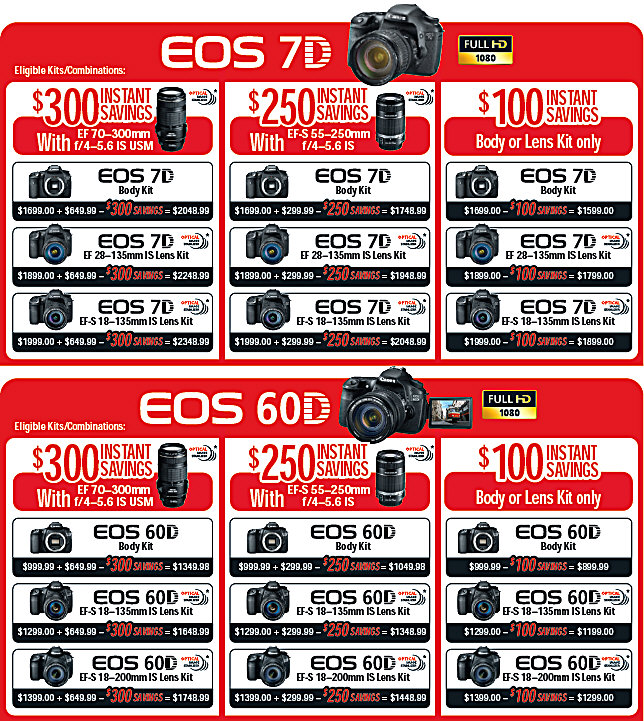 Most of the recommended vendors (Amazon, Adorama, B&H and J&R - see below) are displaying prices which reflect the rebates Canon are offering, though you may have to dig around a little on their websites to find the exact combination of camera body and lenses you're looking for.
Comments
As ever, the question comes up as to whether or not these are real rebates, or if the price has been inflated before the rebate is taken. Often it's hard to tell. What is probably true is that prices on camera gear are rising and so these prices are probably better than you will find after the rebates end, though in some cases the prices might not be better than you could have found a month ago. In some cases shortage of supply (due to after effects of the the Japanese Tsunami) seems to have pushed prices higher.
The wise course of action seems to be to buy now if there is a camera/lens combination you want since unfortunately it seems unlikely that we'll be seeing lower prices in the immediate future.
The Canon EOS 7D at $1599 and the Canon EOS 60D at $899 are pretty good deals even if you don't want a lens. If you need a Canon EF 70-300/4-5.6 IS USM (which is a very nice, small and light telephoto zoom), then adding it to the 7D or the 60D brings the price on the lens down by $200 from list (which is about $100 down from discount)to around $450, so do make a decent saving on the package.
Not that the 7D seems to be in good supply, the 60D and 60D packages seem to be backordered from amny vendors at the moment (mid-July).