NIKON D70 DIGITAL SLR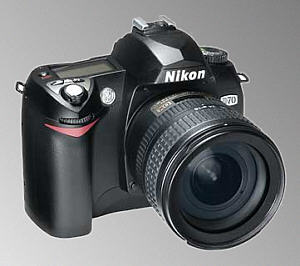 The Nikon D70 is Nikon's answer to the Canon Digital Rebel (EOS 300D). It's priced a little higher at around $900 but has more features. Canon's new Digital Rebel XT, also available for $900, is a closer competitor.

The D70 is also available with an 18-70mm f/3.5-4.5G ED IF AF-S DX Zoom Lens at a price of around $1300

The following information is from the Nikon press release on the D70:

Accurate, vivid color
6.1 effective megapixels
New Nikon DX Format CCD imaging sensor features an improved signal to noise ratio and broader dynamic range that produces 3,008 x 2,000-pixel images with high resolution and superbly sharp details.
New advanced digital image processor uses next-generation algorithms to optimize image quality, while also controlling auto white balance, auto tone and color control, as well as real-time processes to diminish digital noise and produce beautiful long exposure shots.
Accurate white balance achieved by Nikon's acclaimed 3D Color Matrix Meter with 1,005-pixel for highly precise control over white balance regardless of lighting conditions.
High Performance and Quick Response
Continuous shooting at 3 frames per second for a continuous burst of up to 144 pictures (using JPEG NORMAL - Large settings, and a SanDisk 256MB Ultra II CompactFlash(TM) card) thanks to improved buffer memory handling, faster image processing, increased memory card access speed and greater system bus bandwidth. The number of continuous shots possible in a single burst may be fewer depending on the type of CF card used.
Ultra-short shutter time lag is hardly noticeable and unrivalled in its class.
Immediate power-up has the D70 ready to take pictures before your finger can reach the shutter button.
High performance System LSI uses next-generation programming to greatly increase the speed of all processing and writing operations. This includes vastly improved recording times for compressed NEF (Nikon Electronic Format) files and the inclusion of a simultaneous NEF + JPEG file save setting.
High-speed, high precision 5-area AF system with predictive focus tracking and Lock-on(TM) ensures quick response and sharp focus, while an AF-assist illuminator helps ensure top performance in dark situations.
Fast shutter speed with a range from 30 to 1/8,000 sec. for full creative control.
Fast flash sync shutter speeds up to 1/500 sec. available for great fill-effects under brighter light conditions.
Optimized and Predictable Results
Seven New Automated Digital Vari-Program selections easily accessed from the Mode Dial deliver automatic operation that optimizes white balance, sharpening, tone, color, saturation and hue for crisp and vivid results that match the intended shot. Selections include Auto, Portrait, Landscape, Close-up, Sports, Night Portrait, and Night Landscape.
Image enhancement options optimize sharpening, contrast, tone, color, saturation and hue while using Auto Multi Program [P], Shutter-Priority Auto [S], [Aperture-Priority Auto A], or [Manual M] exposure modes to best match the scene or intended use for the picture. The easy to set choices include Normal, Vivid, Sharp, Soft, Direct print, Landscape or Custom optimization
Optimized exposure with a choice of three TTL exposure modes, including Nikon's acclaimed 3D Color Matrix Meter with 1,005-pixel RGB Sensor, variable Center-Weighted Meter and choice of Spot Meters.
Nikon's built-in iTTL automatic balanced Fill-Flash can shoot at synchronized speeds up to 1/500 second for great fill effects when shooting in brighter lighting conditions; compatibility within Nikon's Creative Lighting System.
Flash exposure compensation; a comprehensive selection of compensation tools enable more versatile picture taking; tools for ambient light, flash illumination and the two combined are provided.
New Generation Color Reproduction System offers a choice of three color modes to ensure the best match for the shot when operating the camera manually. Mode Ia: Renders natural-looking skin tones out of the camera. (sRGB) Mode II: Realizes a wider color range suited for processing or retouching. (Adobe RGB) Mode IIIa: Renders vivid landscape and flora colors out of the camera. (sRGB)
New JPEG and NEF Combination Filing System enables simultaneous recording of compressed NEF (RAW) and JPEG data for the same shot to optimize and accelerate workflow.
Exclusive use of Compressed NEF files to maximize number of raw images possible for each CF card used.
Creative and Versatile System for Subtle Expression
High-Quality Nikkor lenses: The unrivalled performance of AF, AF-S and DX Nikkor lenses expand creative possibilities to the maximum.
Built-in auto pop-up flash features exclusive i-TTL flash control, fast 1/500 sec. flash sync shutter speed, and supports Nikon's Creative Lighting System for wireless control of remote SB-600 and SB-800 Speedlights.
ISO flash shoe makes it easy to attach an SB-600 or SB-800 Speedlight directly to the camera.
Integrated Nikon Software Solutions: Nikon Capture 4.1 (optional) is a comprehensive image editing and remote camera control package that fully supports NEF
(compressed and uncompressed) (RAW), TIFF and JPEG data. Among other features, the package offers Image Dust Off sensor dust and particle shade removal control; Digital DEE(TM) scene-specific automatic dodge and burn control; and transformation of shots from the AF DX Fisheye- Nikkor 10.5mm f/2.8G ED lens to ultra-wideangle images. PictureProject is Nikon's versatile new bundled software that simplifies and improves data transfer, as well as browsing and editing of image files. PictureProject introduces an entirely new intuitive user interface, and supports plug-in files for added function.
Improved Overall Performance
Light and compact: The smallest Nikon Digital SLR camera
Large LCD monitor with user-friendly menus located directly below the viewfinder displays bigger menu fonts and icons that use familiar keywords for ease of understanding. A protective clear LCD cover is also included with the D70.
Versatile LCD playback options include Single frame, Thumbnail (4 or 9 segments), Zoom playback (up to 4.7x), Slide show, Histogram indication, and Highlight point displays with automatic image rotation for vertical shots.
Proven lithium-ion battery system delivers excellent capacity and long life to shoot up to approx. 2,000 pictures on a single charge. Capacity varies with equipment load and environment conditions. (Same battery and charger as used in Nikon D100)
Compatible with disposable batteries for added flexibility, the D70 ships with a battery holder that allows it to be powered by three disposable CR2 batteries.
25 Custom Settings allow you to personalize the operation of your D70 to match your shooting style or the demands of different shooting conditions
Wireless remote control operation made available with optional ML-L3 (IR) remote control.
Direct printing from the D70 to any PictBridge compatible printer using the supplied USB cable.
Where to buy
© Copyright Bob Atkins All Rights Reserved