The Best Digicams of 2008? Choosing a small digital camera

There are a bewildering number of small digicams on the market today and the purpose of this article is to help you chose one. Given the number of digicams in production now, which is somewhere around 500, even just looking at the major manufacturers, making a choice is confusing to say the least. If you included all the different "generic" cameras the number is probably over 1000. With so many cameras and the requirements of the user being anything from holiday snaps to professional work, there's no such thing as the "best" digicam. It's even very difficult, if not impossible, to pick a "best" camera for any particular application. Inevitably, even if you could narrow the choice down to a small handful, there would still be features unique to each camera.
The first thing to realize is that there may well be no single "perfect choice" and if you try to find it, you may drive yourself crazy and end up buying nothing at all. Even if there was a "perfect" choice, the odds are that within 12 months or less, there would be something "better" available. There may be many equally good choices, none of which are quite "perfect".
What to look for is something that meets all your basic needs, is reliable, has good image quality, has a wide enough zoom range for your application and is within your price range. You can certainly find cameras that are "good", but you may never be able to decide what's "best", and in the end "good" is almost certainly all you need. To a first approximation, the pixel count isn't very important. 8-10MP is a good range and it would be hard to find a current digicam with fewer then 8MP anyway. Cameras with higher pixel counts might give slightly higher resolution images at low ISO settings, but may be more noisy at high ISO settings. With digicams you're going to want to use ISO settings in the 100-400 range for best quality (the lower the better). ISO 800 can be usable, but ISO 1600 typically produces softer images with more noise which aren't really suitable for anything more than small prints.
OK, so let's take a look at what be regarded as the 5 main classifications of digicams. In each class I'll pick out a few cameras which I'd regard as "good". It's up to you to try to decide which is "best"! I can apologize in advance if this looks like a Canon commercial, but I think that Canon do have the best overall line of P&S digicams. Canon do not pay me to say this, and if you look at lists of the best selling digicams, you'll usually find a LOT of Canon Powershot cameras listed, so the public seem to agree with me.
Ultra Compact Digital Cameras
Most of the cameras in this category are "credit card" sized, meaning they are about the same size as a credit card (about 3.3" x 2.125", 85mm x 54mm), though much thicker (usually about 3/4" or 20mm). The zoom range of most lenses is fairly modest, with a 3x zoom (35-105mm) being common. Few, if any, ultra-compact cameras have any type of optical viewfinder, so they depend on using the LCD to frame the image. Many ultra-compact digicams have built in image stabilization, and I think that's an essential feature to look for. There would have to be some very compelling reason not to pick a camera with stabilization, and other than cost, I really can't think of one.
My first suggestion would be one of the SD series Powershots from Canon. They have a very good reputation for image quality and features and have a solid development history. They are all good cameras, but the one I'd pick would be the SD880IS.
The SD880is is the lens has a 4x zoom range of 28-112mm. Not too many digicams go as wide as 28mm, with 35mm being a more common wide setting. The SD880 has a 10MP sensor, which is high enough to give good resolution, but not so high that the pixels are so small that they gnerate unacceptable noise at higher ISO settings. Despite its small size, the SD880is has a large (3") LCD screen.
If you think you need a longer focal length than 112mm, the SD890is has a 5x 37-185mm lens, which is fine as long as 37mm is wide enough for you at the wide end.
If size is your primary concern, then the SD770ISis would be the one to look at. The zoom is only 3x (35-105mm), but otherwise it's very similar in terms of features to the SD880IS and SD890IS, but at only 3.4" x 2.1" x 0.8", it's slightly smaller. The SD770is also has an optical viewfinder, a rarity in this type of camera. At a price currently under $160, it would be my pick for "best buy" in this category.
Another interesting ultra-compact camera is the Panasonic FX37. It's a 10MP camera and one of it's unique features is a 25-125mm zoom lens. 25mm is about as wide as digicams go and 125mm is a decent short telephoto, so this is a very useful range. It's stabilized too via Panasonic's OIS (Optical Image Stabilization). However I don't think the image quality of the FX37 is as good as that of the Canon SD powershots. It's a cute camera with a lot of features (including the ability to shoot HD format video), but unless you really need 25mm rather than 28mm, I'd stick with the SD880.
The Sony Cybershot T700, is certainly one of the most innovative cameras in this group in terms of design. It uses a high-resolution touch screen rather than dials and buttons and it has 4GB of memory built in. It can double as a digital photo album and the high resolution LCD is quite impressive when playing back images. The T700 is also one of the thinnest cameras at only 16mm. Certainly from a style point of view, the T700 is a winner. If you love the iPhone, you'll probably like the T700! Is there a downside? Well, yes. The T700 is more expensive than most cameras in this class (around $370) and the image quality isn't quite as good as the Canon SD Powershots.
Finally from Nikon there's the Coolpix S210 which measures only 3.6" x 2.2" x 0.7" in and weighs only 3.5oz, making it among the smaller and lighter cameras. It's also one of the less expensive cameras in this group at around $120. The lens is a 3x 38-114mm. It's not optically stabilized, but the S210 has what Nikon call "electronic VR (vibration reduction) which uses software to correct image blur. The only description I could find was this: "Vibration Reduction (VR) electronic image stabilization takes camera movement data from a built-in angular velocity sensor and applies in-camera image processing to turn blurred images into clear results, on the spot or anytime later". I suspect it's not as effective as true optical image stabilization. Like all cameras in this group the S210 is really designed for "point and shoot". It would be a reasonable choice if size and cost were the most important factors in the decision of which camera to buy.
Compact Digicams
Compact digicams differ from the ultra-compacts in size (obviously!), and that extra size means that, among other things they accommodate a larger lens, use larger batteries and can offer less cramped controls. However they are often still small enough to slip into a pocket (if not quite small enough for a shirt pocket. Compact cameras also tend to be less expensive than the ultra-compacts, presumably because they are a little easier to manufacture.
Again Canon powershots have a strong presence in this section of the digicam market and the "A" series cameras are among the best selling of all digital cameras due to their excellent value, wide range of features and high image quality. The three models I'd look at would be the A590IS, the A1000IS and the A2000IS. All three have basically the same extensive set of automatic and manual functions and really differ only in the sensor, lens and LCD used. All have image stabilization, all have aperture priority, shutter priority, fully manual and fully automatic exposure modes. All have an ISO range from 80 to 1600, plus an auto ISO mode. All have exposure compensation and flash exposure compensation. All have adjustable white balance.
The A590IS has an 8.2MP sensor, an optically stabilized 35-140mm lens, a 2.5" LCD, an optical viewfinderand is the least expensive. It measures 3.7" x 1.6" x 2.5"and weighs 6.2 oz.
The A1000IS has a 10MP sensor and also has a stabilized 35-140mm lens a 2.5" LCD and an optical viewfinder. It measures 3.8" x 1.2" x 2.5" and weighs 5.4 oz.
The A2000IS has the same 10MP sensor, but adds a wider range optically stabilized zoom (36-210mm) and a 3" LCD. The larger LCD means that there is no room for an optical viewfinder on the A2000is though.The A2000is measures 4" x 2.50" x 1.25" and weighs 6.5 oz.
The
Canon Powershot A590IS
would be my pick for the "
best bang for the buck
" digicam in any category. There's a reason that it's the #1 selling digital camera at Amazon.com and that is because it has good image quality and a whole host of features which make it attractive to both the complete novice and more experienced photographer.
Alternatives to the Powershot A series include:
The Panasonic Lumix DMC-LZ10, which has a wide range 30-150mm lens, a 10MP sensor, a widescreen move mode and image stabilization. It offers manual control of shutter speed and aperture (but not focus). If it has a downside it may be that the noise reduction it employs softens the image somewhat.
A refurbished A720IS, which is the P&S digicam that I own myself. I say look at he refurbished model because they are very hard to find new and some stores are charging unreasonably high prices for new ones. Right now (12/08) you can get a Canon refurbished A720is from ADORAMA for $149. My review of the A720IS can be found HERE. I've been very happy with mine.
The FujiFilm F100fd is an interesting little camera who's "claim to fame" is that it offers ISO settings up to an astounding 12800. However it's still a camera with a small sensor and tiny pixels and to get to ISO 12800 it first combines pixels so the image goes from 12MP to 3MP, then it applies some pretty heavy handed noise reduction which smears out image details. Like most digital cameras it performs best in the ISO 100-400 range, though it's better than most of its competition. ISO 800 isn't bad and even 1600 can be usable. ISO settings of 6400 and 12800 are mainly for emergency and experimental use though! The F100fd lacks any manual exposure modes (no aperture or shutter priority). The lens is image stabilized and has a 5x zoom range of 28-140mm. The F100fd is quite compact, measuring only 3.8" x 2.3" x 0.9" and weighing in at under 6 oz. There's a $100 rebate on the F100fd right now which runs through January 15th 2009. This brings the F100fd price at ADORAMA down to only $185, which makes it a pretty good deal.
Mid-Size Digicam
The mid-size models are a bit bulkier than the compacts, but still pretty small. Again the larger body size allows a larger lens and some also offer a popup flash which can help slightly to reduce red-eye.
Well guess what - I like the Canon Powershots here too! Specifically I'd look at the Canon Powershot SX110is. It has a 9MP sensor, which is a good compromise between resolution and noise, a 10x image stabilized zoom (36-360mm) and a 3" LCD. The SX110is uses two easily obtainable AA batteries, which can be an advantage when travelling. Even better (or at least as good) is a price under $200. The dimensions of 4.3" x 2.77" x 1.76" and a weight of 8.6oz mean that it's still very easy to carry and if you don't mind a bulge in your coat, you can slip it in a jacket pocket!
The Panasonic TZ5 is also a strong contender in this camera class. It too has a 10x optically stabilized zoom, but this time it's a 28-280mm lens, so you get more on the wide and, but less on the telephoto end compared to the Canon SX110is. A major difference between the two cameras is that the Canon offers manual control of most camera functions, aperture, exposure etc, while the Panasonic is pretty much auto all the way. You can control white balance, but that's about it. At 4.1" x 2.3" x 1.4" the TZ5 is pretty small, in fact you could probably call it a compact camera. It uses a proprietary Li-ion battery.
Super Telephoto Zoom Digicams
For the purposes of this review, I'm defining a super-telephoto zoom digicam as one with a lens that's at least equivalent to 400mm on a 35mm camera and is at 40mm or wider at its widest setting. That would be a 10x zoom, but there are models with 15x and even 20x zoom ratios in this group of cameras.
The Canon powershot choice would be the Powershot SX10is which has an incredible 28-560mm/2.8-5.7 optically stabilized 20x zoom lens, a 10MP sensor and a 2.5" LCD which swings out and swivels. The downside of all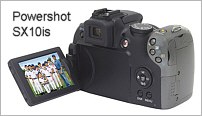 these features is that the SX10is approaches the size and weight of a small DSLR at 4.9" x 3.5" x 3.4" and a weight of 19.8 oz (without batteries), though of course a DSLR with a similar lens (if one existed, which it doesn't) would be a lot larger, heavier and more expensive. DSLR image quality would be higher of course, especially at high ISO settings, and AF and operation would be faster, but still the SX10is could meet all the needs of many photographers. It also has a hot-shoe so that you can use an external Canon Speedight for much better flash photography then is possible with a built in flash. Power is supplied from 4 easily available AA cells. While this may add some bulk to the camera, at least you can get new batteries almost anywhere on the planet!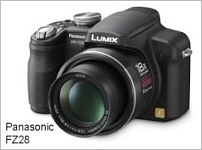 From Panasonic there is the FZ28, a 10MP camera with a Leica 27-486mm/2.8-4.4 optically stabilized 18x zoom. The LCD is 2.7" but unlike on the SX10is, it's fixed and doesn't swing out. At 2.96" x 4.63" x 3.5" and 13oz it's slightly smaller and lighter than the SX10is. Image quality is very good and there's automatic in-camera correction of JPEGs for chromatic aberration. The FZ28 offers the ability to save uncompressed (RAW) images, which the SX10is does not. Move mode is impressive with 1280x720 HD format recording at 30fps. There are also 320x240, 640x480 and 848x480 pixel modes.
In this case it's a toss up between these two cameras. The Powershot SX10is has provision for external flash and a tilt/swivel LCD and a longer zoom (560mm vs. 486mm), but it's a little larger, heavier and more expensive then the FZ28. The FZ28 has better JPEG image quality at the edges of the image due to the automatic chromatic aberration correction. The ergonomics of the SX10is may be slightly better than those of the FZ28. Both cameras can shoot movies. The SX10is offers movies with stereo sound recording at 640x480 pixels and 30fps, while the FZ28 offers widescreen (16:9) and HD format video (1280x720 pixels at 30fps). It's quite tough to chose between these two cameras.
Premium Digicams
Premium digicams usually feature the best image quality along with the best lenses. They tend not to go for superzooms which inevitably compromise quality somewhat, instead they usually offer a more modest zoom range but with higher lens quality. In terms of features they offer full manual control as well as auto modes and usually support hot-shoe flash attachment. Size is back down to the compact/midsize level.
Looking first at Canon there is the new Powershot G10. The G10 features a 14.7MP sensor, an optically stabilized 28-140/2.8-4.5 lens, a 3" LCD, a true optical viewfinder, a hot-shoe for external flash, JPEG and RAW file formats and VGA (640x480) movies at 30fps. At the lowest ISO setting (ISO 80), the G10 probably produces the best and highest resolution images of any small digital camera. The G10 is 4.3" x 3.1" x 1.8" and weighs 12oz.
Competing with the G10 is the Panasonic Lumix DMC-LX3 which features a 10MP sensor and a very nice LEICA DC VARIO-SUMMICRON 24-60/2.0-2.8 lens. Such a wideangle, fast lens is unusual on a digicam and though the range is smaller than the G10, it's a full stop faster and it's wider. Like the FZ28, the FX3 has 1280x720 HD format video recording at 30fps as well as 320x240, 640x480 and 848x480 pixel modes. The LX3 lacks an optical viewfinder (the 3" LCD probably didn't leave enough room for one), but you can buy an accessory viewfinder which fits in the hot-shoe, but it doesn't zoom with the lens and costs around $200, which seems rather a lot to me. The LX3 measures 4.2" x 2.2" x 1" and weighs less than 6oz, so it's pretty compact and would easily fit in a pocket.
Nikon also have an entry in the premium digicam class, the P6000. It has a 13.5MP sensor and an optically stabilized 28mm-112mm/2.7-5.9 lens. As you'd expect, it has a hot-shoe for external flash, an optical viewfinder and a full set of auto and manual control modes. Unfortunately it appears that though while still being good, the image quality isn't quite up the that of the G10 or LX3. The P6000 measures 4.2" x 2.6" x 1.7" and weighs 10oz.

For me the decision would be between the LX3 and the G10. The LX3 has the better movie capability and probably produces lower noise images at high ISO settings (400 and up), but the G10 has the best image quality at the lowest ISO setting. The LX3 also has a lens that's a stop faster, so besides the lower intrinsic noise, it can be shot at an ISO setting a stop slower than the G10 using the same shutter speed. The G10 has a wider zoom range, but the LX3 has a wider lens and is smaller. Both are excellent cameras and it would depend on particular needs as to which one would be the "better" camera for any given photographer. Personally I'd like them both!
Alternative
| | |
| --- | --- |
| | Of course if you have $500 to spend, you can easily get an entry level DSLR and lens, and the image quality at higher ISO settings will be much better than you can get from any digicam. At ISO 400 and up, the DSLR image will be much less noisy and yield higher quality prints. The downside of a DSLR is that it's quite bulky and the kit lens has limited range. Also none of the entry level DSLRs shoot movies of any kind. The Canon Digital Rebel XS with the 18-55/3.5-5.6 Image Stabilized lens sells for around $460. It's not a bad lens and gives you a focal length range of 29-88mm in 35mm terms. You get full manual control over everything. If you only have one camera, I'd say that a DSLR is a better buy, but it's obviously a non-starter if you want something you can easily carry in your pocket. If you shoot mostly at low ISO settings, then a P&S digicam can almost equal the image quality from a DSLR unless you make very large prints. |